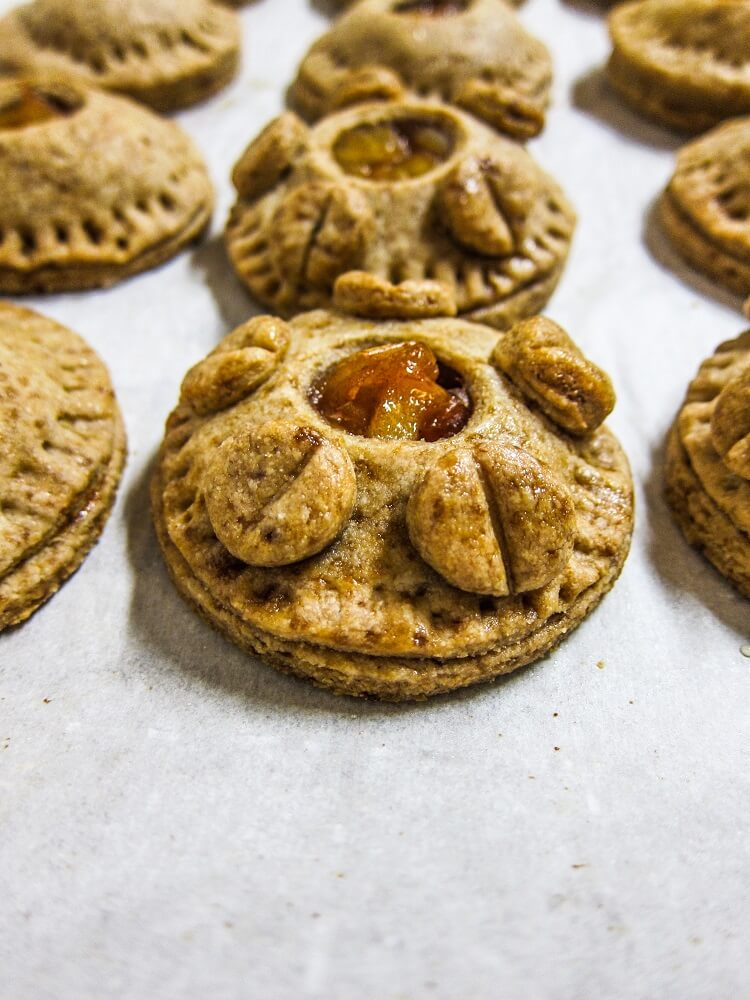 Vegan Apple Pie Cookies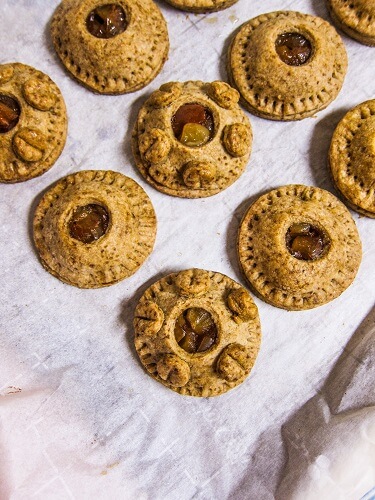 Last Sunday Eric and I visited the apple orchard with our friends. It pretty much tradition for every Minnesotan to do so (well at least everyone I know). Plus, Sunday was a beautiful fall day and the trees are at their peak colors so it was the perfect day to visit. Also, it has been raining a lot here in Minnesota, usually on the weekends so we were thankful that it was finally nice for this one so we could finally visit!  It was packed, seems like everyone has the same idea, but luckily they still had plenty of apples!  When we walked in from the parking lot in the field, we were greeted with the aroma of freshly baked apple cinnamon doughnuts and pie, and kettle corn and it made me really hungry again even though I had just eaten lunch.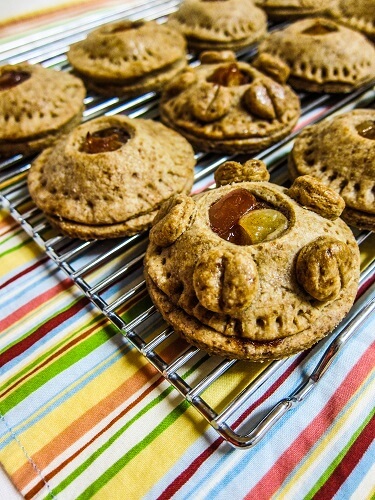 We wandered though the orchard admiring the apple trees, but since they didn't have pick your own that day we headed to the barn to sample all of the types that they had.  They had the old Minnesota standbys like the Honey Crisp, Haralson, and Courtland, but there were also a few varieties I had never tried before and I ended up buying some of (since I have not seen them on stores) like the Pizazz and Honey Belle.  I picked up bags of the last two, because they were both flavorful, sweet just a little tart and unique.  I knew they would make some really good desserts as well as snacks later in the week.  Monday I decided to use some of them to make Apple Pie Cookies!  I love a good old fashioned apple pie and was craving some, but one large pie seemed like a lot of work so I opted for the smaller ones instead.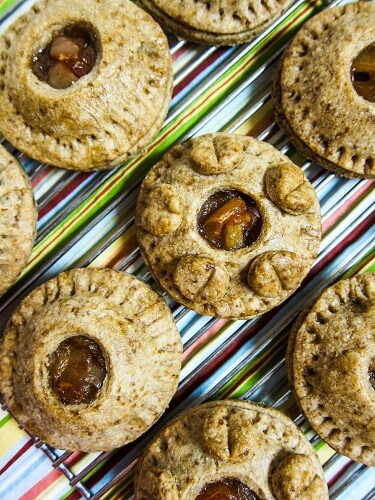 I wasn't sure whether I should go for cookie dough or actual pie crust for these, but I went with the pie crust, crossing my fingers that it would work. Because mini pies with apple crust would be so adorable.  I sautéed the apples before using them in the pies because I figured the cookies would cook better and faster if the filling was pre-cooked. Apples are kind of hard after all, and usually require a long cooking time. I actually do this with my large pies too.  The cookies smelled amazing while baking and the best part was I got to enjoy them a lot faster than traditional pie because they baked up quick!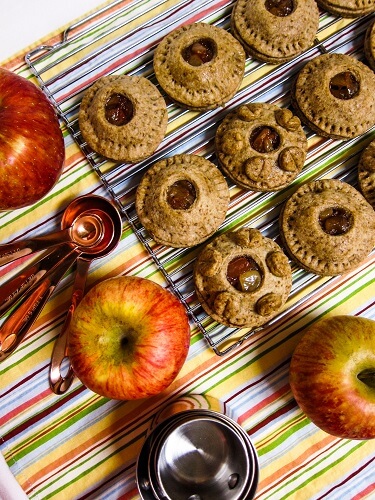 These are something that is best served warm out of the oven.  Not because they are not good when they are cold, they still are, but I am one of those people who has to have my apple pie slightly warm.  It brings out the flavor more!  They tasted wonderful, sweet jammy apples baked to perfection inside, a flakey buttery tasting crust, and a hint of cinnamon!  They were really a lot more forgiving to put together than traditional large apple pie, and they were the perfect recipe to showcase those Minnesota apples!
Vegan Apple Pie Cookies
Makes 18
Crust:
1/4 cup coconut sugar or maple sugar
1/2 tsp sea salt
3/4 cup coconut oil in its solid state
about 6-7 Tbsp cold water
Filling:
3 medium sweet tart sweet apples (I used pizazz apples, but you can use other apples with a lot of flavor such as honey crisp, haralson, or pink lady)
3 Tbsp maple syrup
2 tsp cinnamon
1 tsp pure vanilla extract
juice of one lemon
a pinch of sea salt
1 1/2 Tbsp arrowroot starch
coconut milk, for brushing
coconut sugar, for topping
Instructions:
To make the crust, in a large bowl, mix together flour, sugar, sea salt, and spices.
Cut in coconut oil with a pastry blender or 2 knives until it is in pea sized pieces. Mix in  just enough water to create a smooth dough that holds together but isn't too sticky. Add more water if needed, and knead slightly until a smooth dough is created.
Roll dough out into a large rectangle 1/8 inch thick using parchment underneath and floured rolling pin, and cut into 36 circles with a cookie cutter, then cutting a vent hole into half of them (alternatively if you don't want to cut a hole, you can poke the top a few times with a knife before baking instead).
Preheat oven to 375F degrees. To make filling, mix together all ingredients but the arrowroot in a non-stick skillet.  Heat over medium and cook until the apples have softened, about 10 minutes, after they have softened add the arrowroot.
Spoon the filling by the tsp onto half of the prepared little crust circles, and cover with the top pieces of dough with the vent hole (I used a small spatula to carefully move them), pressing the edges and crimping with a fork.
Brush crust with a little coconut milk, and sprinkle with sugar. Bake for about 30 minutes until the crusts are starting to brown lightly.
Remove from oven and let cool on a wire rack until warm.
*If you prefer these to not be gluten free, you can use organic whole wheat pastry flour in place of the GF all purpose flour, the same amount.
(Visited 596 times, 1 visits today)