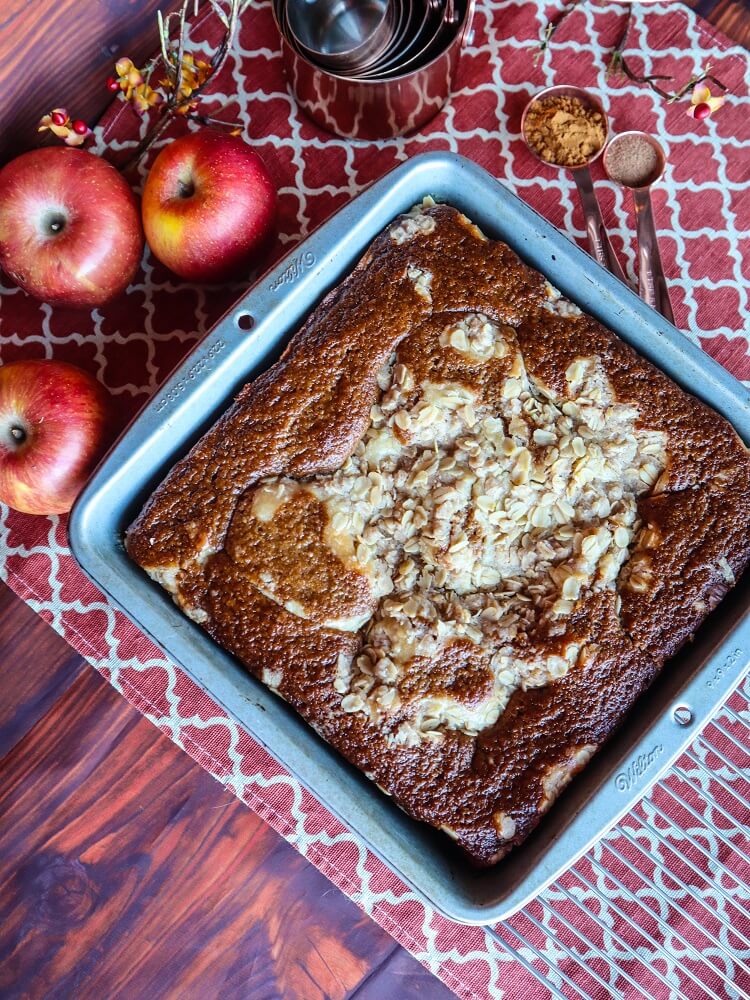 Vegan Apple Cream Cheese Coffeecake
This is a sponsored post, but all opinions are my own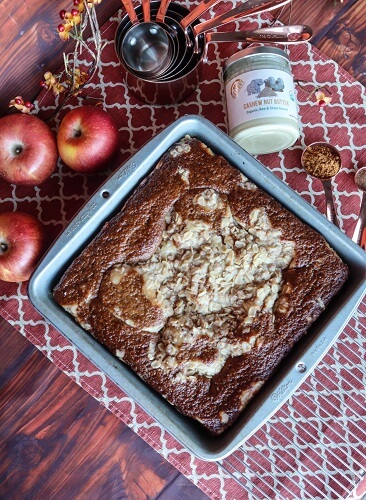 I have been seeing all sorts of delicious apple desserts in my newsfeed lately, and have been excited to start making my own!  I love a good apple pie, apple muffins or apple scones, but what I decided to make first was some apple "cream cheese" coffeecake!  Raw Guru recently sent me some of their Dastony raw cashew butter, which is something I love using in my cream cheese fillings so it was the perfect time to make it!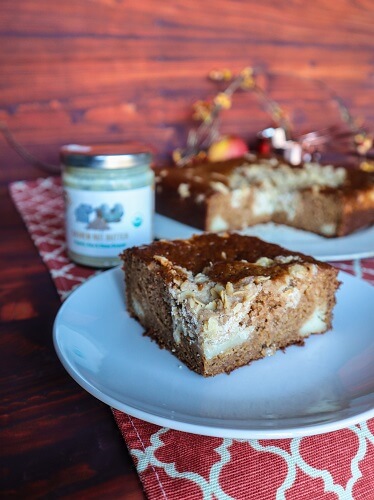 I have always loved coffeecakes, especially the ones involving cream cheese ever since I was a kid and I begged my mom to buy me some at the grocery store.  Of course home made is always better though, and she made some pretty good coffeecake too!  This is the time of year when I usually whip one up!  The base for this one is pretty easy to make, I used coconut oil for richness, the apple sauce to create a moist cake with apple flavor and of course cinnamon and nutmeg that go so lovely with apple.  The batter tasted delicious even before I baked it!
For the cream cheese, I combined the Dastony raw cashew butter with coconut cream, maple syrup and vanilla to make a rich cream cheese layer.  I could not wait to bake this cake up!  But first I made a bit of streusel to sprinkle over the top, because why not?  It smelled heavenly while it was baking!  I love the scents of fall goodies!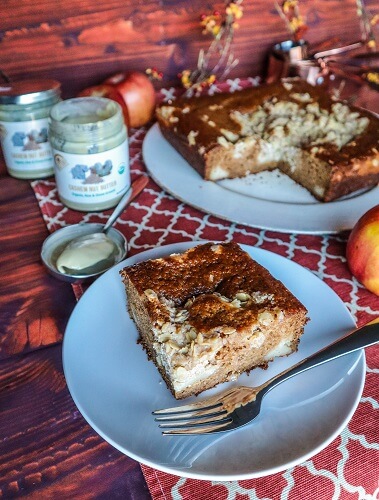 Once it was all cool and ready to try, I had to dive in so I cut myself a good sized piece.  It was sooo good!  Soft, sweet apple cake with a layer of rich "cream cheese"!  If you have apples or applesauce on hand give this a try!  I actually pureed some fresh apples to make mine. If you would like to check out some Dastony cashew butter you can do so on the Raw Guru website!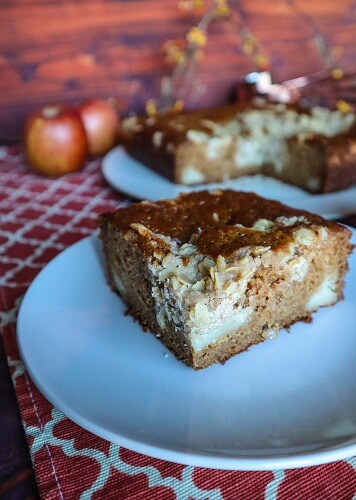 Vegan Apple Cream Cheese Coffeecake
Makes a 9x9 inch cake
Ingredients:
Cream Cheese:
3/4 cup thick coconut milk (from the top of a chilled can)
1/2 cup Dastony raw cashew butter
2 Tbsp maple syrup
1/8 tsp sea salt
1 tsp pure vanilla extract
1/2 tsp cider vinegar
2 Tbsp arrowroot starch or cornstarch
Streusel:
1/2 cup organic rolled oats
2 Tbsp maple sugar
1/4 cup organic whole wheat pastry flour
1/8 tsp sea salt
3 Tbsp coconut oil
Cake:
1 1/2 cups organic whole wheat pastry flour
1 1/2 tsp baking soda
1 tsp baking powder
1 tsp cinnamon
1/2 tsp nutmeg
1/2 tsp sea salt
1 cup maple sugar
1 cup full fat coconut milk (the thick kind, I prefer Thai Kitchen brand) at room temperature
1 cup apple sauce
2 tsp pure vanilla extract
2 Tbsp cider vinegar
Instructions:
Preheat the oven to 350F degrees and position rack in center of oven. Line a 9x9 inch square pan with parchment paper.
Combine all of the "cream cheese" ingredients in the blender and blend until smooth.  Set aside.
Combine all of the streusel ingredients in a bowl, and mix together with hands until it forms clumps and is well combined. Set aside.
To make the cake batter, whisk flour, baking soda, cinnamon, nutmeg, sea salt, and sugar in a large bowl to blend well.
Whisk coconut milk , apple sauce and vanilla together in small bowl to blend well, then whisk into the flour mixture until well blended.
Whisk the cider vinegar into the batter.
Transfer the cake batter to prepared pan.
Pour the cream cheese mixture over that (making sure you do it evenly and not just in one spot, I recommend pouring it in lines across the batter).
Sprinkle the streusel evenly over the cream cheese.
Place in the oven, and bake until tester inserted into center comes out clean with just a few moist crumbs attached, about 50 minutes.
Remove from the oven and let cool completely.
If you would rather use coconut sugar or even just granulated sugar for this, either will work in place of the maple sugar.
This cake can be made gluten free by swapping out the whole wheat pastry flour for Bob's Red Mill gluten free all purpose baking flour (this is a brand I have used before and have tested it in cakes with great results).
(Visited 721 times, 1 visits today)