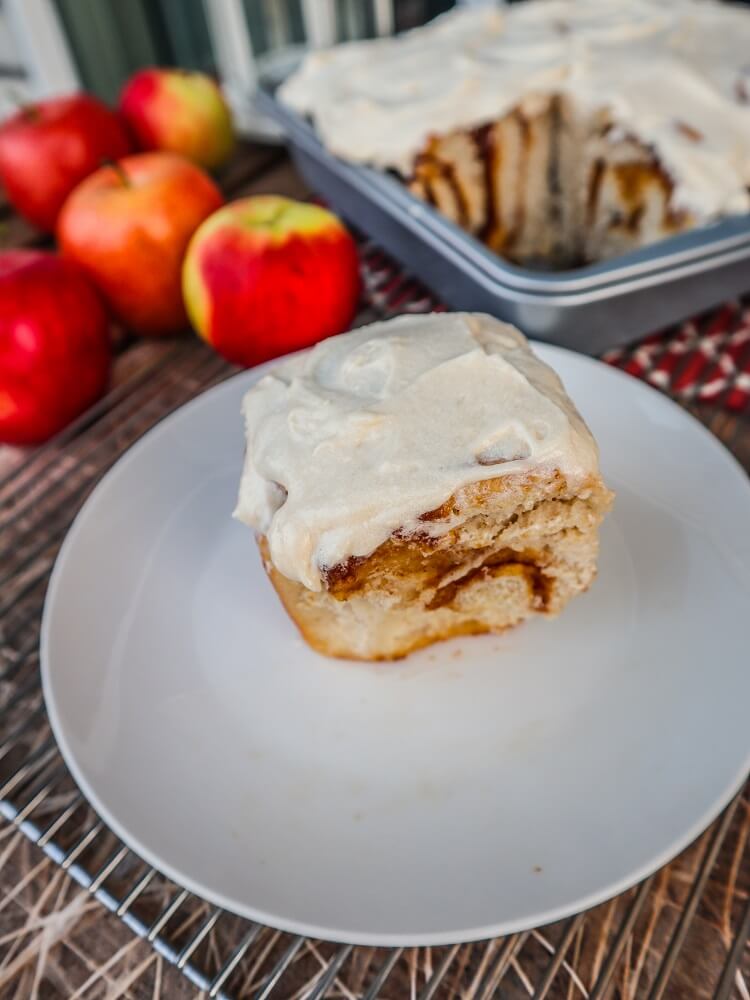 Vegan Apple Cinnamon Sweet Rolls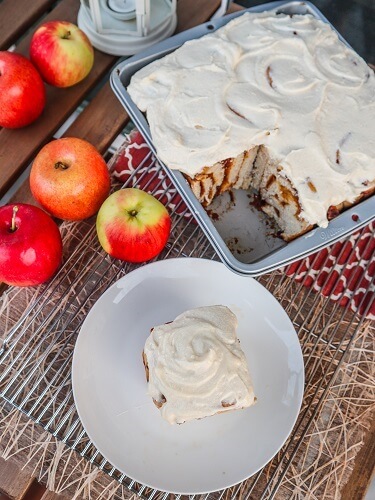 Apple season is in full swing!  Although I have yet to make it to the apple orchard this year, I really want to go soon, I love going there are picking my own apples!  However I did recently buy some apples at a farm market when we visited Door County Wisconsin recently.  They were the first of the season, and they were delicious!  I had just enough left to make something, so I decided to make some Vegan Apple Cinnamon Sweet Rolls!  I have been wanting to make these for a while, I got the idea last year but didn't get around to it so I had to do it this year!  I made these after work one day last week because they just sounded good!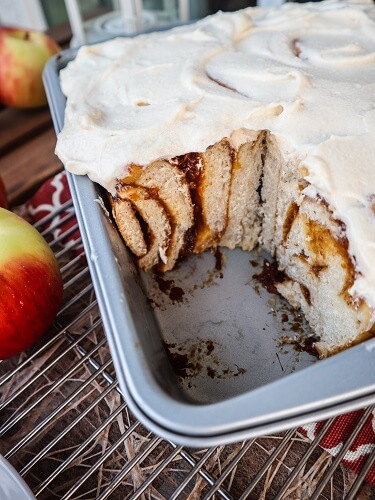 I actually really like making yeasted dough when I have the time, it is kind of relaxing and satisfying to knead it!  To think I used to be intimidated by it back in the day, but it is really nothing to worry about so long as your yeast is fresh, and you don't add overly hot water to it. I had a foods class in high school, and the teacher would always say, add warm water but not too hot, you don't want to kill the yeasty beasties!  I still say that to myself now lol when I am adding the water. It should be about 105-110F degrees but not hotter. Another note on the yeast, if you choose to use rapid rise yeast in this recipe, then it rises in about half the time, so keep an eye on it, and it should be done rising in half the noted time. I have made my rolls with it before and it works just as well.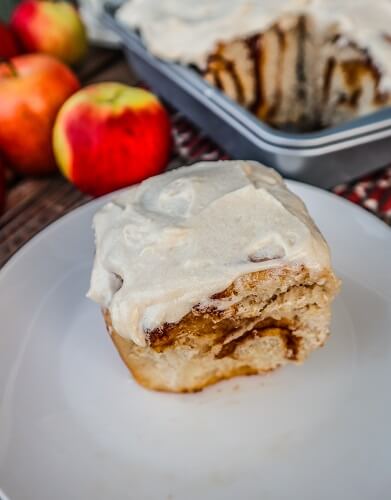 I scented the dough with cinnamon and vanilla, and I used granulated sugar this time because it was what I happened to have on hand, but you could use maple sugar, coconut sugar or even brown if you prefer.  Also, I used whole wheat pastry flour because it is what I had but if you wanted to use regular all purpose flour, that works too, I have used the same amount in my roll recipes before with good results (I use the same base roll recipe for most of my sweet rolls and just change the flavorings). For the filling, I used a combination of chopped apples, apple jam that Eric's Dad made, and some maple syrup and it was just the right amount of sweet!
Lastly, I topped these off with a vegan cream cheese frosting, because cinnamon rolls have to have a good frosting!  I used a combination of vegan butter and cream cheese with a little vanilla and powdered sugar to sweeten it.  If you wanted a less sweet topping, you could use the glaze that I used on my Strawberry Sweet Rolls instead, it is made with coconut butter and no refined sugar.  Anyways, these rolls turned out sooo good!  They were soft and fluffy, the sweet cinnamon apple filling tart and sweet and flavorful, the perfect partner for the rich cream cheese frosting!  If you are loving apple desserts as much as I am right now, definitely give these Vegan Apple Cinnamon Sweet Rolls a try!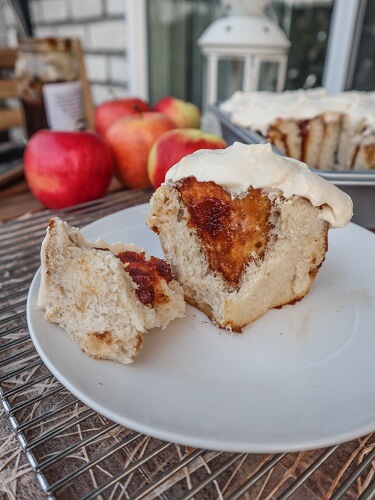 Vegan Apple Cinnamon Sweet Rolls
Makes 12
Dough:
1/2 cup warm water ( 105-110F degrees)
1 packet active dry yeast (1/4 oz)
3/4 cup warm full fat coconut milk (I warmed it up on the stove, but you want to keep it below 105 degrees)
1/4 cup granulated sugar, maple sugar or coconut sugar
1 tsp pure vanilla extract
1 tsp sea salt
1 Tbsp ground flax seed, mixed with 3 Tbsp filtered water
1/2 tsp cinnamon
3 1/2 cups whole wheat pastry flour or as needed
Filling:
1 cup finely chopped apples
1 cup apple jam or apple butter
2 Tbsp maple syrup
1/2 tsp cinnamon
Frosting:
1/2 cup vegan butter (I used Earth Balance, one stick), softened
8 oz vegan cream cheese (I used Kite Hill)
1 tsp pure vanilla extract
2 cups powdered sugar
Instructions:
To make the dough, combine the yeast and the warm water (about 110F degrees, you don't want to kill the yeast) plus a pinch of maple sugar and stir to dissolve. Let sit 5-10 minutes until it starts to foam.
In a large bowl, combine the yeast, coconut milk, sugar, vanilla extract, salt and flax mixture, cinnamon and mix together to combine.
Add 2 cups of flour and mix to combine.
Add the remaining 1 1/2 cups of flour and mix until you have a smooth dough (you may need to use your hands at the end to mix it in).
Turn out onto a lightly floured surface, and knead for 5-10 minutes until smooth and supple. If it is too sticky add a little flour but you want to add as little as possible because if you add too much the dough gets tough.
Place in an oiled bowl, and cover. Let rise for about 1 1/2 hours until doubled in size.
When it is ready, turn out onto the counter or a board and roll out into a 9x15 inch rectangle.
Mix together the filling ingredients and spread it evenly over the dough.
Roll it up, then cut the roll into 12 pieces.
Oil a 9x9 inch square baking pan, and place them in the pan.
Cover and let rise for 45 minutes.
Meanwhile heat the oven to 350F degrees.
When the rolls have risen for 45 minutes, place them in the preheated oven and bake for about 30 minutes until starting to brown and cooked through.
Remove from the oven and let cool 15 minutes.
To make the frosting, beat together the butter, cream cheese and vanilla until smooth, then beat in the powdered sugar 1 cup at a time until smooth.
Spread the frosting over the rolls, and enjoy!
These keep covered and refrigerated for up to 1 week.
(Visited 300 times, 1 visits today)