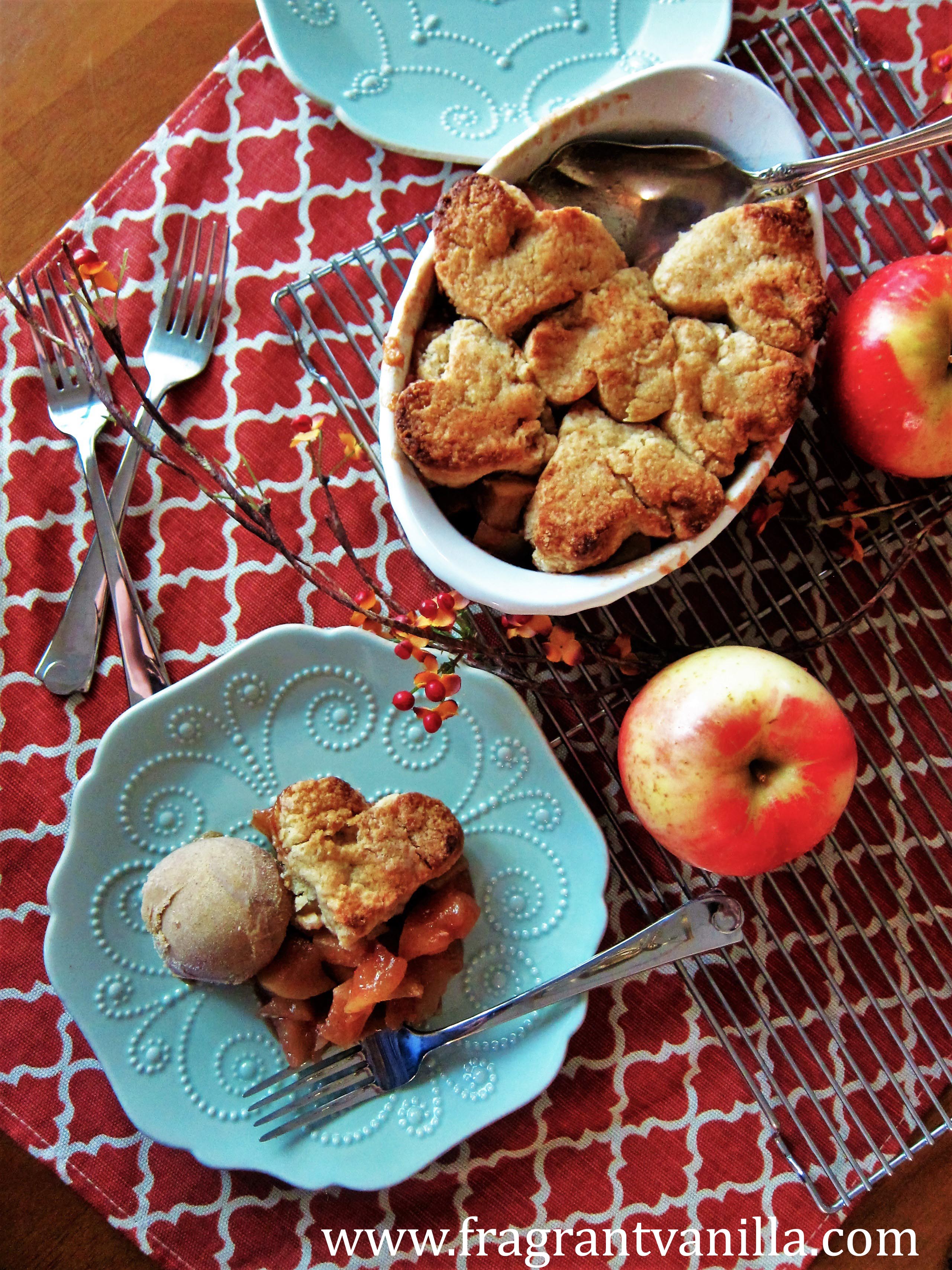 Vegan Apple Cinnamon Cobbler with Almond Biscuits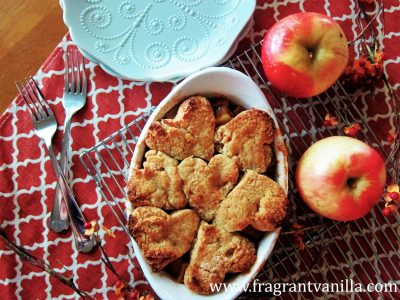 I can not believe October is here already! But I love it. I have to say, this is my favorite time of the year!  I was lucky enough to have this past Saturday off of work to run a 5k, and the weather was perfect.  A little chill in the air, the leaves were just starting to change color on the trees, and the sun was shining.  It just made me happy.  I felt really good during the race, and ended up being the first woman despite not hitting my time goal.  I spent most of the rest of the day outside, but I also decided to bake something Fall like because I was in the mood for it.  The cooler air makes me want to fire up the oven.  When most people think of apple desserts, they probably don't think cobbler, but that is what I made.  Because a cobbler sounded amazing and I had some local honeycrisp apples just begging to be used in it.
I mean, there is nothing like a warm cobbler served with cool coconut ice cream melting into it.  That is just pure bliss right there and enough to put me in my happy place.  I didn't go all crazy with flavors here, I kept it simple with classic cinnamon.  For the biscuits to top if off, I used almond meal along with the gluten free flour to make them taste especially rich and flaky.  I have been doing this with all of my cobblers for a while, and it gives them that something special.  Sometimes I use pecan meal or walnut meal, but almond was my nut of choice this time.  The dough for them tasted delicious even before I placed them on top of the cobbler.  For the filling, I added a little lemon juice along with the apples and plenty of cinnamon because that is how my Mom always made her apple pie, and it was the best so I wanted my filling to taste like that.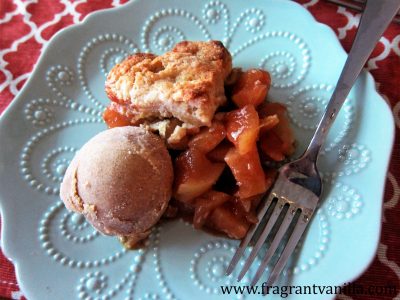 I was super excited about this, because it smelled amazing while baking.  I served it warm (of course) topped off with some of my
vegan pumpkin spice caramel ice cream
.  It was sooo good!  Those I shared it with enjoyed it too, and it did not take long for the baking dish to be empty.  This is the perfect Fall dessert and baking project for a Saturday night!  I hope you all are having a wonderful Fall so far!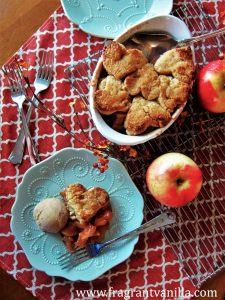 Vegan Apple Cinnamon Cobbler with Almond Biscuits
3 cup organic sweet tart apples (such as honeycrisp or pink lady), cut into chunks
1 Tbsp maple syrup
2 Tbsp gluten free all purpose flour
1 tsp cinnamon
1 Tbsp lemon juice
1 tsp pure vanilla extract
biscuit topping:
3/4 cup gluten free all purpose flour
1/2 cup almond meal*
2 Tbsp coconut sugar
1/4 tsp cinnamon
1/2 tsp plus 1/8 tsp baking powder
1/8 tsp sea salt
2 Tbsp solid coconut oil, cut into chunks
1/4 cup cold full fat coconut milk (chilled in the fridge is best), mixed well
1 tsp pure vanilla extract
 6 inch wide ovenproof bowl or pie plate
Directions:
Preheat oven to 400 degrees with the rack at the center position. Place a baking sheet lined with foil on the rack. Oil a 6 inch wide pie plate or bowl with coconut oil. In a large bowl, toss together the fruit, maple syrup, flour, cinnamon, lemon juice, and vanilla.
Spoon into prepared bowl or pie plate, and cover with foil. Place plate on baking sheet and bake for 45 minutes until fruit is cooked through and bubbling.
Meanwhile, when the fruit in the oven is almost at 45 min, to make biscuits, in a large bowl, combine the flour, almond meal, sugar, cinnamon, baking powder, and salt. Cut in the oil with a pastry blender or 2 knives until the mixture starts to clump into pea sized pieces.
In a small bowl, stir the vanilla extract into the coconut milk. Add the milk to the dough, and stir a few times, but do not overmix. The dough should hold together when squeezed, but still be clumpy. Place dough on a floured work surface, and pat into a 1/2 inch tall rectangle.
Remove baking fruit from oven. Cut small shapes out of the dough using a cookie cutter (or free form it), and place on top of the cobbler.  When all biscuits are on top of cobbler, sprinkle with coconut sugar and return to the oven.
Bake for about 20 minutes until biscuits are cooked through and lightly brown and toasted on top (keep a close eye on they could burn very quickly). Remove from oven and let cool until warm, and top with some ice cream or coconut vanilla whipped cream and...enjoy!
*raw almonds ground to a flour consistency in a food processor, or you can buy almond meal at many stores.
(Visited 167 times, 1 visits today)