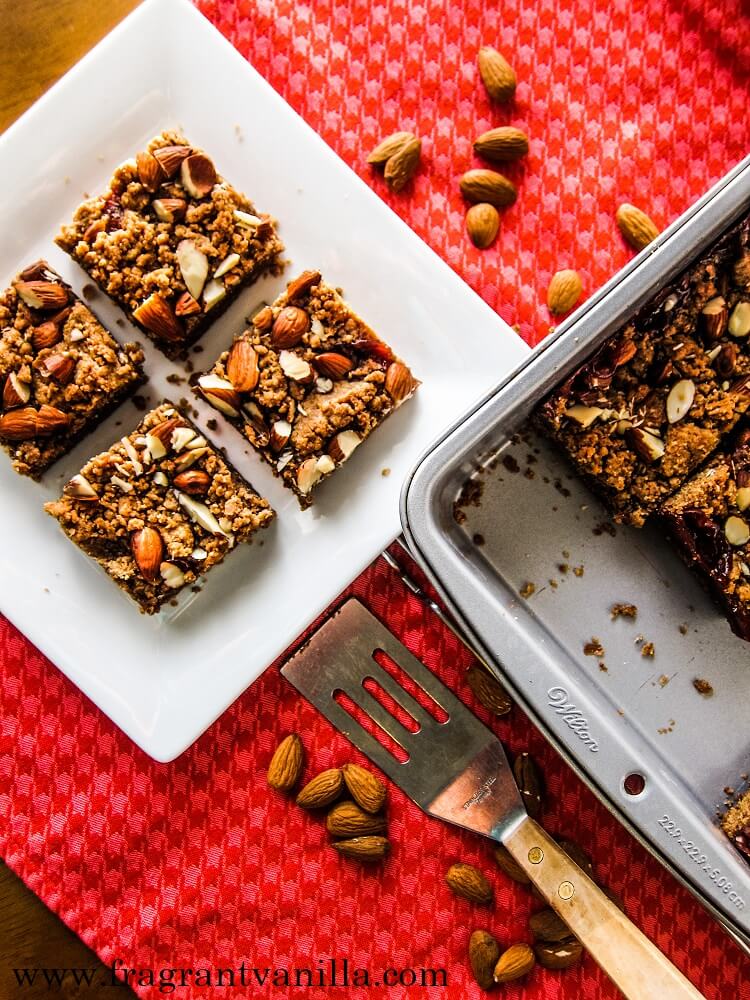 Vegan Almond Strawberry Rhubarb Jam Bars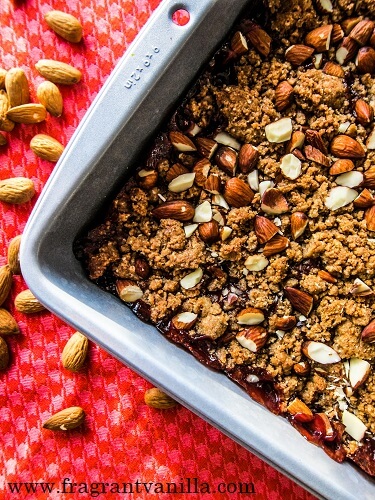 I am so ready for strawberry and rhubarb season!  Spring is way behind here this year, with ice still on the lakes, snow on the ground and the ducks and geese that flew back here to Minnesota look confused.  Hopefully soon we will have green grass, tulips blooming and rhubarb growing.  But until then I will dream about it and enjoy strawberry rhubarb jam instead.  I was gifted a jar of lovely strawberry rhubarb jam and it honestly tastes like Summer.  When I was little, my Grandma used to make strawberry rhubarb sauce with the rhubarb that grew behind her garage and it was one of my all time favorite things!  I would eat a giant bowl and she would always warn me that if I ate too much I would get a stomach ache, but I never did.  It was so good.  Maybe that is why I love the combination of strawberries and rhubarb so much, it brings back good memories.  Monday, I decided that some strawberry rhubarb jam bars sounded good, so I went to work making some.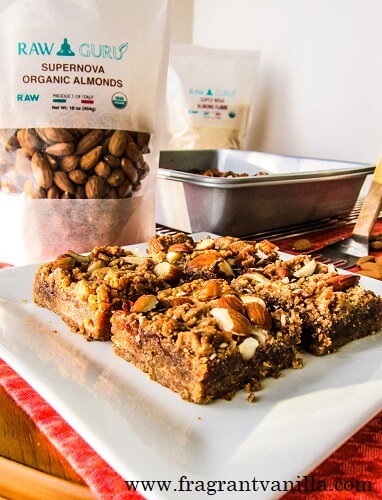 Raw Guru recently sent me a care package including some Raw Guru Supernova Almond Flour and Raw Guru Supernova Raw Almonds, so I thought why not give the bars a buttery almond crust.  They are really good quality almonds from Italy, and they are actually truly raw and unpasturized, which is really hard to find here in the US.  They get toasted in this recipe, but if you are looking for raw almonds for raw recipes, these are awesome!  I actually made some almond butter from them, as well as used some chopped up nuts in the recipe, and the almond flour of course, so they are filled with almond goodness! The crust also doubled as a crunchy topping, so there is plenty of almond goodness to go around.  The flavor paired perfectly with the strawberry rhubarb.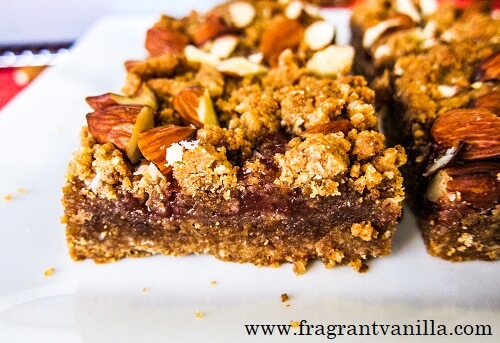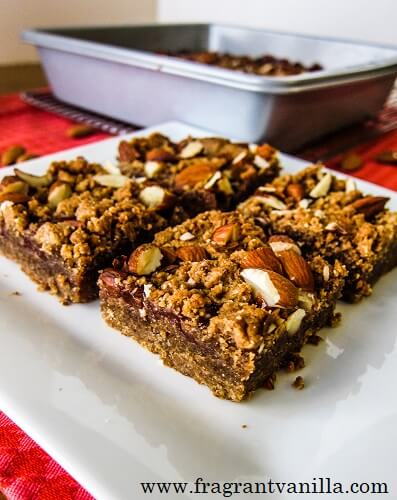 These smelled amazing while baking with the jammy fruit and almond crust toasting as it baked.  I could not wait to try them!  But unfortunately I had to wait until they cooled so that they would cut nice.  That is the downside of being a food blogger sometimes, you can't just dive right into things.  It is ok though, because it was so worth the wait!  The gooey sweet tart strawberry rhubarb jam was amazing with the rich buttery almond crust!  If you are ready for Spring, whip up a batch of these!  If you can't find strawberry rhubarb jam, you can use strawberry and they will still be really good.  Lastly, I would like to mention, that Raw Guru has been kind enough to give me a coupon code for you all, to get 10% off of your order.  So if you go on their website, when you are checking out with your items, enter the coupon code: FRAGRANTVANILLA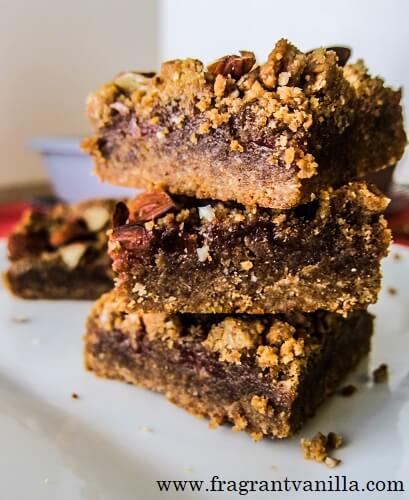 Vegan Almond Strawberry Rhubarb Jam Bars
Makes 16 bars
Ingredients:
1/4 cup coconut oil, warmed to liquid
3/4 cup coconut sugar
1 tsp pure vanilla extract
3 Tbsp filtered water mixed with 1 Tbsp ground flax seed
1 cup almond butter
3/4 cups all purpose gluten free flour
3/4 cup Raw Guru almond flour
1/2 tsp baking powder
1/2 tsp sea salt
1 1/4 cups strawberry rhubarb jam (make sure it is vegan)
2/3 cup chopped Raw Guru almonds
Instructions:
Preheat oven to 350F degrees with the rack set in the center position. Line a 9x9 inch square pan with parchment, and/or grease it with coconut oil.
Whisk the coconut oil and sugar together in a bowl with the vanilla and flax mixture until the sugar starts to dissolve. Then add the almond butter and mix until combined.
Add the flour, almond flour, baking powder, sea salt and stir in until well blended.
Spread 2/3 of this mixture over the bottom of the pan, pressing it to the edges with your fingers.  Then spread the jam over that with a spoon or offset spatula. Drop chunks of the remaining dough over that, and sprinkle with the almonds.
Place in the oven. Bake for about 45 minutes until lightly browned and set.
Remove from the oven and let cool completely before cutting into bars.
(Visited 96 times, 1 visits today)