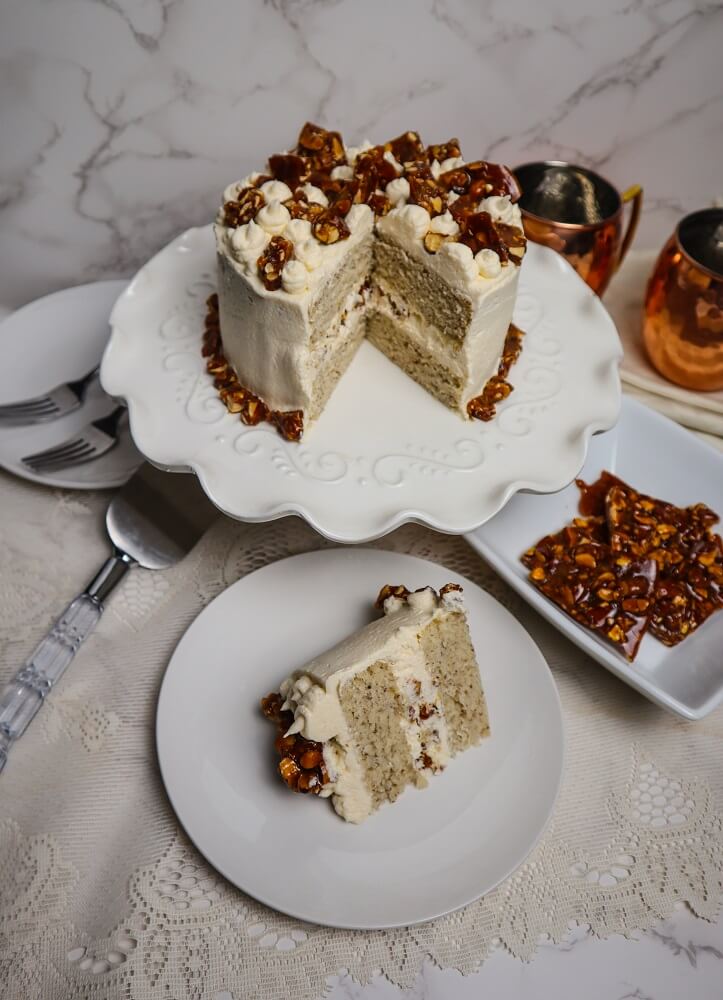 Vegan Almond Praline Cake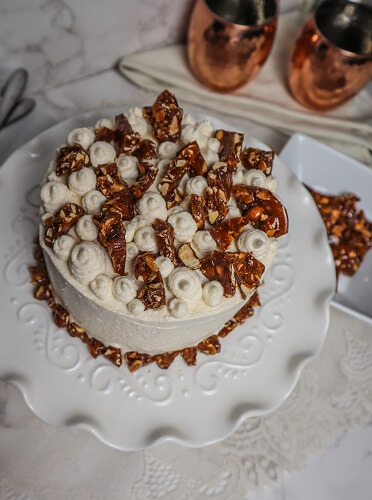 Around the holidays I like to make candy, things like peanut brittle and almond praline brittle are one of my husband Eric's favorites! I made some almond praline brittle last weekend, because I thought it sounded good, then I thought about how good it might be as an element of texture included in a cake!  It is so delicious and flavorful, like crunchy almond vanilla scented caramel.  So I decided to make a Vegan Almond Praline Cake!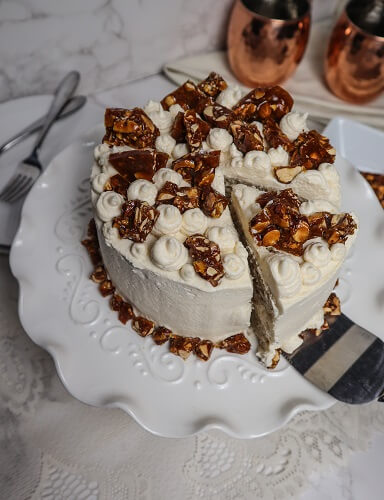 I already had the almond praline made.  It is really simple, you just melt sugar and add almonds, salt and vanilla and you get the most delicious crunchy candy once it hardens!  Next, for the cake, I made my classic vanilla cake recipe with almond added and I knew it would be perfect with the almond praline! I used whole wheat pastry flour for my cake batter but if you like to use all purpose flour that would work as well.  Or even a gluten free flour blend like Bob's Red Mill gluten free all purpose baking flour (which I have used before and know works for a recipe like this).  While I normally use avocado oil in my cakes in this one I happened to use almond because we had some on hand. I thought I might as well keep with the almond theme.  These cakes always smell so heavenly while they bake!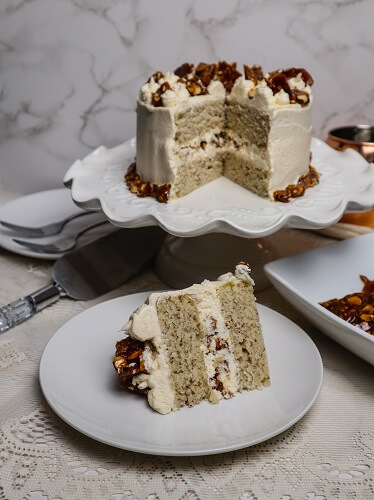 For the frosting I made a simple vanilla buttercream.  This is honestly my favorite frosting and my go too frosting because it is so easy to make and always tastes so good.  I used Earth Balance sticks this time.  I have been making this frosting recipe so long that it is actually from the non-vegan one my Grandma taught me, when I went vegan I just swapped the butter for vegan butter and it tastes just as good!  I kept the frosting simple because I knew I would be including the praline on top of the cake and in the middle layer. I chopped up some of the praline to put in the center layer of the cake and it worked out perfect!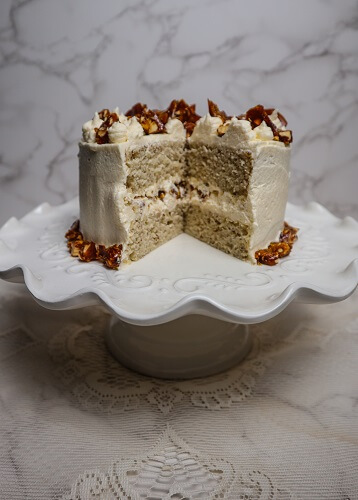 I could not wait to try the finished cake!  Even Eric wanted to try a piece as soon as I was done taking my photos of it and he isn't a big cake person like me. It was so delicious!  Sweet, soft vanilla almond scented cake sandwiched together with luscious vanilla buttercream, and crunchy almond praline! I am in love with this combo!  If you are in the mood for something sweet, definitely give this Vegan Almond Praline Cake a try!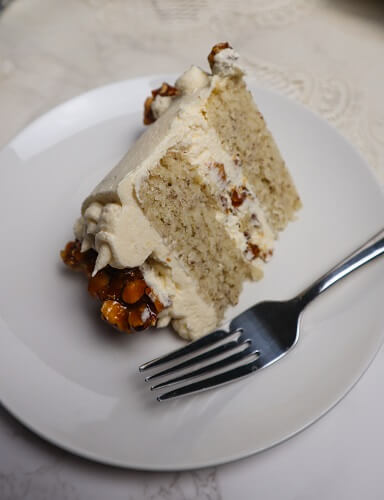 Vegan Almond Praline Cake

Makes one 2 layer 6 inch cake
Ingredients:
Cake:
1 1/2 cups organic whole wheat pastry flour or all purpose flour
3/4 cup plus 2 Tbsp granulated sugar
3/4 tsp baking powder (1/2 tsp plus 1/4 tsp)
1/2 tsp sea salt
2 flax eggs (2 Tbsp golden ground flax seed mixed with 1/4 cup plus 2 Tbsp filtered water, allowed to sit 15 minutes)
1/4 cup plus 2 Tbsp almond oil or other neutral oil
1/2 cup plant based milk
1 1/2 tsp pure vanilla extract
1/2 tsp almond extract
Almond Praline:
1 cup granulated sugar
1/8 tsp sea salt
2/3 cup chopped almonds
1 tsp pure vanilla extract
Frosting:
1 1/2 cups vegan butter, I used Earth Balance (at room temperature)
3-4 Tbsp oat milk (I used Oatly, but you can use what you prefer), add 3 then if needed add another if frosting comes out too stiff
1 tsp pure vanilla extract
1/2 tsp pure almond extract
4 cups powdered sugar
Instructions:
Preheat oven to 350F degrees, and line 2 6 inch round cake pans with parchment on the bottom and oil the sides.
In a large bowl, combine the flour, sugar, baking powder and sea salt and whisk to blend.
Add the flax eggs, avocado oil, oat milk, and vanilla and beat with an electric mixer for about a minute (or 3 minutes if doing it by hand with a whisk).
Pour the cake batter into the prepared pans, dividing evenly between them.
Place the cakes in the oven and bake for about 30 minutes until the cakes are done in the center (you are able to insert a toothpick into the center and it comes out almost clean with a few moist crumbs).
Remove from the oven and let cool 20 minutes, then remove the cakes from the pans by cutting around the sides, placing a plate on top then inverting it and tapping on it.  Allow them then to cool completely once they are out of the pans.
To make the praline, in a non-stick pan, melt the sugar and salt until completely smooth and liquid over medium heat (this should take about 5 minutes), add the almonds and vanilla (it will foam slightly so be careful), stir until mixed in well, then pour onto a sheet of parchment or foil and allow to cool completely.  Once it has cooled, break into small pieces
Chop up about 1/3 cup of the brittle to smaller pieces and save the rest for decorating the cake (and eating).
To make the frosting, beat the butter with the milk and vanilla until fluffy.
Add the powdered sugar 1 cup at a time, and beat until completely mixed and light and fluffy (if the frosting is too stiff add that other Tbsp of milk).
When ready to frost, Place one cake layer on a plate, spread about 1/2 inch thick layer of the frosting over it, then top with the chopped brittle.
Spread a thin layer of frosting on what will be the bottom of the other cake layer, then place on top of the brittle.
Spread the remaining frosting on the top and down the sides of the cake evenly, then place the rest of the frosting in a pastry bag and use it to decorate the top and the remaining brittle pieces.  This frosting recipe makes enough that you should be able to do some generous piping decorations on top, because I like a lot of frosting!
Serve the cake and enjoy!
(Visited 600 times, 1 visits today)