Vegan Almond Poppy Seed Cake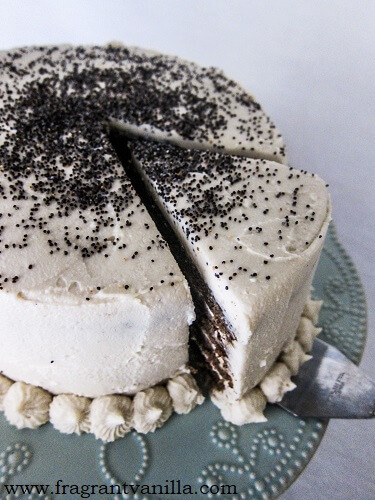 Did you know there is such a thing as poppy seed butter?  Well I certainly didn't until it popped up in my Facebook news feed from Raw Guru!  I was intrigued, and I really wanted to try some!  So, I was super excited when it was included in a box of goodies that they sent me last week!  I immediately decided that I wanted to include it in a delicious cake.  I have always been a fan of poppy seed cakes, especially those that include almond extract too, so that is exactly what I made!  The poppy seed butter has a smooth, rich texture, a beautiful black color and it tastes unlike any nut or seed butter I have ever tried. I was going back and forth between a layer cake and a coffee cake to include it in, but I finally decided on the layer cake, since I haven't made one in a long time and I love the process.  Plus I was in a frosting mood.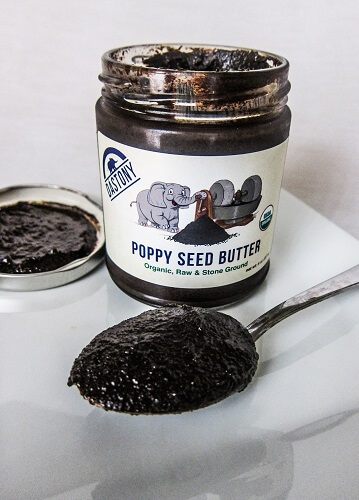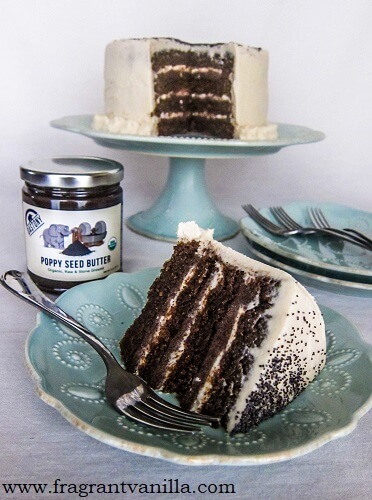 For the cake portion, I used a vanilla cake batter that I normally use with avocado oil to keep it moist and maple sugar to sweeten it.  This one is not gluten free, because I used whole wheat pastry flour, which is what I prefer right now, but if you wanted to make it gluten free you could use 1 cup Bob's Red Mill gluten free all purpose baking flour and 3/4 cup tapioca flour subbed for the whole wheat pastry flour.  It will work just as well.  The batter is sweet, and tastes just like I remember birthday cake batter tasting when I was little and my Grandma let me lick the bowl.  I added a touch of almond extract as well, because I love it with poppy seeds.  I also whisked in a good amount of the poppy seed butter into the cake batter. It tasted sooo good!  I couldn't wait to see what it turned out like.  My kitchen smelled amazing as it was baking!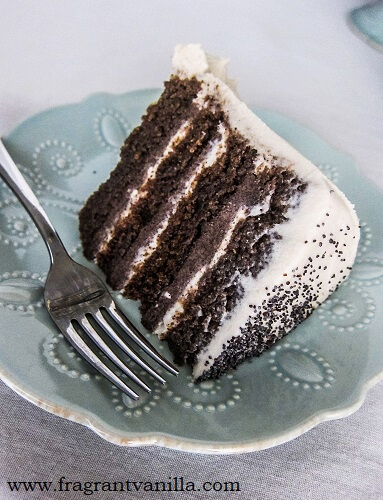 Once the cakes were all cooled, I made some cream cheese style vanilla almond frosting, and a little bit of poppy seed filling with more of the butter to include in the center of the cake.  I was so excited to try it!  I mean, I had been sampling bits of all of it while I made it, but once it is all together you get the full affect!  The cake was soft, sweet, moist and rich thanks to the poppy seeds, and the fluffy frosting was perfect with it!  If you are a poppy seed fan, definitely get yourself some Dastony poppy seed butter from the Raw Guru Website!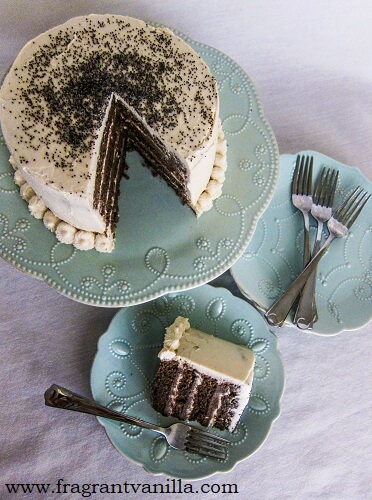 Vegan Almond Poppy Seed Cake
Makes 1 6 inch 2 layer cake
Ingredients:
2 6 inch cake pans
Cake:
1 3/4 cup organic whole wheat pastry flour
1 tsp baking soda
1/2 tsp baking powder
1/2 tsp sea salt
3/4 cup maple sugar or coconut sugar
1/4 cup maple syrup
1/2 cup avocado oil
1 1/4 cups light coconut milk (at room temperature)
1/2 cup Dastony poppy seed butter
2 tsp pure vanilla extract
2 Tbsp lemon juice
Frosting:
1 1 15 oz can full fat organic coconut milk, at room temperature
3/4 cup raw cashew butter
1/3 cup maple syrup
pinch sea salt
1 tsp pure vanilla extract
1 tsp almond extract
1 tsp lemon juice
3/4 cup Dastony coconut butter (NOT OIL), warmed to liquid
Filling:
1/3 cup Dastony poppy seed butter
2 Tbsp full fat coconut milk (or  coconut cream, the thick part from the top of the can)
3 Tbsp maple syrup
1 tsp pure vanilla extract
Garnish:
Instructions:
Preheat the oven to 350F degrees and position rack in center of oven.
Line two 6-inch-diameter cake pans with 2-inch-high sides with parchment paper. Coat parchment paper and pan sides lightly with oil so that the cake doesn't stick
.Whisk flour, baking soda, sea salt, and sugar in a large bowl to blend well.
Whisk maple syrup, oil, coconut milk, poppy seed butter and vanilla and almond extracts together in small bowl to blend well, then whisk into the flour mixture until well blended.  Whisk in lemon juice until bubbles form.
Transfer cake batter to prepared pans and bake cakes until tester inserted into center comes out clean, about 40 minutes until a toothpick inserted into the center comes out almost clean with a few crumbs attached.
Let the cakes cool completely in the pan, then chill in the refrigerator until cold, and slice each cake in half horizontally so that you have 4 layers (very carefully as it is delicate). Separate the layers with parchment and place in the freezer until you are ready to frost the cake.
For the frosting, combine all ingredients in a blender and blend until completely smooth. Pour into a bowl and place in the freezer until it is thick like whipped cream (whisking every so often), about 45 minutes to one hour.
Meanwhile, to make the poppy seed filling, whisk all ingredients together until smooth.
To assemble the cake, put one cake layer on a plate (using the parchment to assist you), and spread 1/3 of the filling over it, followed by some of the frosting (about 1/4 cup). Top with another cake layer, then repeat, then another cake layer and repeat, followed by the last cake layer.  Spread the frosting over the top and down the sides of the cake.
Sprinkle with poppy seeds, then chill for an hour at least in the refrigerator.
Enjoy!  Keep cake refrigerated when not serving.
(Visited 907 times, 1 visits today)