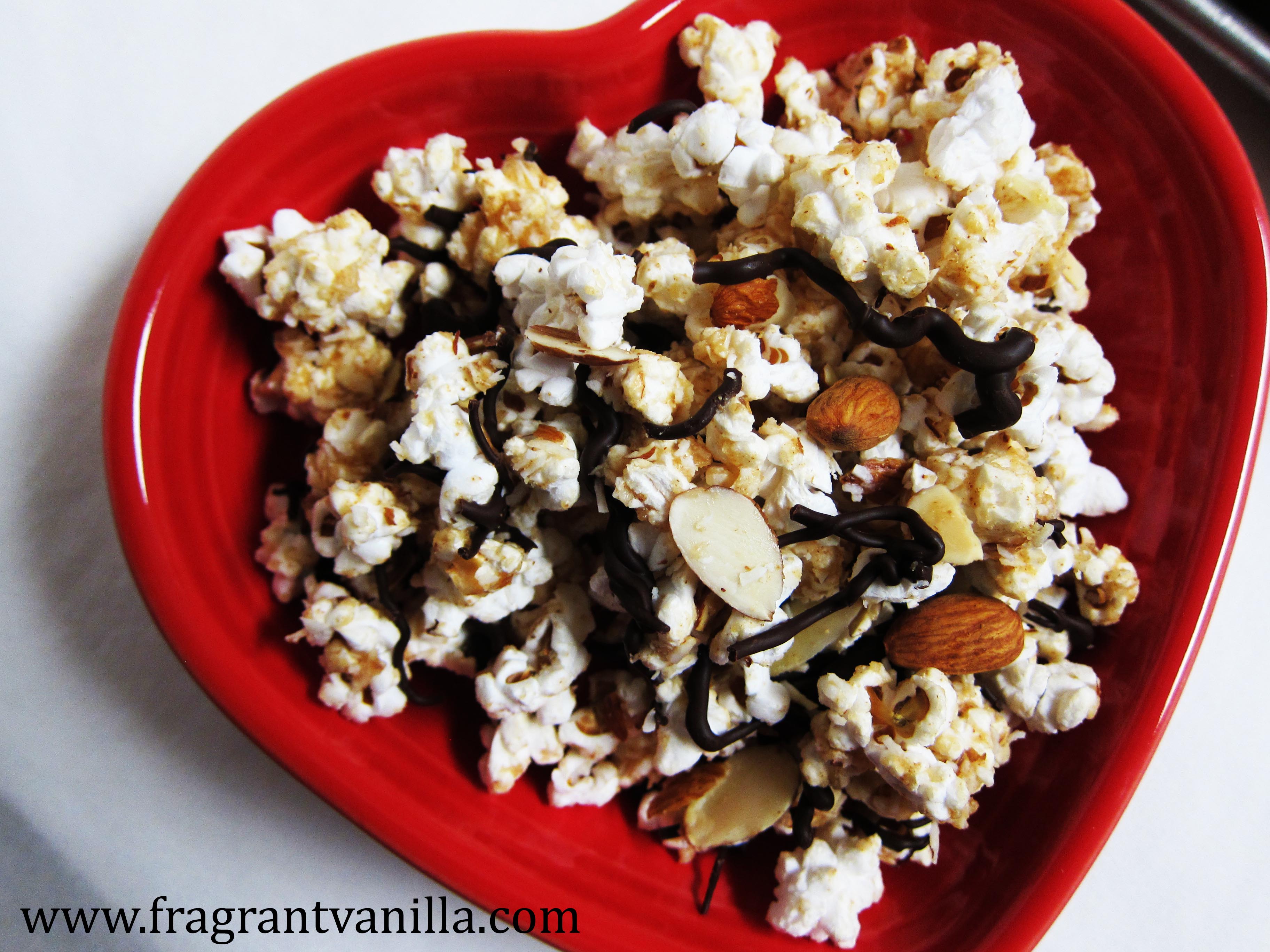 Vegan Almond Joy Popcorn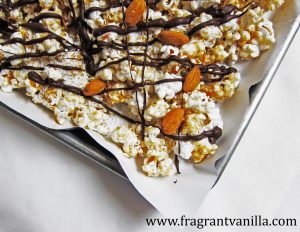 There is nothing like the smell of home made popcorn with coconut oil.  Just sayin'.  My Mom turned me on to it many years ago when she bought her Whirly Pop Popcorn maker, and shared some with me.  We have always been those people that sneak bags of our own popcorn into the movie Theaters not only to save money, but because it is much healthier.  You don't want to be putting all of those chemicals in your body that are in the commercial popcorn.  Back to my simple popcorn though, it smells amazing while popping, and you need very little oil so it is pretty healthy.  Just a sprinkle of sea salt and it is simple, but so good!  I still appreciate it now, and that is how all of my batches of popcorn, even the flavored ones start out. I decided that Monday would be a popcorn day because I was craving some hard core.  Not only that, my last batch of flavored popcorn had flown because Eric decided it was really good and gobbled it up in no time.  So, I decided to make another delicious flavor, almond joy.  Almonds, coconut and chocolate are a match made in heaven!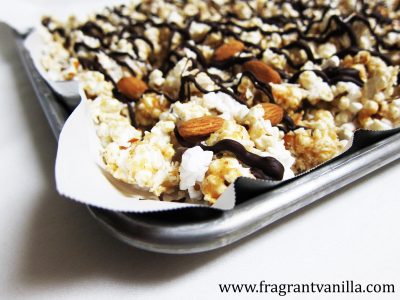 I like to coat my flavored popcorn in something so that the flavorings and ingredients don't fall off, so this time I used a mixture of coconut butter, almond butter, and maple syrup with a hint of vanilla and almond. Once it coated the popcorn...omg was it good.  I mixed in crunchy coconut and almonds as well, since this was almond joy after all.  I could not stop tasting it.  It was one of those things that is dangerous to leave out on the counter because you can not stop going back for more.  Once the photographs were all taken it didn't matter though, and I have to treat myself once in a while, right?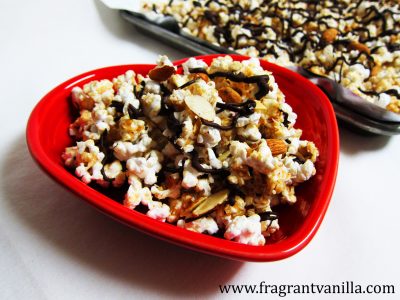 Forget buying flavored popcorn.  Make your own, it is so much better. Especially this stuff!  If you like crunchy nuts and coconut and chocolate, then you will love this.  It is the perfect dessert for when you want something sweet and crunchy with a little fiber as well.  It wouldn't be hard to take down the whole batch in a couple days by myself, but I am a nice person, so I decided to share it with Eric and he was a huge fan as well!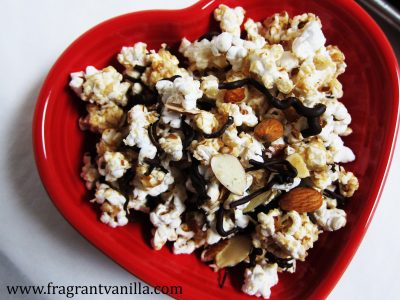 Vegan Almond Joy Popcorn
Makes 8 cups
1/3 cup maple syrup
2/3 cup raw coconut butter
1/2 tsp sea salt
1 tsp pure vanilla extract
1/2 tsp almond extract (optional)
8 cups plain organic popped corn
1 cup finely shredded, dried unsweetened coconut
3/4 cup sliced or chopped almonds
3/4 cup vegan dark chocolate chips
Instructions:
In a glass measuring cup (or bowl) whisk together the maple syrup, coconut butter, sea salt and vanilla until well blended. Pour over the popcorn in a large bowl, along with coconut and mix well. Spread out onto a lined sheet pan, and place in the freezer until it is hard.
Meanwhile, melt the chocolate chips in the top of a double boiler.  Once melted, drizzle over the popcorn.  Place back in the freezer until the chocolate has hardened.  Enjoy!
(Visited 41 times, 1 visits today)