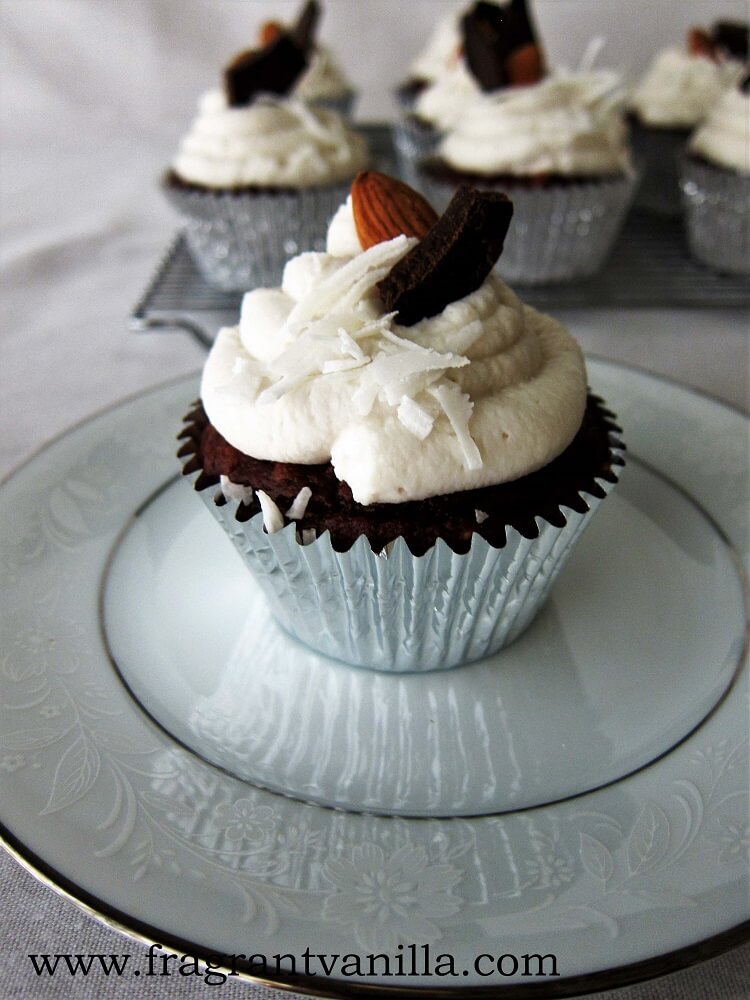 Vegan Almond Joy Cupcakes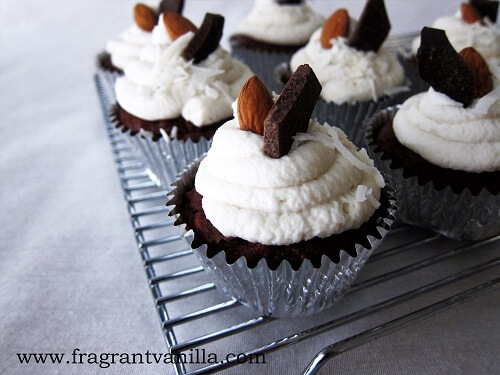 My Mom asked me to make her something chocolaty that she could bring to a dinner with her friends, so of course I said yes. I am always up for making things for other people to enjoy, I can't have my own Mom having to go out and buy some baked goods to share at a party after all. So, I made her some chocolate cupcakes. Not just any chocolate cupcakes though, because that would be kinda boring. Almond Joy Cupcakes. One of her favorite candies is almond joy after all, so it was a good choice.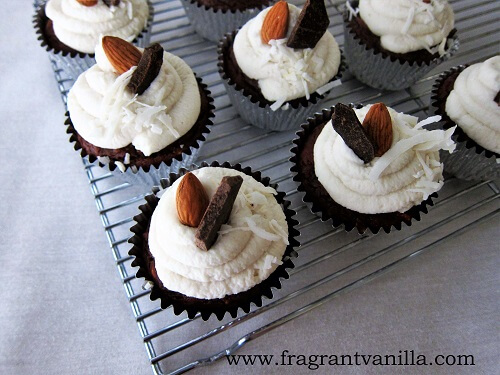 I made a decadent yet oil free, gluten free, and fruit sweetened cake batter, that tasted wonderful even before I baked it. Yes, I taste my batter. It has prevented me from forgetting ingredients before, and when I smell it and see it staring up at me looking so tasty I have to try it. I mixed in almonds, coconut, and chocolate chunks all the ingredients of the classic candy bar. But of course these would be way healthier than candy bars. I love the idea of being able to share healthier desserts that taste just as good as traditional ones and have people enjoy them just as much.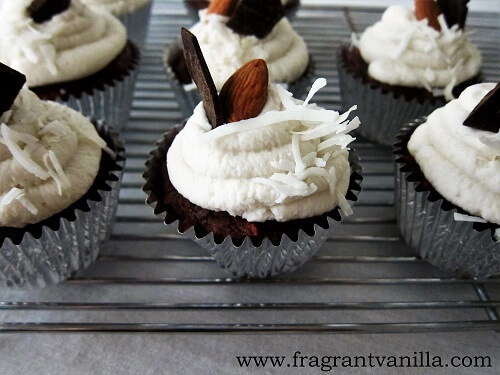 I frosted them with a whipped coconut cream so there was a balance of chocolate and coconut like in the candy bar, and topped it off with more of the goodies that I had mixed in. They were just as I had imagined they would be. Chocolaty, sweet, just the right amount of coconut and almonds for crunch, and silky smooth frosting that melted in my mouth. If you have ever been a fan of Almond Joys you must try these. My Mom loved them as well, which was the important part. I will have to wait to hear if her friends enjoyed them, but I have a feeling they will!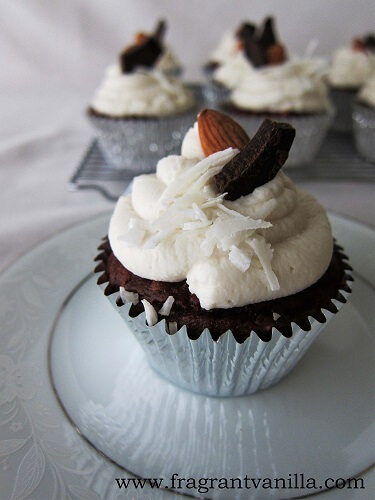 Vegan Almond Joy Cupcakes
makes 16
Cake:
1 1/2 cups quinoa flour (or all purpose gluten free flour works also)
1/4 cup cacao powder or unsweetened cocoa powder
1 1/2 tsp baking soda
1 tsp baking powder
1/2 tsp sea salt
1 cup packed soft medjool dates, pitted, soaked in water for 30 minutes and 1/2 cup of the water reserved
1/4 cup raw almond butter (smooth)
1 Tbsp pure vanilla extract
1 cup filtered water
2 Tbsp apple cider vinegar
1/2 cup finely shredded, dried coconut
1/2 cup vegan chocolate chunks
1/4 cup chopped toasted almonds
Frosting:
1 15 oz can full fat coconut milk
1/4 cup maple syrup
1 tsp pure vanilla extract
1/8 tsp sea salt
1/2 cup plus 2 Tbsp coconut butter, warmed to liquid
Garnish:
almonds, vegan chocolate chunks and finely shredded dried coconut for garnish
Instructions:
Preheat the oven to 375F degrees and position rack in center of oven. Line 16 muffin tins with liners.
Whisk flour, cacao powder, baking powder, baking soda, sea salt in a large bowl to blend well.
Place dates, reserved water, almond butter, water, and vanilla extract into a blender, and blend until smooth, then whisk this blended mixture into the flour mixture until well blended. Whisk in the cider vinegar until bubbles form, then fold in the coconut, almonds and chocolate chunks.
Transfer batter to prepared tins and bake until tester inserted into center comes out almost clean, about 12-15 minutes. Cool completely.
Meanwhile, to make the frosting, combine all ingredients in a high speed blender or food processor and blend until smooth, then pour into a bowl and place in the freezer until it reaches the consistency of whipped cream (stiff peaks, it takes about 45 min to chill).
Pipe or spread the frosting over the cupcakes when it is ready and top with almonds, chocolate chunks and coconut.
Serve!
(Visited 132 times, 1 visits today)