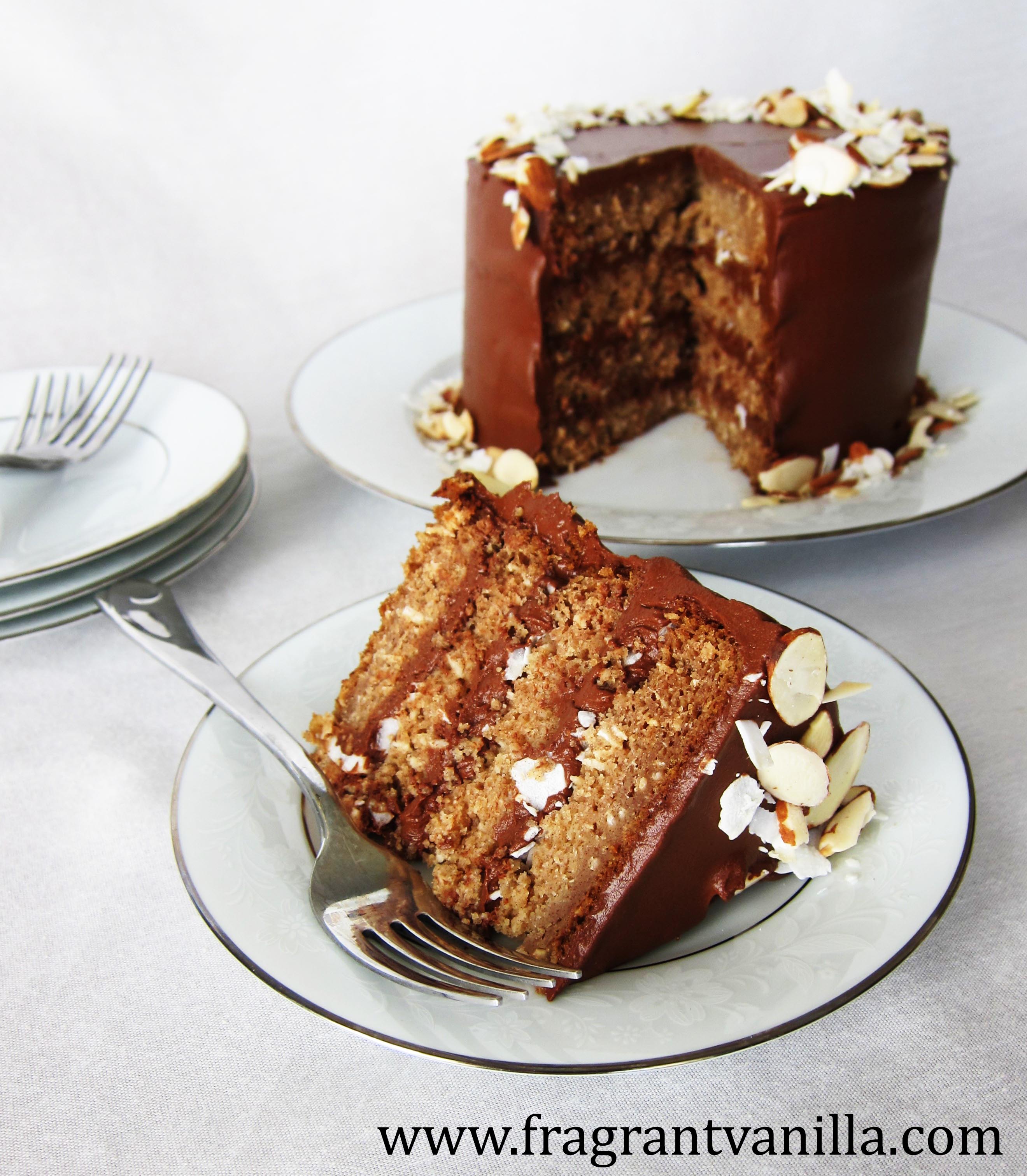 Vegan Almond Joy Cake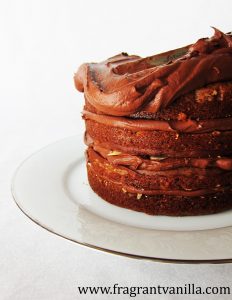 If it ain't broke, why fix it, right?  Well, not always.  Even when things are really good the way that they have always been sometimes there comes a time when you need to improve upon them.  I have decided to remake some of my old recipes and revamp them.  The old recipes were good (as in tasted really good), and baked up beautifully.  But some of them contain ingredients I no longer use and I have better baking techniques, so I have decided to revise them to make them even better!  I am sure you all can appreciate that, I know I can.  I always appreciate things that are new and improved.  So the first of such recipes I decided to remake was a Vegan Almond Joy Cake.  I made one about 6 years ago for my Mom, because one of her favorite candies was always almond joy. The cake was really delicious, and we all loved it, but it was not gluten free, and loaded up with sugar and oil, so I decided to make it gluten free, make it oil free, and fruit sweetened!  I think this new version turned out just as good as the old one, but it is healthier and contains more good things.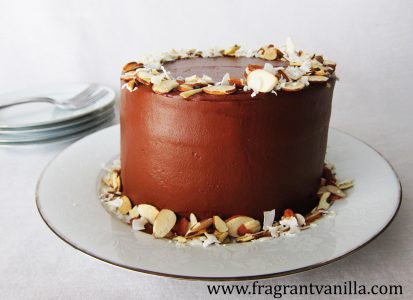 I like my desserts to be more than just delicious sometimes, I want them to contain some nutrients as well.  So for this cake, I made the batter fruit sweetened with dates.  Yes, I know dates are a form of sugar too, but I feel better when I eat them than some other sugars.  They are about as natural as you can get when it comes to sweetening things because they are just dried fruits.  I call them nature's candy because they taste like little caramels.  Not only do they sweeten the cake, they keep it moist and delicious!  The batter tasted wonderful, and smelled fragrant with almond and vanilla.  One of my favorite combinations, that makes me think of Birthday cake.  Since this was an almond joy cake though, it had coconut and almonds were folded in, and I could not stop sampling it.  Eric even had to give it a sample too!  The cakes smelled so delicious while baking, I couldn't wait for the cake to be assembled!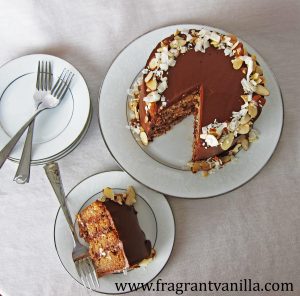 The original frosting had 2 ingredients. Agave nectar and cocoa powder.  It was a bit too sweet (at least with my current tastes) and I don't feel like that combination has much nutritional value (at least not the agave nectar), so I made this one a little different.  The bulk of it I made from cooked sweet potatoes, which not only add sweetness, but also make for a creamy frosting as well.  I sweetened it with dates also.  Don't worry, you can not taste the sweet potatoes once the cacao powder and other ingredients are added, it only tastes like the most delicious fudgy frosting ever!  It was perfect on the cake! It was super delicious, I enjoyed it just as much as the other one, and felt better after eating it.  I hope you enjoy the new and improved recipe as well!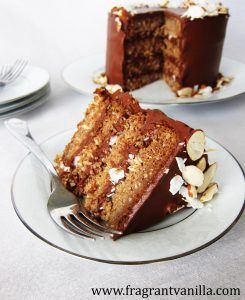 Vegan Almond Joy Cake
Makes 1 6 inch 4 layer cake
Ingredients:
2 6 inch cake pans
Cake:
1 1/2 cups quinoa flour (or all purpose gluten free flour)
1 1/2 tsp baking soda
1 tsp baking powder
1/2 tsp sea salt
1 cup packed soft medjool dates, pitted, soaked in water for 30 minutes and 1 cup of the soaking water reserved
1/4 cup organic almond butter
1 Tbsp pure vanilla extract
1 tsp almond extract
1 cup thin coconut milk, or filtered water
2 Tbsp apple cider vinegar
1/2 cup finely shredded coconut
1/2 cup sliced almonds
Frosting:
1 1/2 cups mashed Japanese sweet potatoes*
1 1/4 cups soft pitted medjool dates (soaked in water for 30 minutes and drained before using if not soft)
1/3 cup almond butter
1 cup filtered water (or as needed)
1 cup unsweetened cocoa powder
1 tsp pure vanilla extract
1/4 tsp sea salt
Sliced almonds and large flake coconut for layers and decorating
Directions:
Preheat the oven to 375F degrees and position rack in center of oven. Line two six-inch-diameter cake pans with 2-inch-high sides with parchment paper. Coat parchment paper and pan sides lightly with oil so that the cake doesn't stick and line the bottom of the pan.
Whisk flour, baking powder, baking soda, and sea salt in a large bowl to blend well.  Set aside.
Place dates, reserved water, almond butter, coconut milk, and vanilla extract into a blender, and blend until smooth, then whisk this blended mixture into the flour mixture until well blended. Whisk in the cider vinegar until bubbles form. Fold in coconut and almonds.  Transfer cake batter to prepared pans and bake cakes until tester inserted into center comes out clean, about 25-30 minutes. Cool cakes completely in pan on rack, about 1 hour. Cut around sides of pan to loosen. Turn cakes out onto a plate, peel off parchment paper.  If you have time, I would recommend chilling cakes overnight in the refrigerator before slicing into layers, it makes it easier.  Cut cakes in half horizontally so that you have 4 layers.
To make the frosting, combine all ingredients in a blender and blend until smooth (adding water a little at a time if you think it is too thick).  Pour into a bowl.
To assemble, place one cake layer on a plate, and spread about 1/2 cup frosting over it, then sprinkle with some almonds and coconut.  Place another cake layer over that and repeat.  Place another layer over that and repeat.  Top with the last cake layer. Spread the remaining frosting on the top and down the sides of the cake.
Sprinkle the almonds and coconut around the top and bottom of the cake.
*I roast my sweet potatoes in the oven.  Simply slice in half lengthwise, place cut side down on a parchment lined tray, and roast in a 400F degree oven until tender about 1 hour.  Peel off the skin and mash.
***if you would like a 2 layer 9 inch cake, double this entire recipe and bake in two 9 inch cake pans.  It will take longer to bake, about 50 minutes to 1 hour.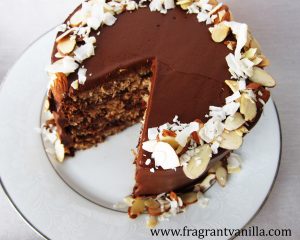 (Visited 460 times, 1 visits today)