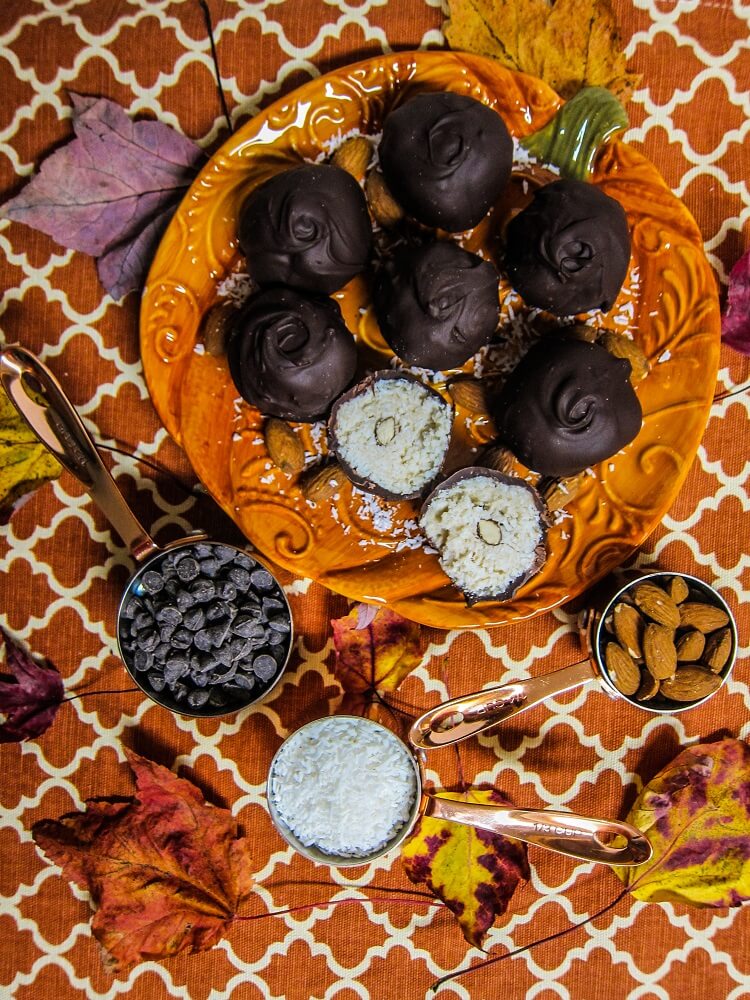 Vegan Almond Joy Bites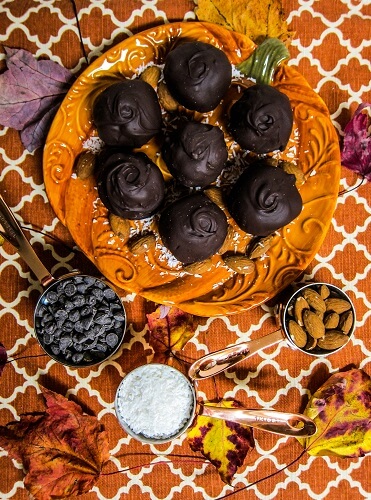 I admit that growing up, Almond Joy and Mounds candy bars weren't my first choice when it came to the candy swapping.  I wasn't a big fan of that syrupy sweet weird textured coconut inside, that didn't taste like actual coconut but more like it had coconut flavor in it or something.  Which is why I always just gave them to my Mom because she loved them.  I have since come to appreciate coconut, chocolate and almonds together though, now that I have had real coconut not covered in syrup, and sweetened just to my liking. I have even made my own almond joy and mounds and loved them!  I was making some this year to share with my Mom, and I thought why not share the recipe with you all?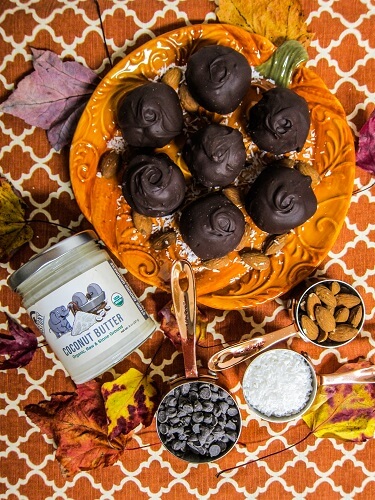 My recipe is a bit different than the traditional ones.  Starting with the filling, instead of using sweetened coconut, I use just dried unsweetened finely shredded coconut (the kind you find in the bulk bins at the health food store). To make it all stick together, instead of a sugar syrup, I use Dastony coconut butter from Raw Guru mixed with maple syrup.  They seriously have the most deliciously smooth coconut butter!  It is perfect for making desserts!  lastly, a little vanilla and it is the most delicious coconut combination!  Just like macaroons!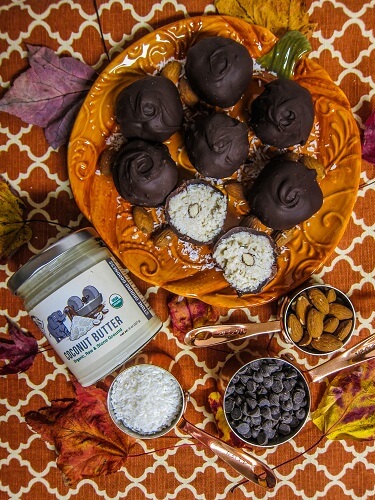 I tuck a toasted almond into the middle and it is perfect with the coconut.  I don't know if they use toasted ones in the original Almond Joy, but I just think it tastes better.  Most nuts do, unless you want them to have less flavor like using raw cashews for a cheesecake or something and you want it neutral.  Lastly, instead of the milk chocolate that usually coats the candy bar, I use dark chocolate.  That was my Mom's only complaint about them back in the day, and I have to agree, it is better with dark.  I did think about making it a vegan milk chocolate adding coconut butter to make it more traditional (and you totally can if that is your jam, just add 1/4 cup coconut butter to the dark chocolate when it is melted and mix well), but I went with the dark this time since they were to share with my Mom.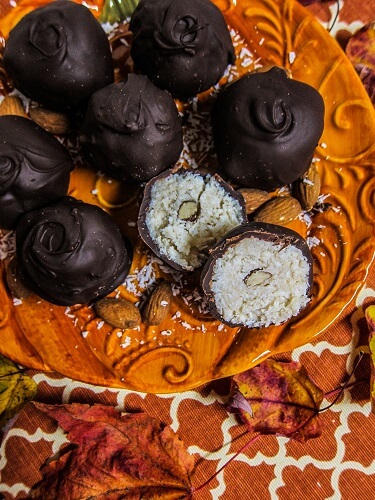 They turned out sooo good!  They are way better than the original candy, the coconut flavor is real, and just the right amount of sweetness and that crunchy toasted almond in the middle is a nice surprise!  Of course it is totally heavenly with the dark chocolate coating.  I think if I had tried one of these as a kid instead of the store bought ones, I might have actually loved them!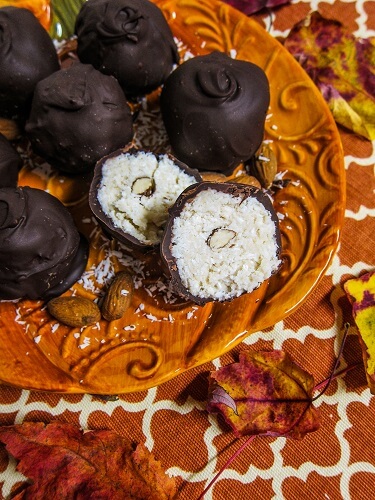 Vegan Almond Joy Bites
Makes 14
Ingredients:
2/3 cup Dastony coconut butter
1/4 cup maple syrup
1/4 cup filtered water
1 tsp vanilla
1 1/2 cups finely shredded coconut coconut
14 toasted almonds
2 cups chopped vegan dark chocolate or chocolate chips
Instructions:
Mix together the coconut butter, maple syrup, water and vanilla in a bowl until smooth.
Stir in the coconut until combined, then form into 14 little balls.
Press an almond into the center of each of them (reshaping if necessary, you want it in the middle).
Place on a parchment lined tray and freeze (in the freezer) for about 20 minutes until firm.
Melt the dark chocolate in the top of a double boiler until smooth.
When the centers are ready, dip them one by one into the chocolate, letting the excess drain off (I like to set it on a fork), and place back on the tray.
Place in the freezer until the chocolate has hardened, about 10-15 minutes.
Enjoy!
Candy can be kept in an airtight container in the refrigerator for up to 3 weeks.
(Visited 336 times, 1 visits today)