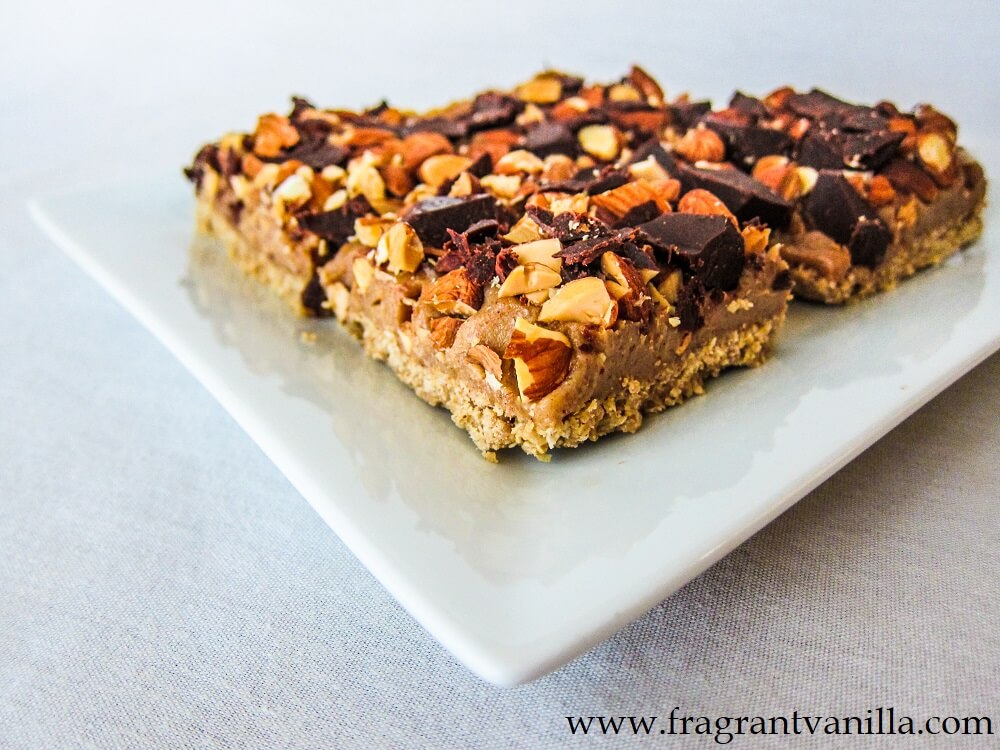 Vegan Almond Caramel Bars
Wednesday was hot, hot, hot.  Well, in the 90s with high humidity.  I know some people love this weather, and it is great for laying around at the pool, but not so much for running in, or working in a hot kitchen all day both of which I had done.  From the moment I woke up I felt sweaty and I felt like someone had dumped a bucket of water on me after my run.  Eric asked me, how can you stand to go out in this and workout?  I said, I don't always enjoy it but I have to get used to it because I am sure one of my races will be on a hot day.  Plus, it seems a little less hot once you are used to it.  Or I feel like that at least.  My favorite season is actually Fall, because it is moderate most of the time.  But my Birthday is smack dab in the middle of Summer, July 15 and that is almost always a hot day.  That doesn't stop me from doing fun things though, usually outdoors.  So anyways, we are into that part of July now and so I am trying not to heat up the oven as much making things some days that don't require baking.  I had been gifted some almond butter and wanted to make something with it.  I thought about incorporating it into something with ice cream, which would have been nice, but I still had some other ice cream on hand.  Or maybe just ice cream sandwiches, but I would have to bake cookies which would defeat the purpose.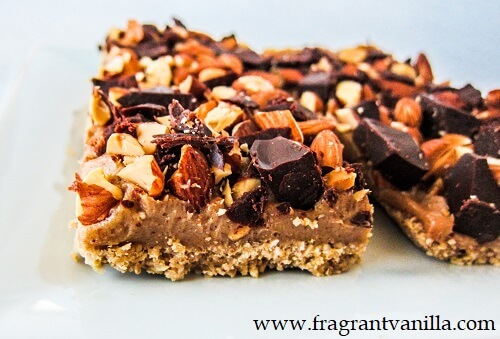 Well, on my walk after work as I sweated some more I came up with the most delicious idea for no bake bars.  Almond Caramel Bars.  A cookie like layer for the base, with oats, almond butter and maple syrup that tasted like oatmeal cookies.  I wanted to keep these simple.  Although it looks like these have a lot of ingredients it is actually only 8, including salt and water.  For the caramel, I made my classic date caramel with almond butter  and a little coconut oil to thicken and it was super delicious!  I could not stop sampling it.  I knew it would be good with that oatmeal cookie later.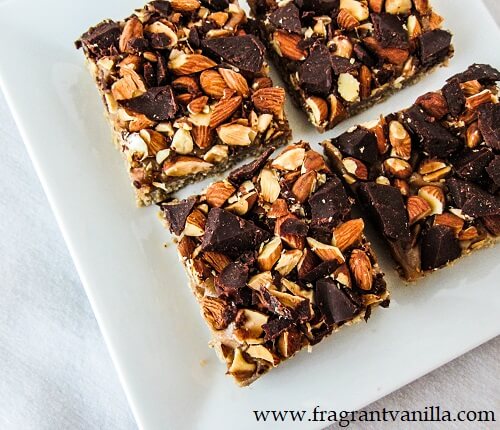 I couldn't just leave them like that though.  I thought about just melting chocolate and smoothing it over the top, but that doesn't always cut so nice and I wanted something crunchy so I decided to add chopped toasted almonds and dark chocolate.  That was the perfect choice.  That little bit of dark chocolate made these extra good.  The are gooey, sweet, crunchy, and a little salty.  All of the things I look for in a crave worthy dessert.  If you don't want to heat up your oven give these a try.  Not a fan of almonds?  You could use another nut butter, and that type of chopped nut on top.  I hope you are all staying cool where you live!  I heard some parts of the US were up in the 100s this week.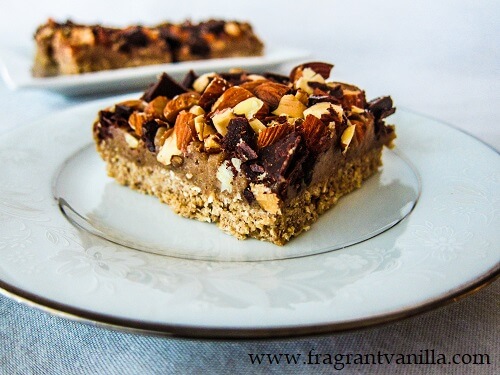 Vegan Almond Caramel Bars
Makes 12
Crust:
Caramel:
1 cup soft, pitted medjool dates (if they are not soft, soak them in filtered water 30 minutes & drain before use)
1/3 cup almond butter at room temperature
1/4 cup coconut oil, warmed to liquid
4 Tbsp filtered water
2 Tbsp maple syrup
1 tsp pure vanilla extract
1/4 tsp sea salt
Topping:
3/4 cup chopped toasted almonds
3/4 cup chopped vegan dark chocolate
Instructions:
Combine all crust ingredients in a food processor and process until holding together when squeezed.  Press into the bottom of a parchment lined pan and set aside in the freezer.
To make the caramel, combine all ingredients in a high speed blender or food processor and process until smooth. If you do not have a high speed blender and you still have little date bits you may strain the caramel through a fine meshed strainer to remove them.  Pour the caramel over the prepared crust.
Sprinkle the toasted almonds and dark chocolate chunks over the caramel and press lightly so that they stick.
Place the bars in the freezer for a few hours until firm.
Cut into 16 bars. Enjoy!
Store any extra bars in the refrigerator in an airtight container.
(Visited 220 times, 1 visits today)