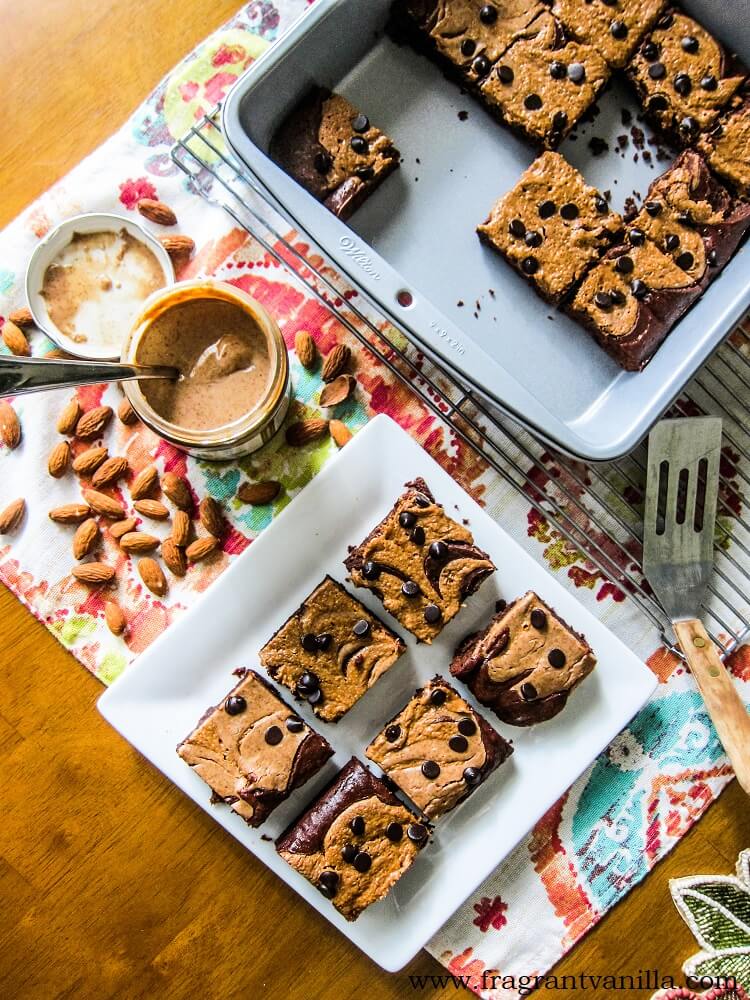 Vegan Almond Butter Brownies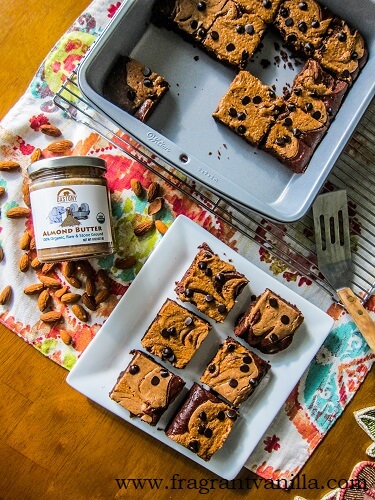 Almond butter has come a long way since I first had it when I was younger.  Back then I thought it was some gross nut butter that was super thick and didn't spread nicely like peanut butter did. But now most commercial brands are nice and smooth and have a nice sweet almond flavor.  Like the Dastony Raw Almond Butter Raw Guru recently sent me.  Silky smooth and super delicious!  I have come to love almond butter almost as much as peanut butter and I use it in a lot of my recipes.  Mainly when I don't want a peanut buttery flavor, but I also like to feature it as a main ingredient because it tastes good.  The main things I like to use it in are cakes and brownies.  It is usually just in the batter so it gives them a little richness without more oil.  On Tuesday I had one of those days when stuff was just extra hard and not going my way all day (you know what I mean), so I decided to bake brownies.  Baking is one of the things that I do to make myself feel better if I had a bad day or I am in need of a mood boost. Because creating things makes me happy, especially edible things that don't take a lot of time and make my house smell amazing.  So when I got home from work I got to work making brownies.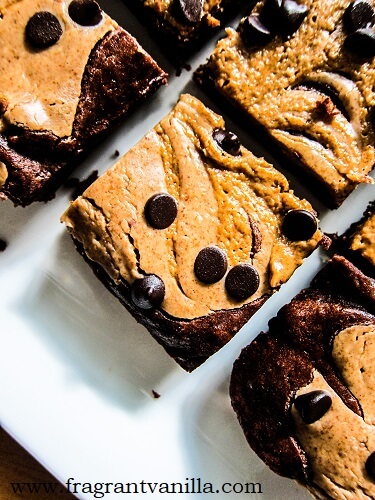 I wanted to feature the almond butter as the main ingredient this time!  Why not, it is delicious, rich and creamy and I love brownies swirled with decadent things! I actually used some in the brownie base as well, because it makes for nice fudgy brownies.  These are pretty simple to make, which I always consider a win.  I made the batter gluten free, because I knew many of you would appreciate that, and honestly you don't notice the difference, they taste just as good as when I make brownies with wheat flour.  The batter tasted so good!  Brownie batter is one of my favorite things to lick from the bowl.  It goes back to the days when my Mom used to make boxed brownies when I was little and I would always beg her to lick the bowl.  It is one of the best parts of baking at home.  Brownie batter, cake batter, frosting, heck yes! I stirred in vegan dark chocolate chips to make them even more delicious and swirled in plenty of almond butter since it was the star ingredient in these.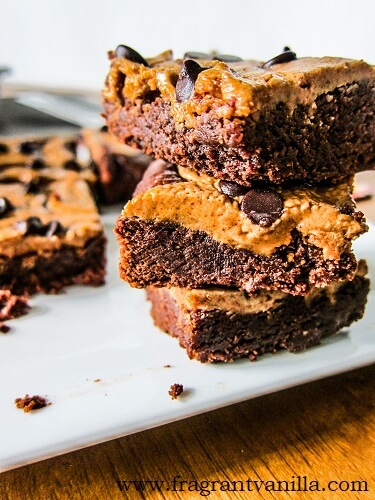 They smelled amazing while baking.  Nothing compares to the aroma of chocolate filling your kitchen and home.  Also made me even more hungry.  I couldn't wait to dive in, but I had to wait until they cooled It was worth the wait though!  Total yumminess!  The rich almond butter was the perfect thing to swirl into them!  They were fudgy, rich, nutty, and it was hard to eat just one!  If you are an almond butter fan too, give these a try!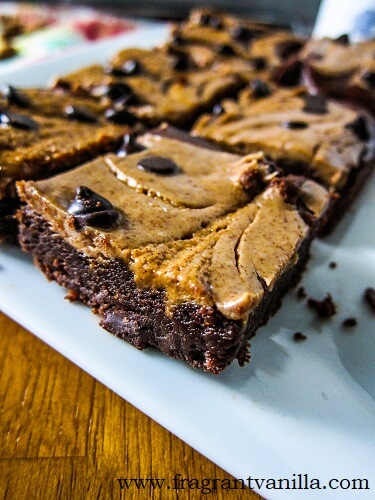 Vegan Almond Butter Brownies
Makes 16
Brownies:
Directions:
Preheat the oven to 350F degrees.
Whisk together the sugar, oil and 1/4 cup of the almond butter until well combined and the sugar is starting to break down. Add the flax eggs and beat until smooth. Add the flour, cacao powder and sea salt and beat until smooth.  Stir in chocolate chips.
Scrape the batter into a greased 8x8 inch pan, then drop the almond butter over it in 2 Tbsp amounts, and swirl it with a knife.
Place in the oven, and Bake for about 30-35 minutes or until set (but do not over bake).
Let cool before cutting into bars.
(Visited 202 times, 1 visits today)