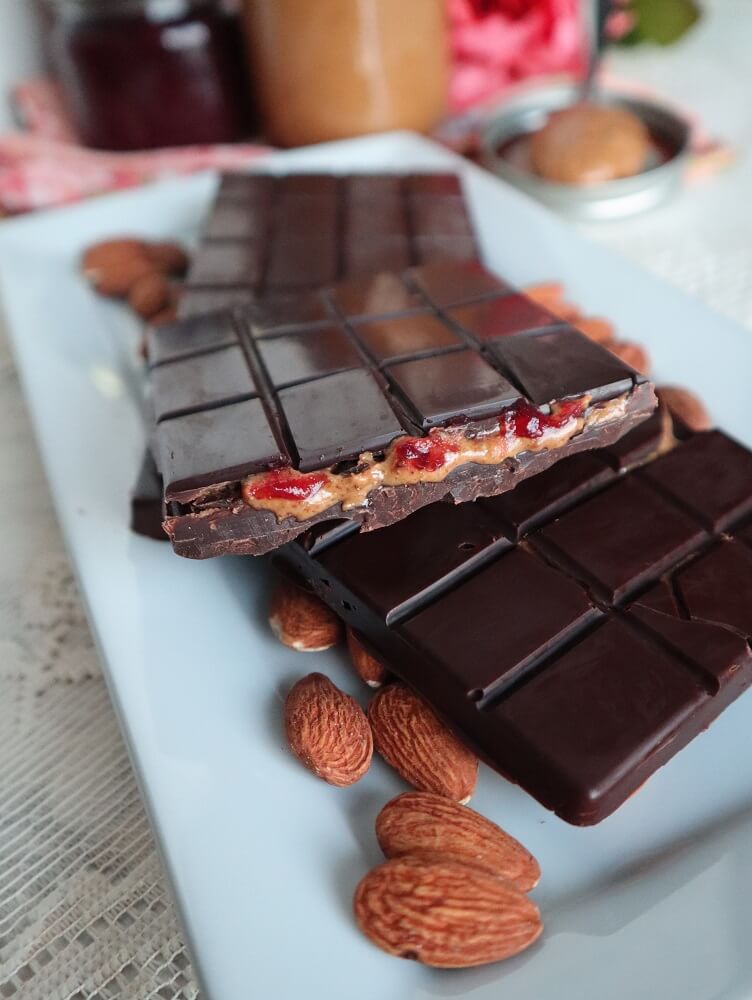 Vegan Almond Butter and Jelly Dark Chocolate Bars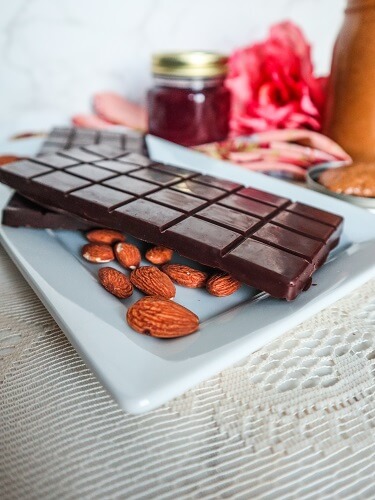 Eric and I were recently at a candy store, and although some of the items there were vegan, the one thing that I actually wanted to buy was not, a peanut butter and jelly dark chocolate candy bar.  I am always more of a chocolate candy person than just a sugar sweet candy person, so that is why it was what I was drawn to.  I decided then and there, you know what?  I can make something like this at home.  I have dark chocolate on hand after all since it is an essential item!  So I decided to make my own candy bars, and perfect timing since it is almost Valentine's Day!  But I decided to switch them up slightly and make Vegan Almond Butter and Jelly Dark Chocolate Bars!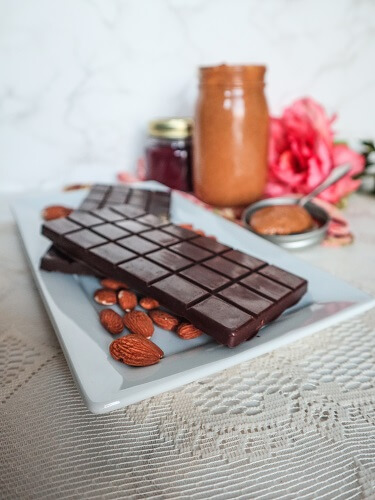 I have these nice chocolate bar molds that I usually just use to make plain bars, but I thought they would work well for something with a filling, since they are deep enough.  So I melted down my dark chocolate and went for it!  I just did a thin layer first, because I wanted room for the filling, then I placed them in the freezer to harden for a bit before I put the filling in.  I used my own home made almond butter for these which is just almonds and a touch of sea salt which is perfect since the chocolate and jam are already sweet.  If you have a high speed blender, making your own almond butter is definitely the way to go since almond butter is a lot more spendy if you buy it.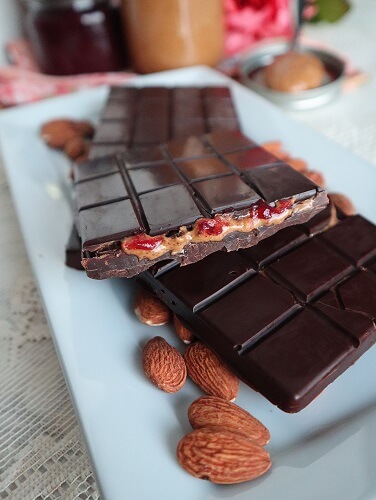 Once the chocolate had hardened sufficiently, I spread the almond butter over it, then it was time for the jam!  I used raspberry jam because it is my all time favorite!  Some of Eric's Dad's home made jam because it is the perfect balance of tart and sweet and he makes it with his home grown raspberries!  He taught us how to make some when we visited a while back (he lives in Michigan and we live in Minnesota), and it was quite the process but now I understand why it is so good! I dotted the almond butter with this jam, and it was the perfect amount for the bars to get a taste but not have it ooze out everywhere when I was pouring on the chocolate.  I topped them with more chocolate and waited for them to set.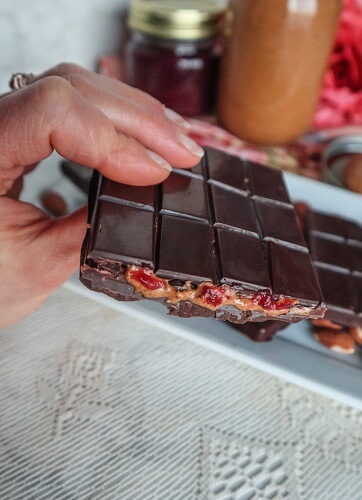 These bars turned out so delicious!  They were really quite easy to make, and not time consuming at all.  I was so happy I made them because they were definitely better than those bars that I could have bought at the store and much more balanced to my tastes.  The rich dark chocolate was the perfect pairing with the smooth gooey almond butter and sweet tart raspberry jam!  If you are a PB and J or AB and J (in this case) fan, definitely give these Vegan Almond Butter and Jelly Dark Chocolate Bars a try!  You can feel free to switch up the nut butter, or jam with your favorite!  Why not make yourself a Valentine's treat?  Because, not going to lie, I did not share these haha. Or you could be nice and make them for someone.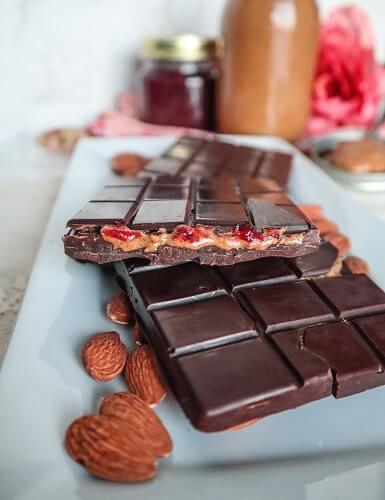 Vegan Almond Butter and Jelly Dark Chocolate Bars
Makes 4
Ingredients:
3 cups good quality vegan dark chocolate, chopped
1/4 cup smooth almond butter
2 Tbsp plus 2 tsp raspberry jam
Instructions:
In the top of a double boiler, melt the dark chocolate, and whisk until completely smooth.
Place 4 large chocolate bar chocolate molds on a tray.  Pour enough of the chocolate into the chocolate bar molds to cover the bottom (you want a thin layer, not to fill the molds completely so that you have room for the fillings).  Place the tray in the freezer to set the chocolate, about 10-15 minutes.
When the chocolate has set, Spoon 1 Tbsp almond butter into the center of each bar, and smooth it out leaving a 1/2 inch boarder.  Dot each almond butter on the bars with about 2 tsp jam each (little dots of the jam spread out) you want it all to be flat.  Pour the remaining melted chocolate over the almond butter and jam in the molds, so that they are full, level and no almond butter or jam is exposed.
Place the tray in the freezer until the chocolate has set, about 30 minutes.
Pop the chocolate out of the molds and enjoy!
Store chocolate in the refrigerator for up to 1 month.
(Visited 191 times, 1 visits today)