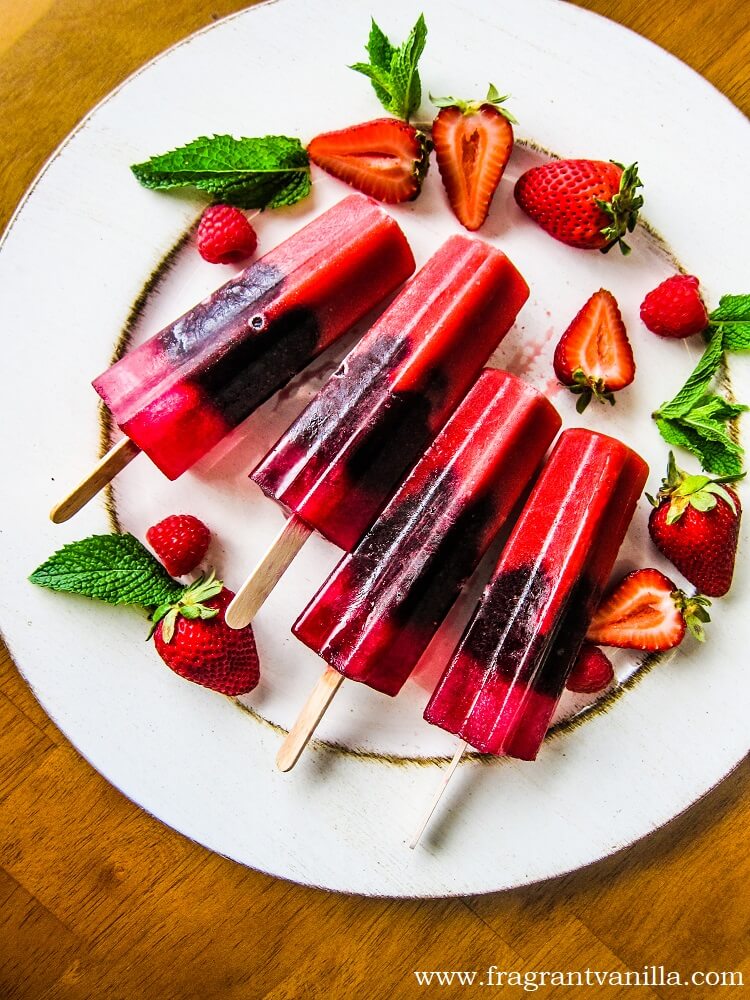 Tie Dye Lemon Berry Popsicles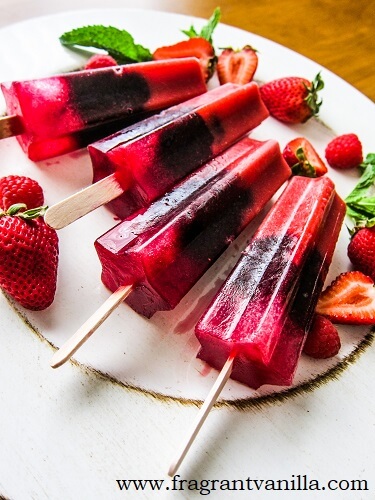 When I was little, I think we mostly lived on popsicles and freezees in the Summer.  We would play outside most of the day, doing things like building forts, riding our bikes, or running through the sprinkler.  But we would always come back and want something cold and refreshing.  My Dad always had a giant supply of freezees and popsicles in the freezer for us, and we loved them. They may have just been sugar water, but it was awesome to my 8 year old self and my friends. As I got older though, I realized that they were not good for me, and didn't have much flavor or any real flavor at all and I began t prefer the popsicles made from real fruit.  They tasted so much better!  I now like to make my own popsicles instead of buying them from the store, and I share them with Eric.  We like to eat them while we go for a walk on a hot day, it helps for a little while at least to stay cool.  I recently made some lemon berry ones that were really simple, but so good, and the perfect thing to enjoy on a super hot day.  Which it totally was, because the day I made them it was heat indexed at 108F degrees. That's the thing about Minnesota, people think it is just cold here, but it gets really hot and humid in the Summer, like the type of heat where you immediately start sweating after walking outside.  So the popsicles were needed.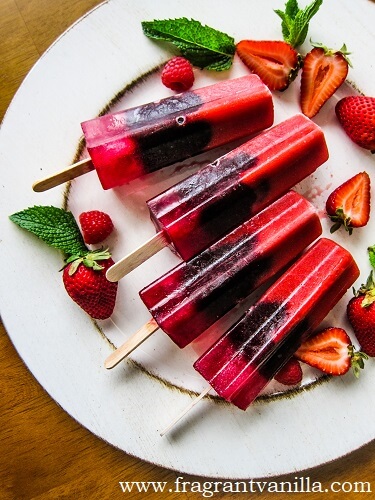 I admit when I made these I was going for more of a red, white and blue healthy Bomb Pop (those sugary red, white and blue ice pops everyone has around the 4th of July) sort of thing for the 4th of July, but they didn't exactly turn out those colors.  Red and purple was more like it and it reminded me of tie dye, so that is what I named them.  They turned out really good though, which was what mattered, so I still wanted to share the recipe even though they look different than I wanted.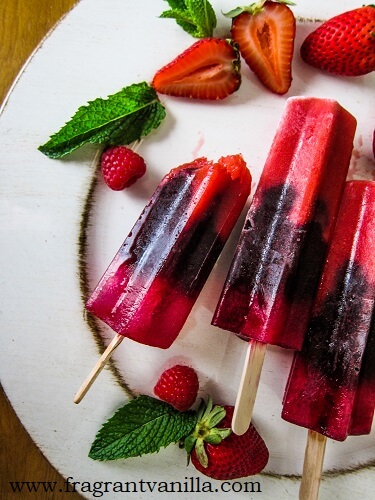 These are super simple to make if you have a blender, and now is the time to make them when fresh berries are in season.  They can be made with frozen as well, if you don't happen to have fresh on hand. I am all for using what you have at the time!  They are sweet from the berries, and a little tart from the lemon, like a really good lemonade when you get to the lemon layer. These are so much better than any of the popsicles I ate as a kid.  The flavors are real, bright and delicious!  You might just want to eat more than one, and you totally can because they are healthy! I hope you are all staying cool this Summer!
Tie Dye Lemon Berry Popsicles
Makes 6
Ingredients:
1 1/2 cups fresh organic strawberries and raspberries
maple syrup
1 1/2 cups fresh organic blueberries
1/4 cup lemon juice
3/4 cup filtered water
Instructions:
To make the popsicles, blend up the fresh strawberries in the blender until smooth, and add about 1 tsp maple syrup. Pour into the bottoms of your popsicle molds.
Next, blend up the blueberries and add about a tsp of maple syrup.  Pour into the popsicle molds over the strawberry raspberry layer.
Mix together the lemon juice, water, and about 2 Tbsp maple syrup (or to taste).  Pour over the other layers in the popsicle molds.
Place in the freezer for about 30 minutes or until the mixture is starting to harden, and add the popsicle sticks (you do this because otherwise they fall over if the mixture hasn't started to freeze).
Let freeze until firm (I left mine overnight), then un-mold and enjoy!  If they are stuck to the molds, run them briefly under warm water then try to remove them.
(Visited 140 times, 1 visits today)