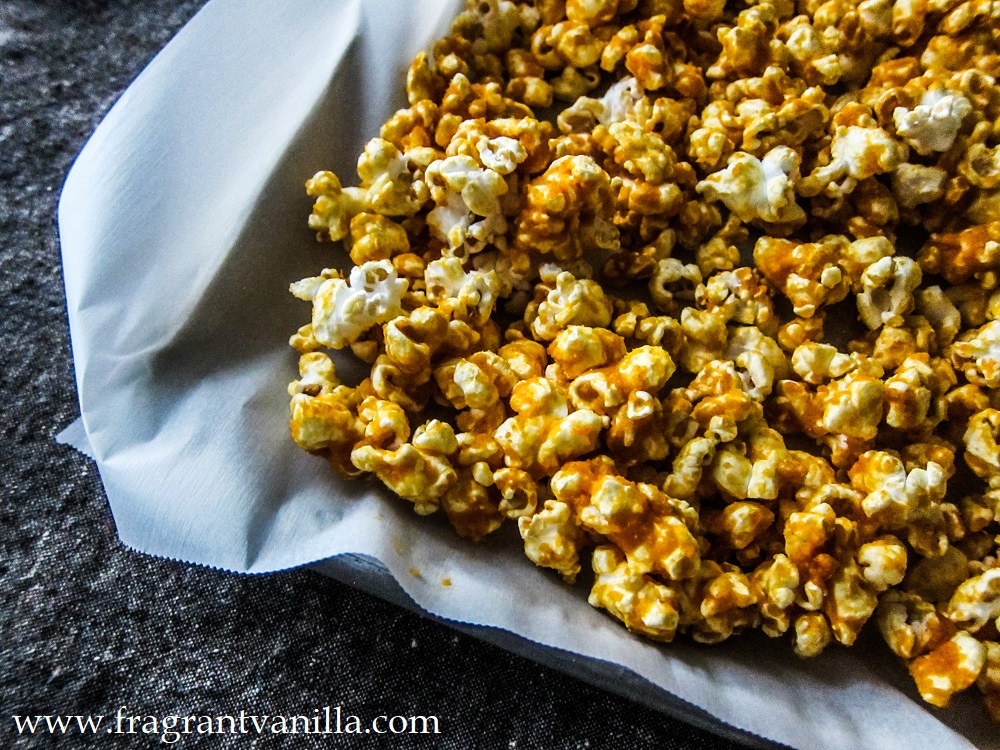 Thai Peanut Popcorn
Eric and I were shopping the other day at a local mall and we walked past a vendor with many different popcorn flavors.  He is always temped to buy stuff like that, and I admit it always smells good and brings back childhood memories.  But I always say, "I can make some better popcorn at home".  And that is just what I did when I got home since I was really hungry after being gone all day.  I like to always experiment with new flavors, even though just a little coconut oil and sea salt is always welcome.  This time I went a little more savory than sweet which is what I usually gravitate towards.  I was in the mood for peanut butter though, so I ended up making Thai peanut popcorn.  I like just about anything Thai peanut.  We make a Thai peanut slaw, and Thai peanut noodles at work that are really good, and I like Thai peanut tofu and Thai peanut soup.  I guess I am just a big peanut butter addict, and Thai red curry sauce is pretty amazing aromatic stuff.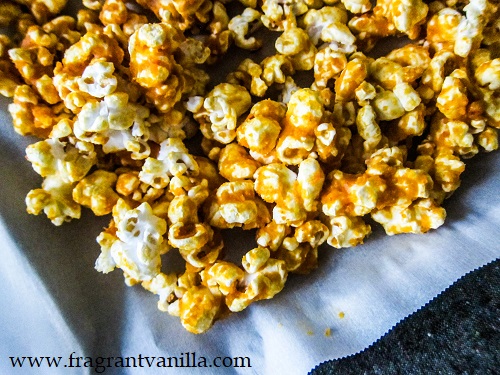 Just be sure to buy the vegan kind, some could contain fish sauce.  I usually just buy Thai Kitchen, because it has no sugar or fish sauce in it.  Anyways, it was great on the popcorn mixed with a few other things I already had in my pantry.  I combined it with the peanut butter of course, some coconut butter, and oil, and sea salt along with some red pepper to make it more spicy.  It was super delicious and simple.  It was savory, crave worthy amazing little bites of deliciousness!  It had the Thai peanut flavor, but it also had kind of a cheesy popcorn kind of aftertaste which I loved.  I was obsessed with cheese flavored popcorn as a kid.  About 1/4 of the pan was gone before I was done taking photos of it.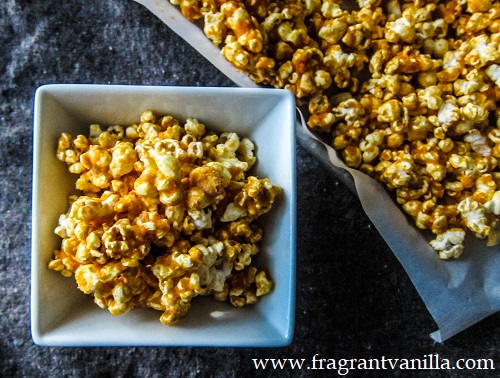 This is the type of thing I like to cuddle up on the couch with and watch a movie or smuggle into the movie theater since their popcorn has lots of fake stuff in it and is super expensive.  Trust me you will feel much better after eating this and it is way better because it is real.  The next time you are in the mood for something salty and crunchy give this a try!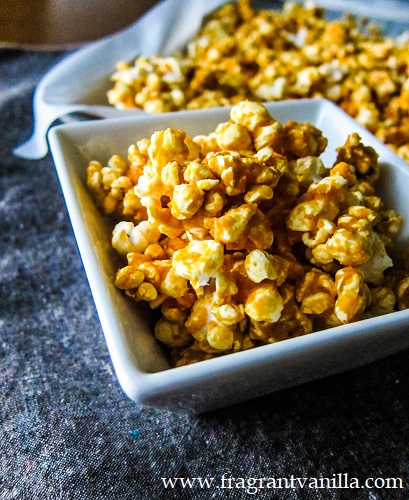 Thai Peanut Popcorn
Makes 8 cups
Ingredients:
1/2 cup coconut butter, warmed to liquid
1/3 cup peanut butter at room temperature
2 Tbsp coconut oil, warmed to liquid
1/2 tsp sea salt
3 Tbsp Thai red curry paste
1/2 tsp red pepper flakes
8 cups plain organic popped corn
Instructions:
In a glass measuring cup (or bowl) whisk together the coconut butter, peanut butter, coconut oil, sea salt, Thai red curry paste  and pepper flakes until well blended.
Pour over the popcorn in a large bowl and mix well with your hands.
Spread out onto a lined sheet pan, and place in the freezer until it is hard. Enjoy!
(Visited 75 times, 1 visits today)