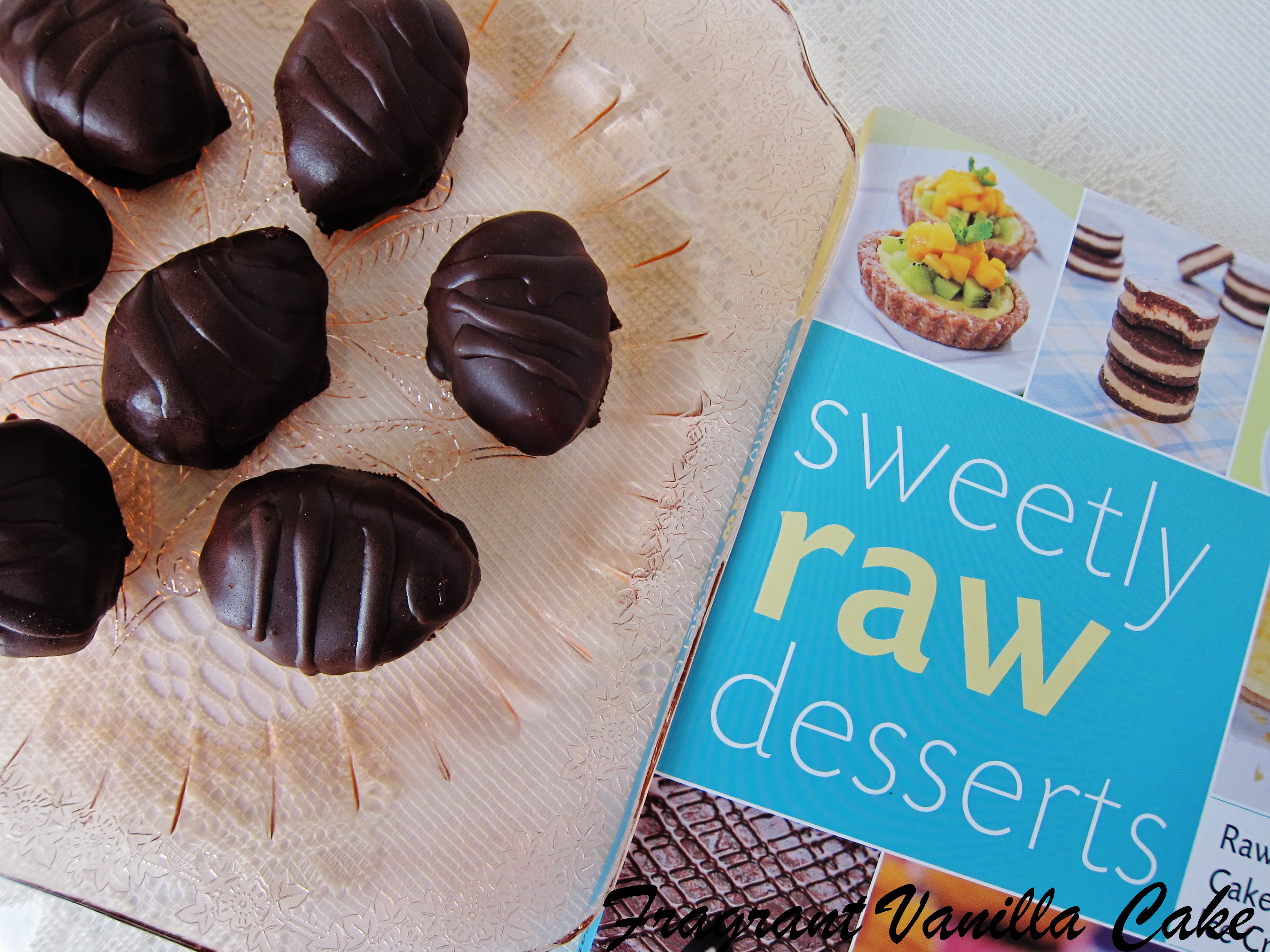 Sweetly Raw Review and Raw White Chocolate Vanilla Bean Truffle Eggs
I have long time been a fan of Heather Pace's blog Sweetly Raw.  She is one of the first people that inspired my raw dessert making when I was new to it.  Her desserts are so beautiful and delicious as well.  So when she asked me if I would like to review her book I was excited!  Although I love looking at recipes online, there is just something about holding a cookbook in my hand an paging through the recipes that I love.
 Photo courtesy of Heather Pace
The first thing I noticed about her book is that it has plenty of beautiful colorful photos which is a must for me when choosing cookbooks.  I like to drool over the photography as much as I like to browse recipes.  She has photos for nearly every recipe so that you can see what the end product will look like which I love.  Not only that, she has photo tutorials on some of the recipes so you can see the process!
Photo courtesy of Heather Pace
In the first part of the book she explains ingredients and tools to make raw foods in case you are new to them, and the process it takes to create them. Also, she has a basics section where she teaches how to make things like coconut butter and buckwheat crunchies which I consider essential ingredients for raw recipes and it is important to know how to make them. So this book is raw foods newbie friendly. She makes her recipes accessible to anyone at any skill level. That said, as someone who has been making raw desserts for a while I appreciate her recipes as well. There are some showstoppers in this book! Gorgeous layered cakes, cookies and candies fit for a queen (or king). It took me a long time to go through the book because I had to stop and admire every recipe. Here is a sneak peak at a few of the delicious things you will find in her book...
Photo courtesy of Heather Pace
Photo courtesy of Heather Pace
It was a hard decision what to make first out of her book, but I decided on the Raw White Chocolate Vanilla Bean Truffles.  I have made a lot of raw candy, but never these.  I am drawn to anything vanilla bean.  To me it is one of the most heavenly flavors.  Everyone has their own truffle recipes, but I wanted to try someone else's.
When I made the filling it was so freaking delicious I knew these were going to be amazing!  I decided to shape them into truffle eggs since Easter is right around the corner.  Once they were all finished, and I sampled one OMG...one of the best raw candies I have ever eaten!
Heather is obviously a pro at making raw chocolates.  Btw, she sells them on her website HERE in case you want to buy some instead of making them.   Trust me, you should get a copy of her book too, it is well worth the price for all of those beautiful recipes and photos!  You can find it HERE. Also, be sure to pay a visit to her website and check out her other recipes!
Raw White Chocolate Vanilla Bean Truffle Eggs
makes about 10
Filling:
1 cup raw cashews
1/4 cup maple syrup
1/4 cup warm water
1/2 tsp pure vanilla extract
seeds of 1 vanilla bean
2 pinches Himalayan salt
1/4 cup melted cacao butter
2-3 drops stevia, optional
Chocolate:
1 cup melted cacao butter (see how to melt in directions)
3/4 cup maple syrup at room temperature
1 1/2 cups raw cacao powder
1/4 cup raw lucuma (for dusting, optional)
Blend the cashews, maple syrup, water, and vanilla extract in a blender until smooth.  Add the vanilla bean seeds, salt, and cacao butter. Blend to incorporate.  Add a few drops of stevia if needed.  It should be sweet enough to contrast the dark chocolate it will be covered with.  Pour the mixture into a large flat container and chill in the fridge for 8-12 hours.  Roll into 1/2 inch (1 cm) balls or 2 inch eggs (if making the eggs).   Freeze for at least 6 hours in the freezer until firm.
To make the chocolate, either place the cacao butter into a large glass bowl over a pot of boiling water to create a double boiler (make sure the bottom is not touching the water).  Lower the water to a barely a simmer.  Whisking often, allow the cacao butter to melt. Alternatively, you can place the bowl into the dehydrator to melt the chocolate at 115F.  Once the butter has melted, make sure it measures 1 cup before proceeding with recipe.  Whisk in the maple syrup, and sift in the cacao powder, whisking until smooth.  (if it starts to clump up, allow it to warm again).
Dip the truffles into the chocolate, one at a time and use a fork to transfer them to a parchment lined tray.  Once the chocolate has dried, sift lucuma over the truffles if desired.
(Visited 98 times, 1 visits today)