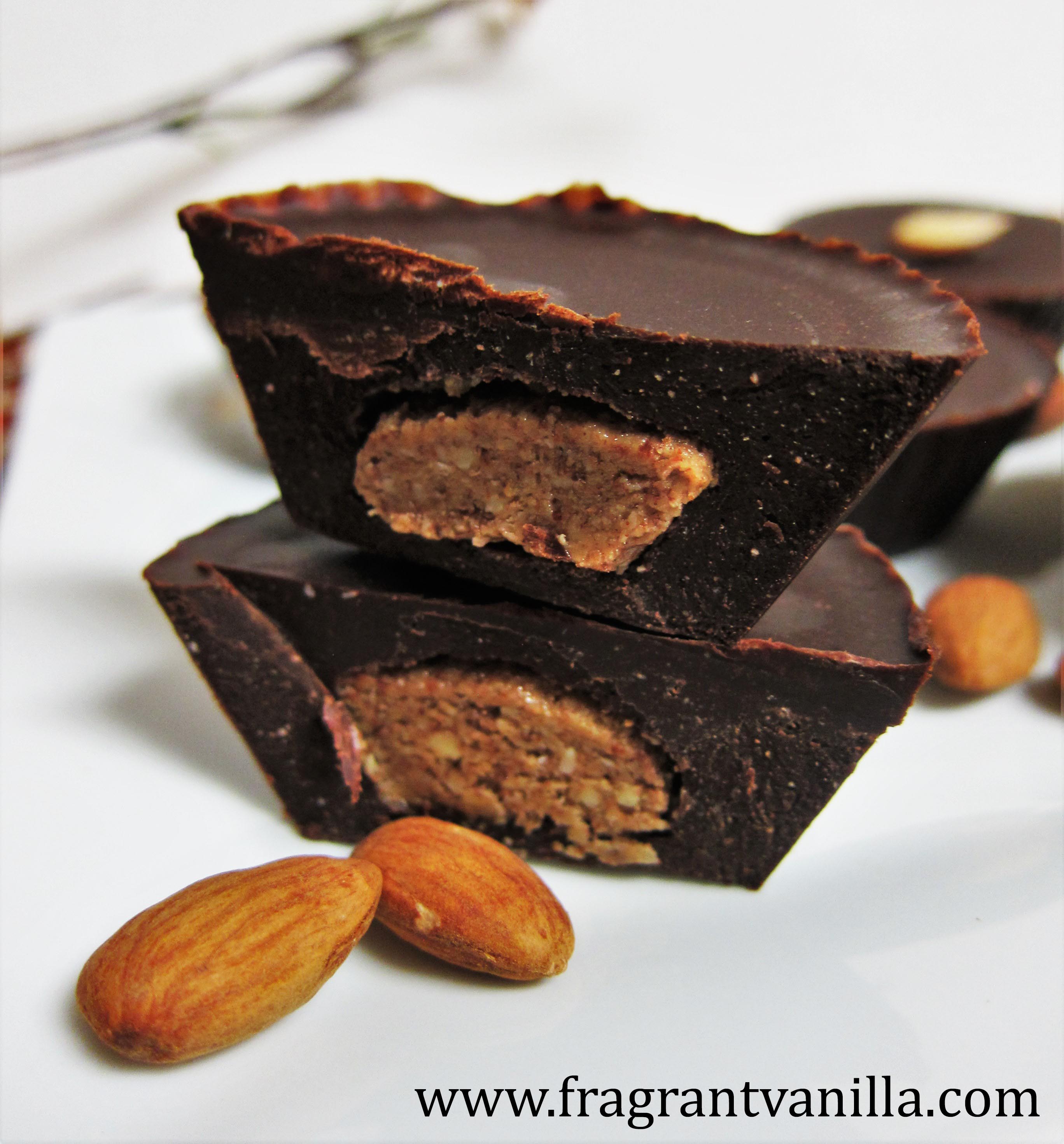 Sugar Free Dark Chocolate Almond Butter Cups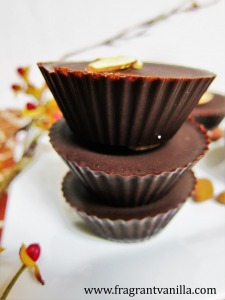 When it comes to Halloween candy, I have always gone for the chocolate over every other type of candy.  You can have the smarties, suckers, and jolly ranchers...I was all about the Reese's peanut butter cups, Snickers, and Milky Ways.  I am still this way as an adult.  Not that I buy commercial candy at the store, because it is much more fun to make your own, and that way you know that the ingredients are quality and no fillers or weird ingredients you don't want to put into your body.  Dark chocolate can be good for you if it is the right kind.  So, I thought why not make a healthier nut butter cup with no sugar just good dark chocolate and nut butter?!  I know many of you are looking to cut your sugar intake for a variety of reasons, so these are for you!  Everyone should be able to enjoy dark chocolate after all!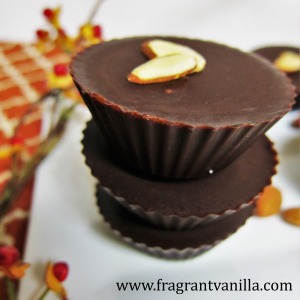 I made my usual dark chocolate recipe, but instead of the maple syrup, I substituted SweetLeaf stevia drops.  The English toffee flavor, because it is my favorite and it gives it a hint of caramel.  But of course, you could just use plain if you like.  I am not a fan of all stevias, some leave a weird aftertaste, but SweetLeaf does not have that.  It is the only brand I like.  I have been sweetening my smoothies and such with it for over 10 years when I don't want to add excess sugar and it always tastes good.  This chocolate was no exception.  I gave it a good pinch of sea salt as well, resulting in an almost salted caramel flavor with the English toffee stevia.  I love peanut butter cups, but I am such a peanut butter obsessed person, that I thought I would do something a little different this time and make almond butter cups.  Variety is the spice of life right?  And getting  stuck in ruts is not always a good thing.  There will be more peanut butter inclusive posts in the future, don't worry, but for today almond butter is the star!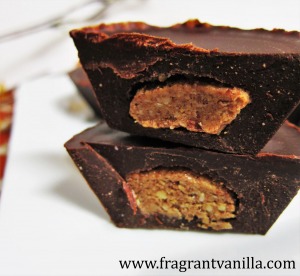 I had also just been given a big container of chunky almond butter, which I had never actually tried before so I wanted to use that.  I was never a fan of crunchy peanut butter growing up, but this almond butter is awesome!  I like crunchy almond butter!  It was perfect to fill these little chocolate treats with too!  I did not add any sweetener to my almond butter because I like my nut butter cups to be salty on the inside and sweet on the outside.  But of course you can do what you like with yours.  These were awesome!  I did not even miss the regular sweeteners, and would not have guessed that they were stevia sweetened if someone else made them and gave them to me.  These are sort of grown up Halloween candy.  Because to me almond butter has always been a little more grown up than peanut butter (probably because I never tried any until high school).  What is your favorite Halloween candy?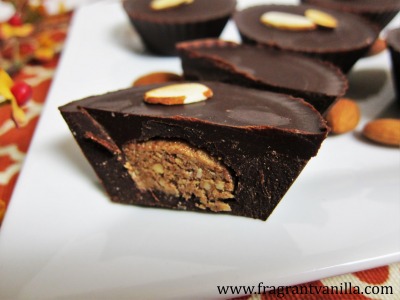 Sugar Free Dark Chocolate Almond Butter Cups
Makes 6
Ingredients:
1/2 cup cacao butter, warmed to liquid
1/4 cup coconut butter, warmed to liquid
3/4 cup cacao powder
1/8 tsp sea salt
1/2 tsp SweetLeaf Stevia English Toffee Sweet Drops (or regular plain stevia drops)
1/3 cup crunchy salted almond butter
I melt my cacao butter and coconut butter in the top of a double boiler. Whisk together the chocolate ingredients until smooth.
Set 6 medium sized peanut butter cup molds (or silicone muffin tins work too) on a tray. Pour the chocolate into the bottoms of the molds, filling them 1/3 full. Place the tray in the freezer for about 15 minutes until firm.
Once firm, spoon a little of the almond butter (like 1 heaping tsp) into the centers of the tins on top of the chocolate (but not too mounded or it will stick out the top or ooze to the sides. Pour the remaining chocolate over the top and place back in the freezer to firm up, about 20 minutes. Unmold and enjoy!
Store any leftover candy in the refrigerator in a sealed container.
(Visited 68 times, 1 visits today)