Stuffed Roasted Peaches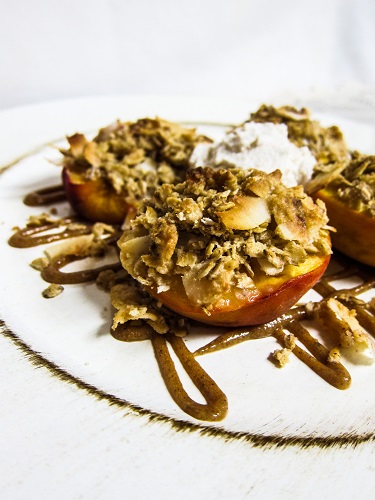 In the fall, I like to make baked stuffed apples, roasted to perfection until tender and stuffed with a crunchy sweet streusel. So I figured baked peaches would be amazing that way in the Summer when they are in season. I had a few peaches on hand and decided to give it a try! They happened to be on sale that week so I had picked up a few. It always makes me happy when I can get organic fruit for a good price!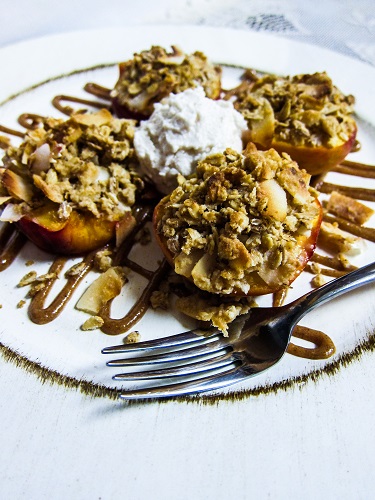 The reason I had thought to make them in the first place was because I was dreaming about how good a warm slice of peach pie with cool coconut milk ice cream would be, but I didn't have enough time to make that so I came up with the peaches. They were quick and easy to make, had the same flavors as pie would have but were a bit lighter and I had a delicious dessert ready in no time!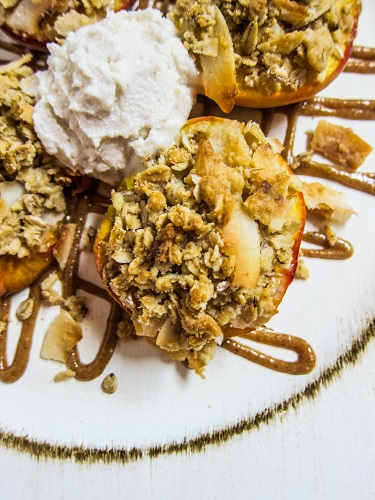 I cooked the peaches a little bit before I added the streusel because I wanted them to get tender and not have the streusel burn or get too dark. I wanted the streusel also to be nice and crunchy so I added plenty of texture in the form of oats and large flake coconut. The streusel was even delicious before I sprinkled it over the peaches!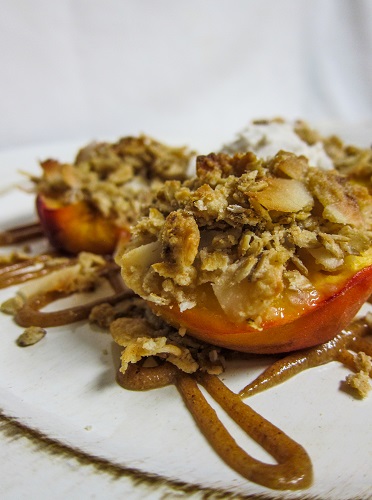 They smelled so good while they were baking, just like a peach pie! Of course I had to serve them while still warm with a little bit of coconut milk ice cream! They were heavenly! All baked to jammy sweet perfection with the crunchy streusel! If you are looking for a simple but really good Summer dessert, give these a try!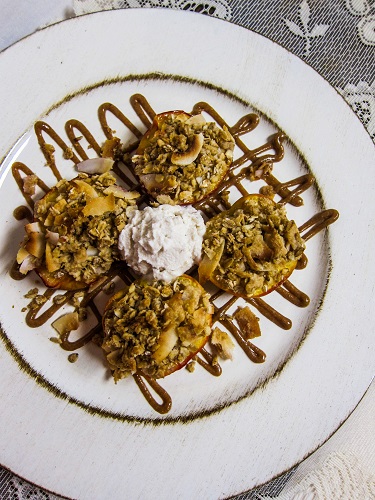 Stuffed Roasted Peaches
Makes 4
Ingredients:
4 larger just ripe (but not mushy organic peaches, cut in half, and pits removed carefully
2 Tbsp plus 1 tsp coconut sugar, divided
1/4 cup organic rolled oats
2 Tbsp whole wheat pastry flour
2 Tbsp large flake dried coconut (unsweetened)
1 Tbsp coconut oil
pinch sea salt
Instructions:
Preheat the oven to 400F degrees.
Place the peaches cut side up in a pie plate or smaller baking dish. Sprinkle each with a teaspoon of coconut sugar, and cover with a lid or foil. Place in the oven and bake for 20 minutes when the peaches have began to soften.
Meanwhile, while you are waiting for the peaches, combine 1 Tbsp coconut sugar, the oats, the flour, the coconut, coconut oil and the sea salt in a small dish and scrunch together with your fingers until it starts to form clumps. Set aside.
When the peaches have baked 20 minutes, remove the plate with the peaches from the oven and sprinkle each with the streusel. Place back into the oven uncovered.
Bake until the streusel is starting to brown and the peaches are tender, about 15 minutes more.
(Visited 152 times, 1 visits today)