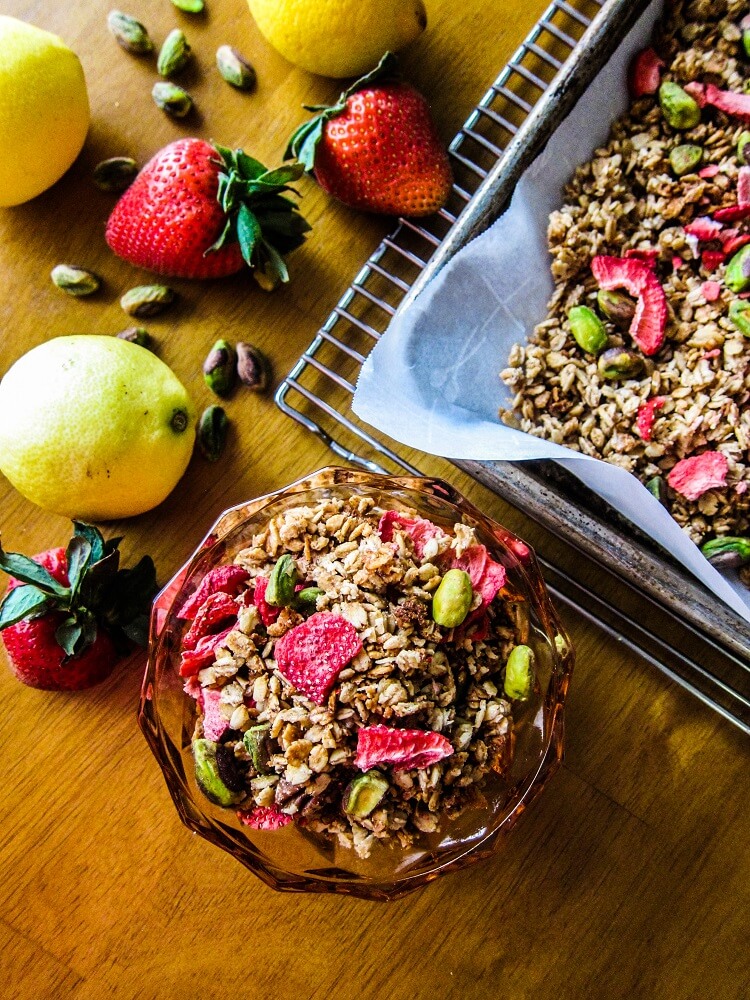 Strawberry Pistachio Lemon Granola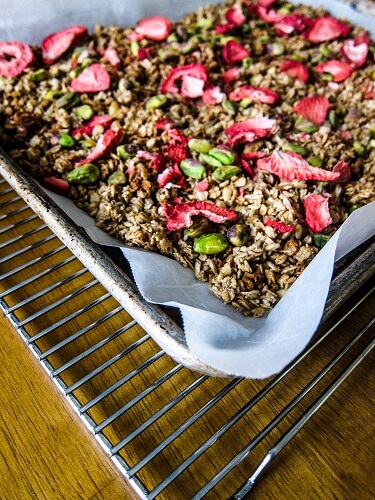 When I was little I thought that granola was something that hippies ate that you got at the health food store. So in other words a health food. Little did I know that it was actually really delicious, which I discovered in college when I decided to make a granola recipe from a breakfast cookbook I had borrowed from the library. I made it and I was hooked. I loved that I could make different flavors and switch up the ingredients for interesting combinations. For a while I was making it every week, and I had a few friends who would actually request I make a bag of it for them it was that good. I don't make it every week anymore, but I do make a big bag once a month to have on hand for when the granola craving strikes. I don't usually have it for breakfast, it is usually a snack when I want something crunchy and slightly sweet. It is also awesome to top cut up fruit in a bowl off with.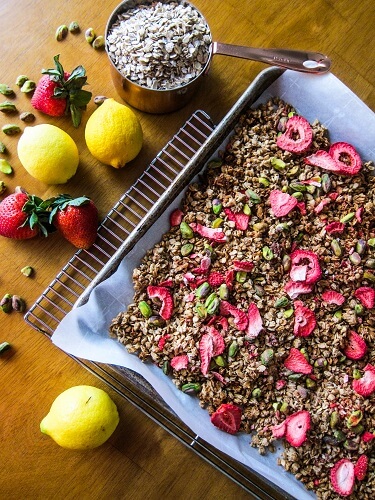 I ran out of my stash I keep in the refrigerator, and so I made some Strawberry Pistachio Lemon Granola last weekend. It was so good I just had to share the recipe with you all. I usually stick to pretty standard flavors lately but I felt like making something Spring like since it seems that Spring has finally sprung here with everything looking green and the flowers finally starting to show up. Strawberries are a must in the Spring for me so I figured they would be perfect to include!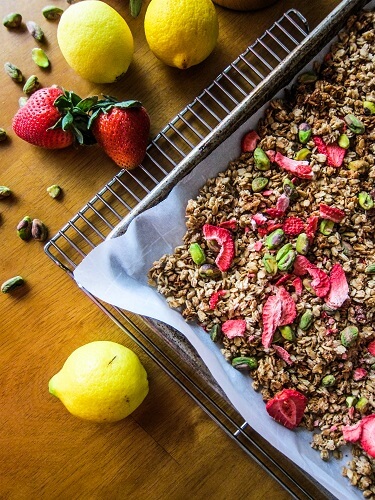 I had some pistachios on hand as well, and thought those would be lovely with the red strawberries. If you are looking for affordable shelled pistachios by the way, Aldi has them for a great price! Back to the granola though, lastly I wanted to add a bit of lemon and coconut, which I also like to include in my Spring desserts.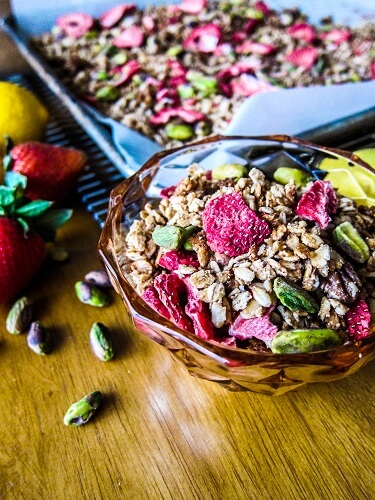 OMG it smelled amazing while baking! That is one of the things I love about granola. That and eating it as it cools. A big portion of the pan is usually gone, because like pop corn, it is hard to stop snacking on. Especially if is calling to you in plain sight and smelling all delicious. If you have never made your own granola, you sooo need to try it!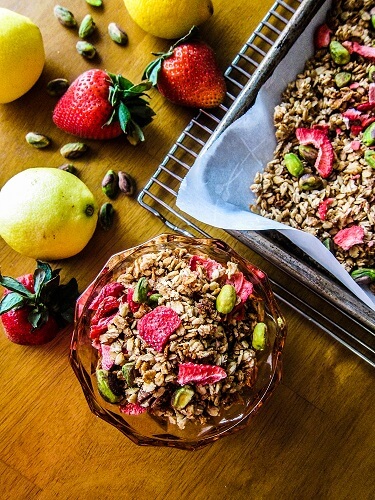 Strawberry Pistachio Lemon Granola
Makes 6 cups
Ingredients:
3 cups organic gluten free old fashioned rolled oats
1 cup shelled pistachios
1 cups finely shredded, dried unsweetened coconut
1/4 cup coconut oil, warmed to liquid
1/4 cup maple syrup
1/4 cup raw cashew butter or almond butter
1 Tbsp organic lemon zest
1 Tbsp lemon juice
1/2 tsp sea salt
1 tsp pure vanilla extract
1 cup freeze dried strawberries
Instructions:
Line a large baking sheet with non-stick foil, and spray with cooking spray.
Preheat the oven to 350F and set rack at the medium position.
In a large bowl, combine oats, nuts, and coconut, and set aside.
In another bowl, whisk together oil, maple syrup, cashew butter, lemon juice and zest, sea salt, and vanilla extract until well combined, then pour over oat mixture and toss to coat until completely blended.
Pour out onto prepared baking sheet, and spread out evenly.
Bake for 35 minutes, stirring about every 10 minutes or so until the granola is evenly browned. Remove from oven and let cool. Stir in strawberries and enjoy!
(Visited 528 times, 1 visits today)