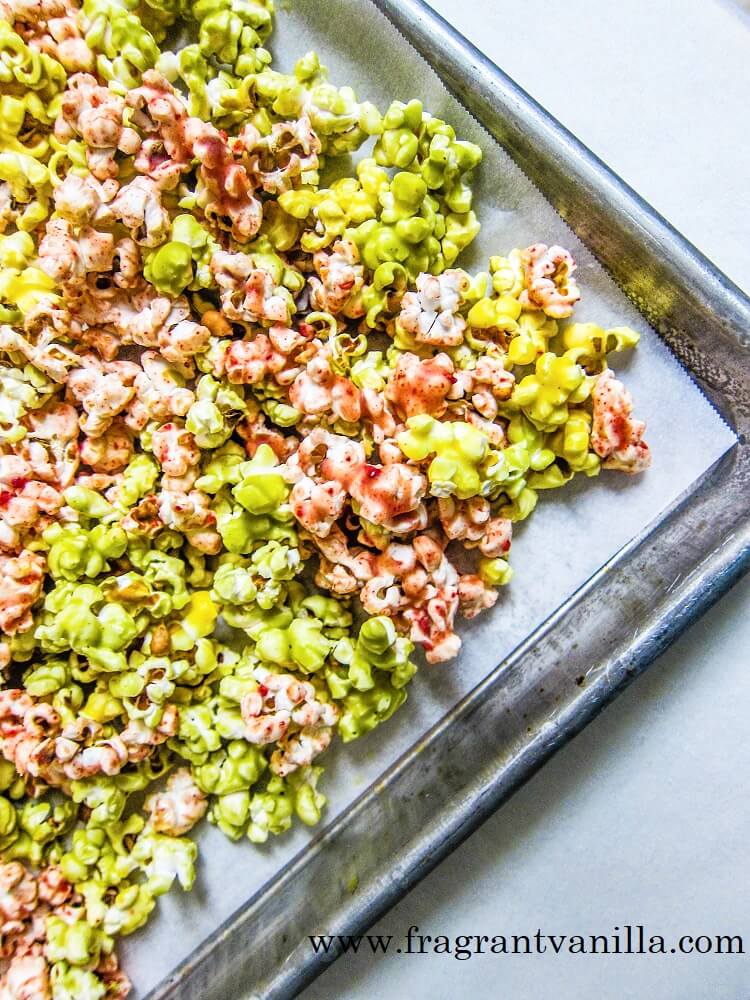 Spring Confetti Popcorn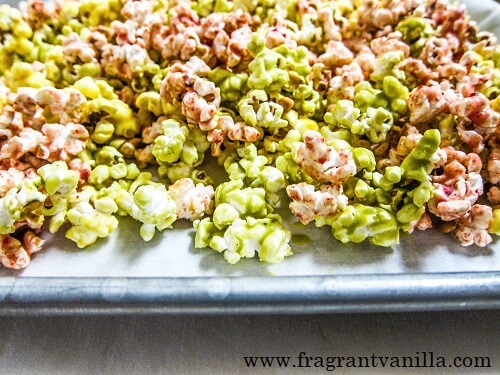 I am sooo ready for Spring!  The robins and ducks are back, the snow is melting quickly, and I have seen some pussy willows.  I have put away my Winter boots, and I am wearing my Spring clothes (even if it is still a little chilly darn it).  No more layer upon layer of jackets and such.  The thing I like most about Spring is running outside and watching everything come alive.  We aren't quite to that point yet, but I know we will be soon.  Also, I am craving more Spring inspired food.  So strawberries and asparagus and such.  But since they are not quite in season, I decided to make a festive popcorn.  Easter and Spring make me thing pastels, so I thought, why not create a beautiful confetti popcorn with different colors.  I am an art major, so I am all about color, and making things pretty.  Although I could have just made it vanilla cream flavored popcorn and used just vegan food coloring, I decided to give it a fruity flavor and color it with some of my favorite things.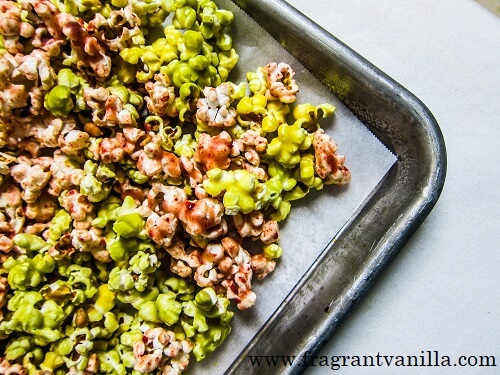 I would have to divide the popcorn between 3 bowls, and mix separate colors, but it would be so worth it!  I made a sweet vanilla white chocolate from cacao butter, coconut butter and cashew butter sweetened with maple syrup.  It was luscious as it was, but it would be even better once I added the flavors.  The first flavor was strawberry.  I pulverized some freeze dried strawberries, and mixed them into the white chocolate. Second, I used some matcha and lime zest for the next flavor.  Matcha is one of my all time favorite things, and it pairs well with berries and citrus.  Lastly, I mixed a little turmeric and lemon zest into the last bowl of white chocolate.  It made for some beautifully colored popcorn!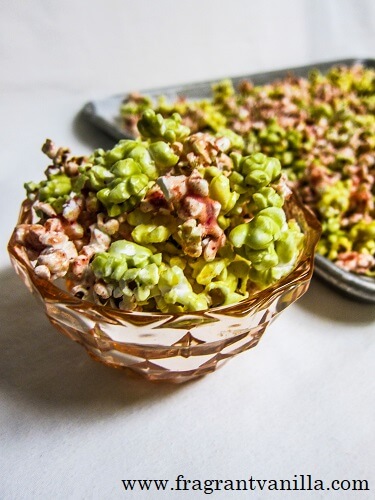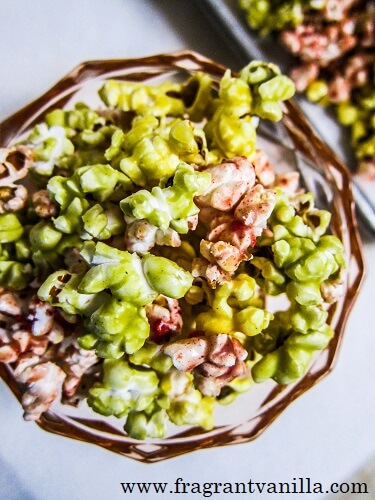 Honestly when it was all spread out, it reminded me of Spring flowers, or Easter pastel colors, so how appropriate for this time of the year.  Most importantly though, it tasted delicious!  Sweet vanilla white chocolate with berry, matcha and citrus flavors!  It was crave worthy, and covered all of the craving bases for if you want something snacky.  Sweet, a tad of salty, and crunchy!  If you are looking for a festive snack, give this a try!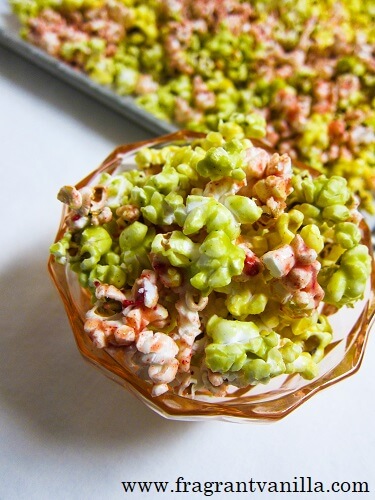 Spring Confetti Popcorn
Makes 8 cups
Ingredients:
1/3 cup maple syrup
1/3 cup raw cacao butter (you may also use coconut butter if you prefer)
1/4 cup raw coconut butter
1/3 cup raw cashew butter
1/2 tsp sea salt
1 tsp lemon juice
1 tsp pure vanilla extract
8 cups plain organic popped corn
3 Tbsp freeze dried berries, ground to powder (I used a mortar and pestle)
1/4 tsp turmeric
1 tsp organic lemon zest
1/2 tsp matcha powder
1 tsp organic lime zest
Instructions:
In a glass measuring cup (or bowl) whisk together the maple syrup, coconut butter, cashew butter, sea salt and vanilla until well blended. divide between 3 bowls.
Stir the berries into one, the turmeric and lemon zest into another, and the matcha and lime zest into the last.
Divide the popcorn between 3 bowls. Pour one berry mixture over one, and mix well with your hands until the popcorn is coated.  Pour the turmeric mixture over the next bowl and do the same.  Pour the matcha mixture over the last and do the same.  Drop the popcorn onto a lined sheet pan by about a scant 1/4 cup, alternating the colors, and place in the freezer until it is hard.
Enjoy!
(Visited 35 times, 1 visits today)