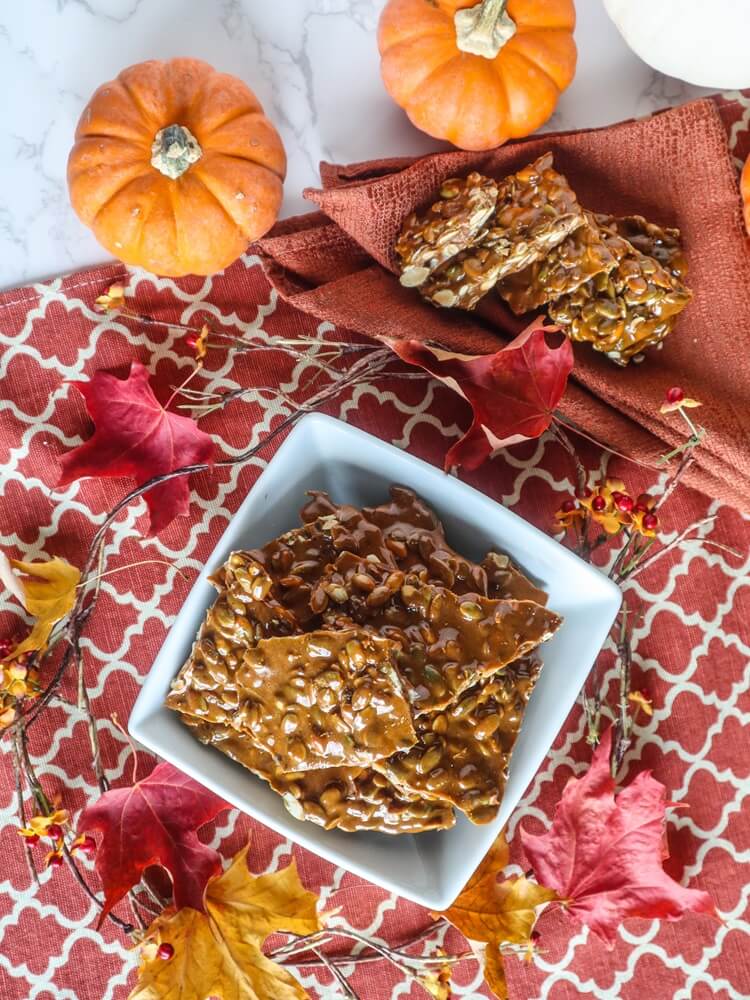 Spiced Pumpkin Seed Brittle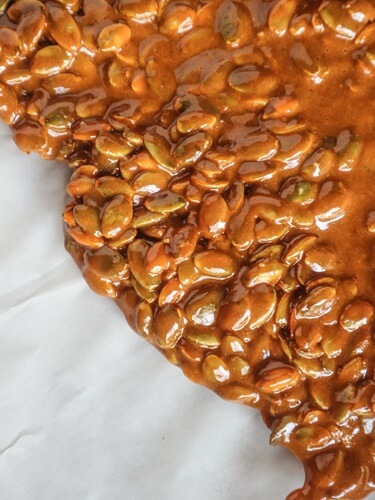 I love making peanut brittle around the holidays.  I remember my Grandparents always had peanut brittle around during Christmas and enjoying it as a kid.  I like to make it now around Christmas, and I plan on doing it this year.  But this Fall I thought some Spiced Pumpkin Seed Brittle would be delicious!  Why not make a seasonal twist on a favorite! It is super easy to make too!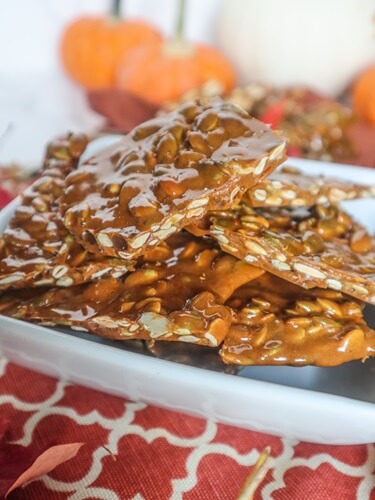 Some peanut brittles have a few more ingredients than mine but I find that I don't need all of them.  When I make regular peanut brittle it has only 3 ingredients and comes out just right every time.  This one 3 ingredients without the spices as well. For this one, I first added sugar, salt and spices to a pan.  I included the pumpkin pie spices, cinnamon, ginger, nutmeg and cloves and honestly it smelled amazing while cooking.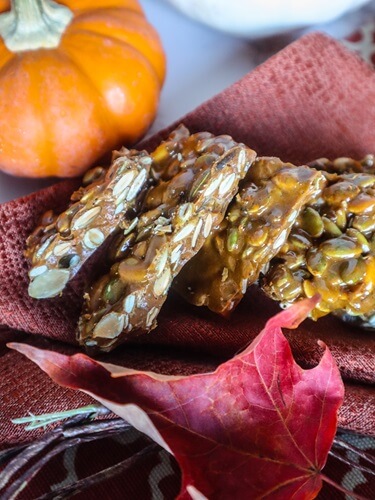 It is really easy to make, you just melt all of the ingredients together in a pan over medium heat stirring often until the sugar melts and becomes completely liquid.  You want it to melt and start to brown but not burn, and that is when you add the pumpkin seeds and pour it out onto a pan.  You have to work quickly as it hardens fast.  I used turbinado sugar this time because that was what I had on hand, but you can use maple sugar or just granulated sugar if you wish.
This turned out so delicious and it was so simple to make!  It was sweet, crunchy, lightly spiced and satisfying!  My husband loved it so much the entire batch was gone in about 2 days.  I mean it is hard to stop eating it once you start snacking!  If you are in the mood for something sweet, definitely give this Spiced Pumpkin Seed Brittle a try!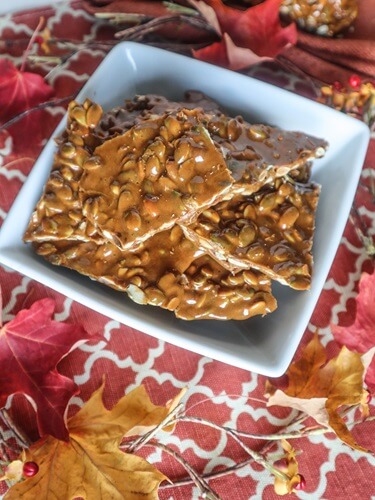 Spiced Pumpkin Seed Brittle
Makes 16 servings
2 cups turbinado sugar or granulated sugar
1/4 tsp cinnamon
1/4 tsp ground ginger
1/8 tsp ground nutmeg
1/16 tsp ground cloves
1/8 tsp sea salt
1 1/2 cup toasted pumpkin seeds
Instructions:
To make the brittle, in a non-stick pan, melt the sugar, spices and salt until completely smooth and liquid over medium heat (this should take about 5 minutes).
Add the pumpkin seeds, stir until mixed in well, then pour onto a sheet of parchment or foil and allow to cool completely.
Once it has cooled, break into small pieces and enjoy!
(Visited 125 times, 1 visits today)