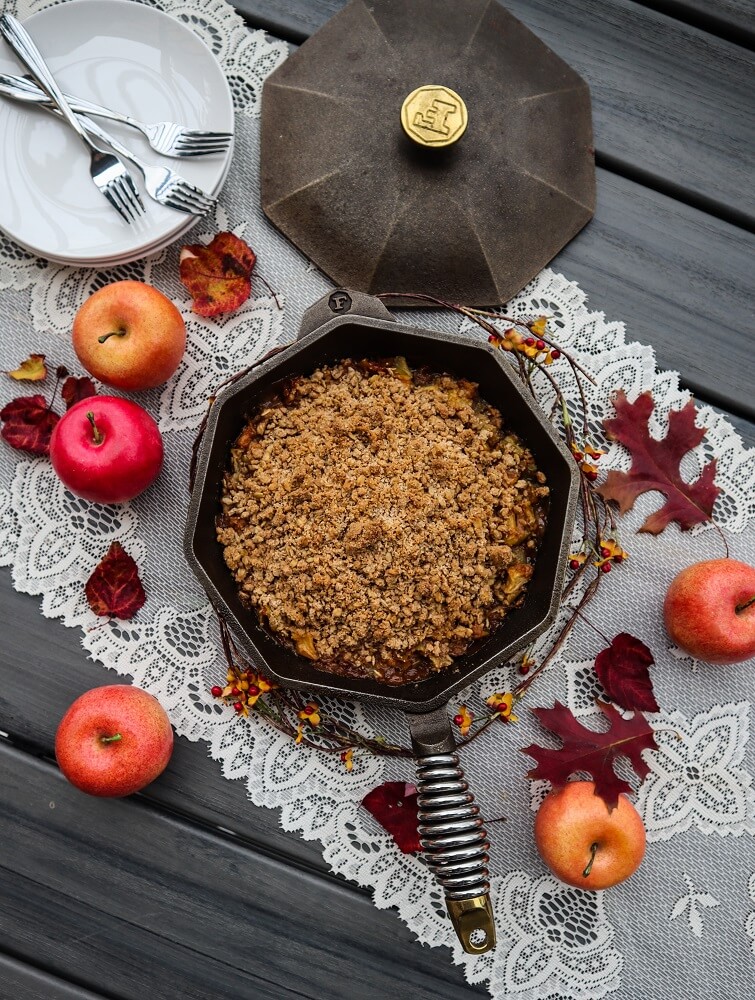 Skillet Apple Crisp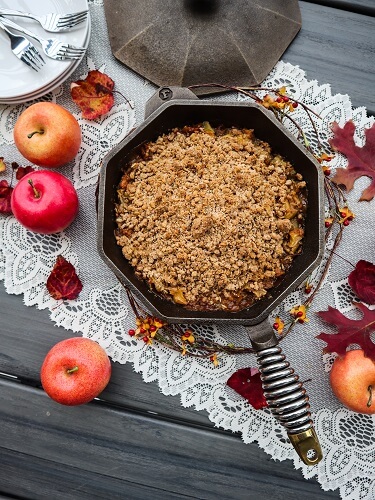 Fall is my favorite season!  I love the chill in the air, running through crunchy leaves, the beautifully colored trees, and of course the delicious foods that are now in season!  Every year I have to make a trip to the apple orchard, and last weekend, since we both had the day off, Eric and I decided to go!  Our favorite orchard is Pleasant Valley Orchard in Minnesota, it is about 40 minutes away and worth the drive!  We went hiking beforehand because it isn't too far away from Taylor's Falls (a local state park), and it was the perfect thing to do after! We enjoyed some cider and picked apples, and they had my favorite two varieties for baking available, Honeycrisp and Haralson, both of which were developed here at the U of MN, (the Honeycrisp in 1991 and Haralson in 1922) which I think is pretty awesome!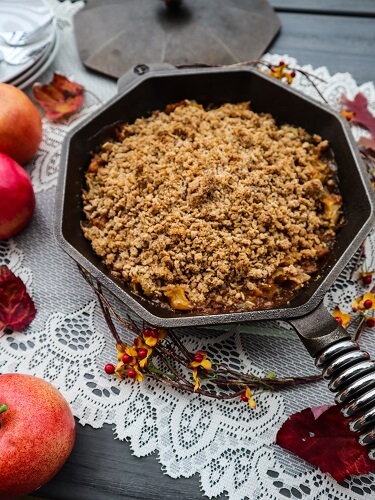 When I was little my Mom always baked pies with Haralson because they are tart and sweet and don't get too mushy but break down just enough.  So I still bake with them now.  They Honeycrisps bake nicely too and give a good flavor to whatever you make so these are my top two choices.  I decided baking something delicious was in order since I had apples on hand, so I decided to make an apple crisp!  I have been wanting to try skillet apple crisp ever since I saw a photo of some in my newsfeed recently.  I love the idea of starting it on the stove and finishing the crunchy topping in the oven to cut the baking time down.  I am all for enjoying dessert faster!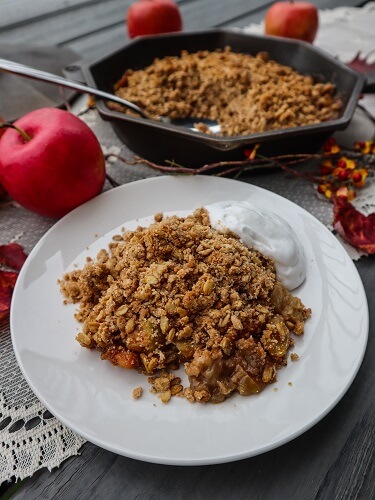 I love apple crisp, because it was something my Mom made in the fall when I was little.  I would come home from school and smell the heavenly aroma of the baking crisp.  There is just something so comforting about it.  Mom made it because it was easy, another reason why I make it now!  This one is even easier!  I  combined my apples with maple syrup, cinnamon and a touch of lemon juice, cooked them on the stove, added a little flour to thicken then once I added the topping, they only needed about 20 minutes in the oven.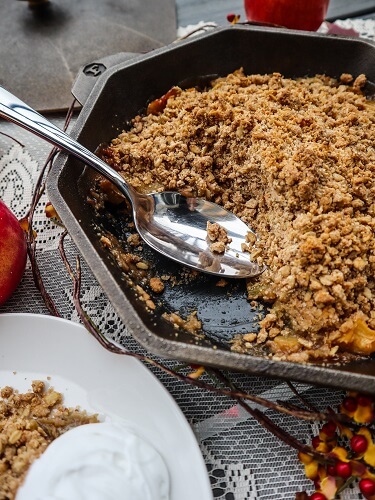 For the topping I made a crunchy struesel with oats because that is my favorite and what I grew up eating. It is just not the same without the oats!  It smelled so heavenly when I removed it from the oven!  Once it had cool I could not wait to enjoy it!  The crisp just tasted like sweet fall!  The apples were cooked to tender perfection, with just the right amount of tart and sweet, they smelled of cinnamon and maple and that crunchy topping was the perfect partner for them!  I served it with some coconut milk whipped cream since I didn't have any ice cream and it was sooo good!  If you have apples on hand, definitely give this a try!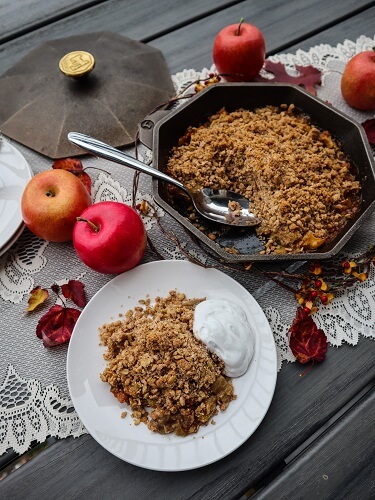 Vegan Skillet Apple Crisp
Serves 6-8
Ingredients:
8 cups organic tart sweet apples, cut into 1/2 inch pieces
1/4 cup apple juice
1/4 cup maple syrup (or to taste)
1 Tbsp lemon juice
1/2 tsp cinnamon
1/8 tsp sea salt
2 Tbsp whole wheat pastry flour
Topping:
1/2 cup organic whole wheat pastry flour
2 Tbsp maple sugar or coconut sugar
3 Tbsp melted coconut oil
3/4 cup gluten free rolled oats
pinch sea salt
Instructions:
Preheat the oven to 375F degrees.
Heat a 9 inch cast iron skillet over medium heat, and add the apples, maple syrup, lemon juice cinnamon and sea salt.  Cook until the apples have softened, about 15 minutes, stirring often.  When they have softened, stir in the flour.  Remove from heat.
To make the topping, combine all ingredients in a bowl, and mix together and squeeze together until it is clumping up a bit. Sprinkle over the apples in the pan and place in the oven.
Bake for 20-25 minutes until the topping is crispy and starting to brown and apples are bubbling.
Remove from the oven and let cool at least 15 minutes before enjoying.
(Visited 391 times, 1 visits today)