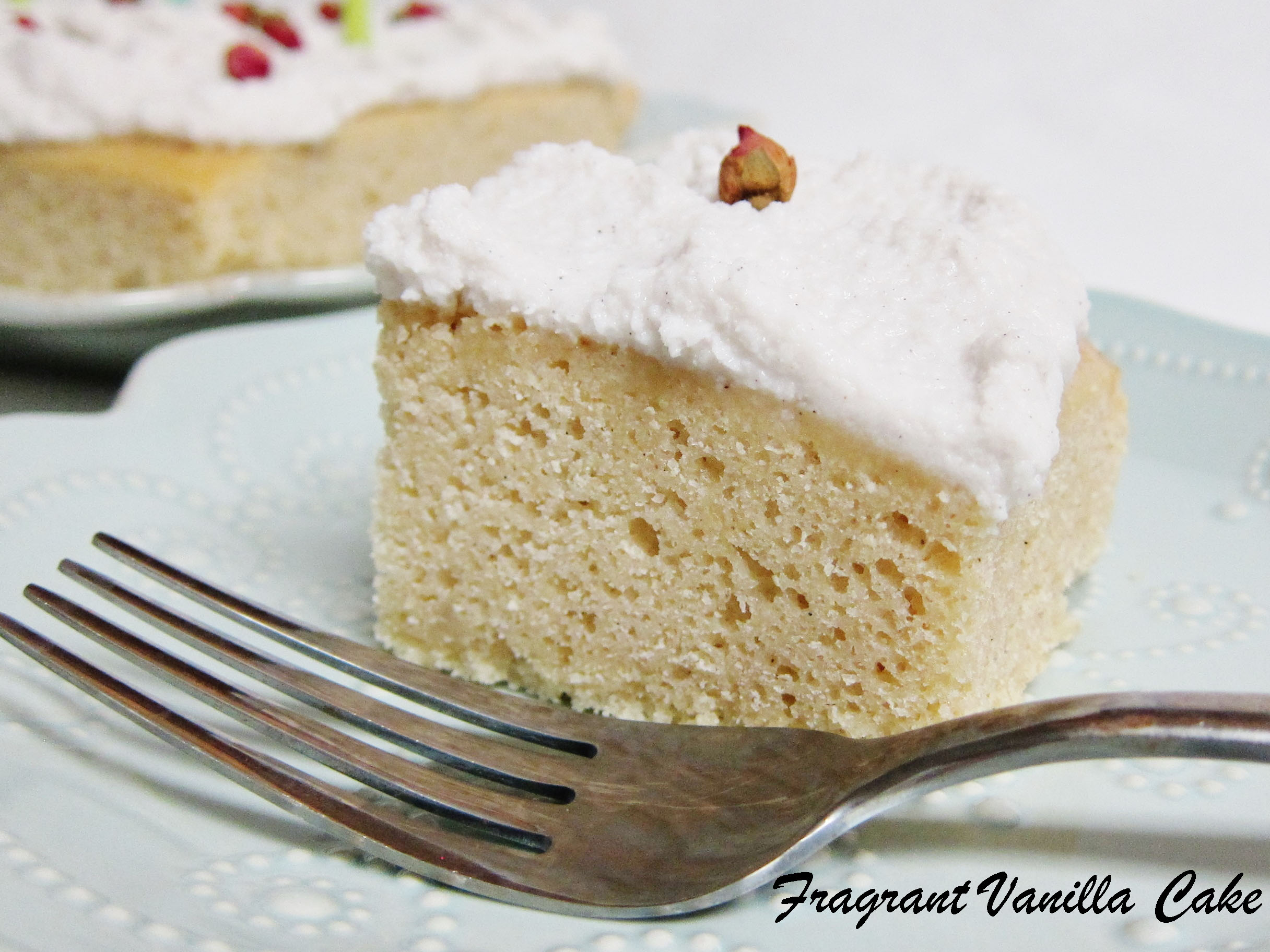 Simple Vegan Vanilla Bean Cake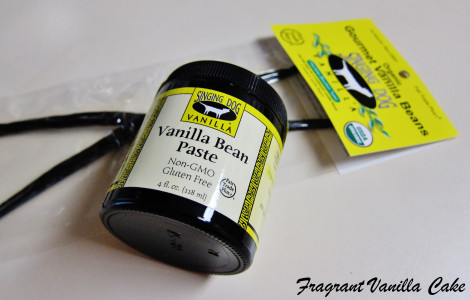 When Singing Dog Vanilla contacted me and asked if I would like to try their product, I was like heck yeah!  I use vanilla in almost every dessert I make, and it is one of my favorite flavors.  If I were asked to choose between chocolate and vanilla it would always be vanilla.  So, I was excited about the vanilla.  I have actually tried their extract once before, I had bought it at a local co op, and it was delicious.  But I had not tried their beans or vanilla paste which is what they sent me.  I love that their products are organic, non-GMO, and fair trade.  That was what caught my eye in the first place. Not only that, the products are good quality as well.  I have to say also, offer lots of interesting vanilla products you will not find everywhere else, like vanilla sea salt, coffees, teas, chapstick, and vanilla coconut sugar for sprinkling!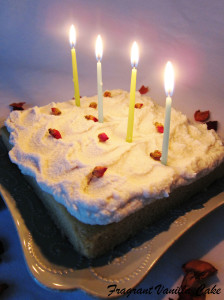 The vanilla paste is the consistency of syrup and tastes wonderful in desserts.  The vanilla is super aromatic and fresh and when you open the package, you are instantly filled with joy (or at least I am, I love that scent and it makes me happy).  I decided that I wanted to use them in a dessert that featured vanilla.  And what more of a classic than vanilla cake?!  Sadly I have no baked plain vanilla cake recipe on this website...until this one. Weird I know, since I am Fragrant Vanilla Cake.  So I decided there needed to be one and this was the perfect time to make it.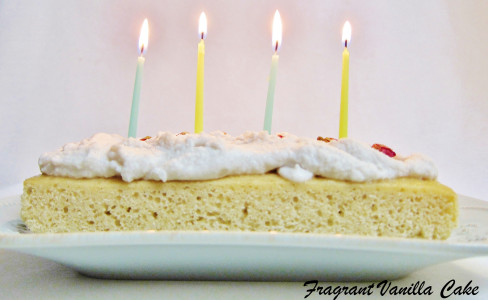 I wanted a single layer cake that was simple enough anyone could make it whether they were a good baker or not.  I love layer cakes, don't get me wrong but I know some of you are intimidated by them and don't care to get all fussy decorating. This is for you.  I made a simple gluten free vanilla cake, using aquafaba in place of the usual eggs (this was an experiment too, since I haven't tried this with cake yet), and a nice dallop of the vanilla paste for excellent vanilla flavor.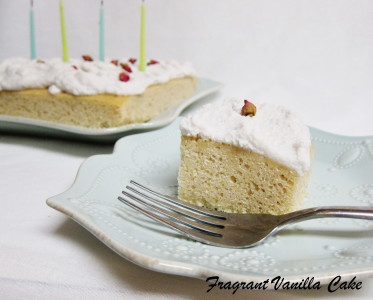 It smelled amazing while baking. That is one of my favorite smells, vanilla cake baking in the oven.  It reminds me of Birthdays.  Which is why I ended up putting candles on the finished cake.  I had the urge to.  It just seemed right.  For the frosting on the cake I used a coconut milk base that I usually use with the vanilla bean included.  The cake was wonderful, honestly one of the best vanilla cakes I have tasted. Obviously this is good quality vanilla!  If you are interested in trying Singing Dog Vanilla's products, you can find them HERE. But, you can also enter to win them, since they have been kind enough to allow me to give away some vanilla beans, and a container of vanilla paste!  If you would like to win, please scroll to the bottom of the page and enter the giveaway!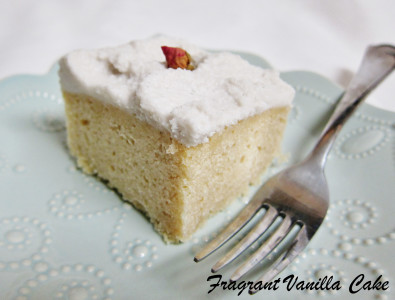 Simple Vegan Vanilla Bean Cake
Makes one 8x8 inch square 1 layer cake
Cake ingredients:
1 3/4 cups all purpose gluten free flour
1 tsp baking powder
1 cup xylitol or coconut sugar*
1/4 tsp sea salt
1/2 cup coconut oil, warmed to liquid
1 cup aquafaba at room temperature (the liquid from canned chickpeas)
1 Tbsp Singing Dog Vanilla vanilla paste or vanilla extract
Frosting:
1 can full fat organic coconut milk, chilled for at least 1 day in the refrigerator
1/4 cup maple syrup
pinch sea salt
seeds of one Singing Dog Vanilla vanilla bean
1/3 cup plus 3 Tbsp coconut butter, warmed to liquid
Preheat the oven to 350F degrees.  In a large bowl, whisk together the flour, sugar and salt until well combined.  Add the coconut oil, aquafaba, and vanilla and whisk until smooth and well combined. Pour the batter into a lined and oiled 8x8 inch square baking pan and place in the oven.  Bake  for 25-30 minutes until just set (you do not want to over bake). Let cool.
Meanwhile, to make the frosting, combine all ingredients but the coconut butter, in a high speed blender or food processor and blend until smooth.  With the motor running, add the coconut butter and process a minute more (if it starts to get lumpy at all during the process it is just the fat separating because it is 2 different temperatures.  Just continue to blend until it is smooth, and it will get warm so it will just have to chill longer). Pour the frosting into a bowl and let sit in the freezer until the consistency of whipped cream, whisking every 15 minutes (you may not need this step if your frosting is already cold enough, but if it is not, this may take anywhere from 15 minutes to hour to an hour depending on how warm it has gotten and which appliance you used).
When ready to frost, spread frosting over the cake. Cakes is best served at room temperature.
Store any leftover cake in the refrigerator.
*If you use the xylitol do not feed this cake to dogs, it is toxic to them like chocolate is.  Also, the xylitol makes for a white cake, the coconut sugar a brown cake.
(Visited 708 times, 1 visits today)