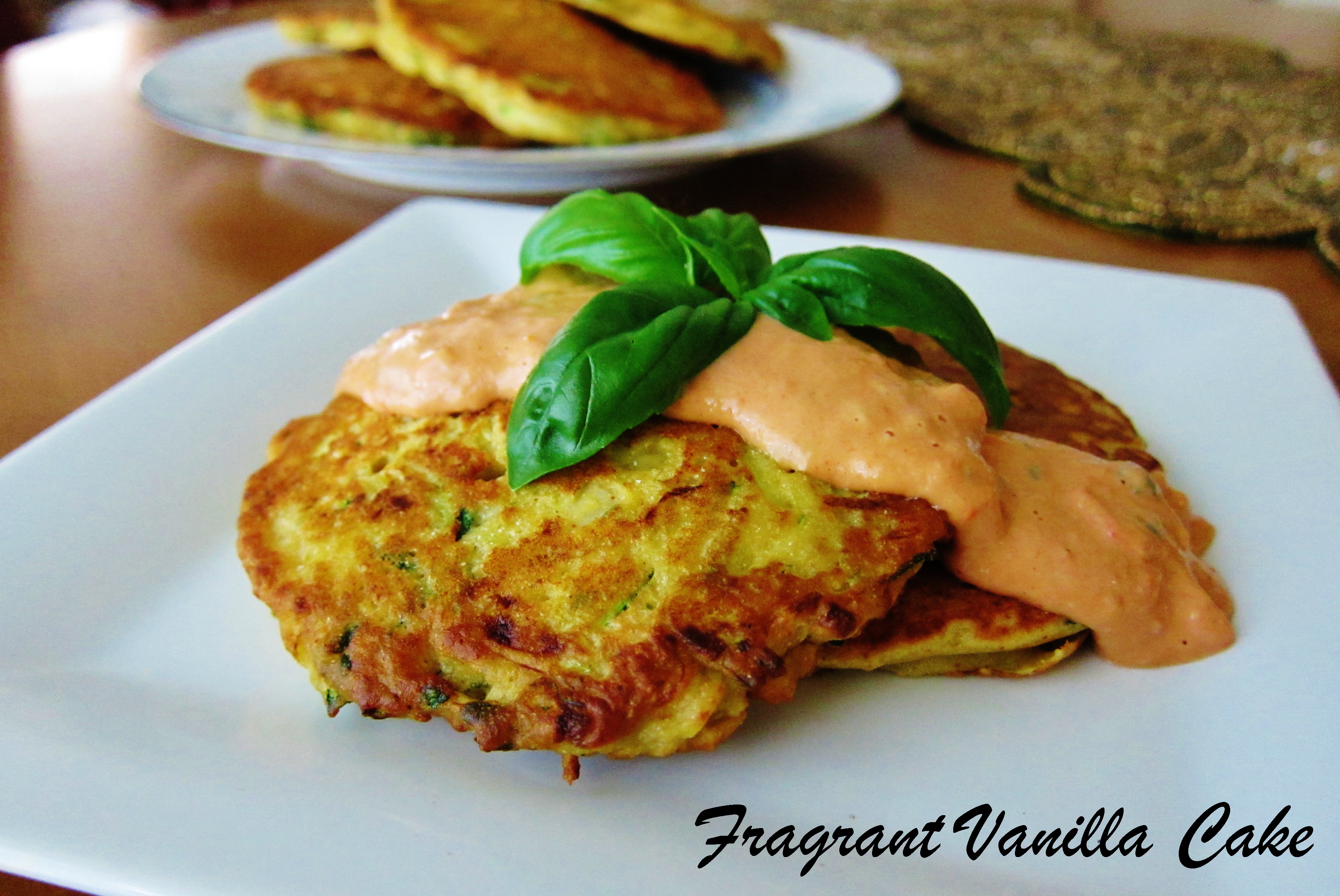 Savory Vegan Zucchini Cakes with Creamy Roasted Tomato Sauce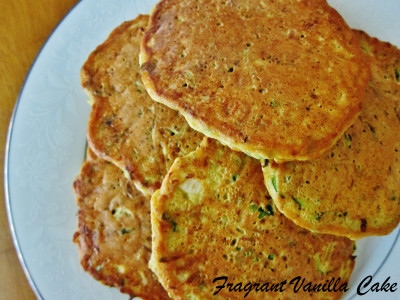 I got a huge zucchini in my CSA box, and I had to make something with it.  My oven was broken, so zucchini cake or bread was out of the question.  But what else could I make?  I really did not want to make something sweet anyhow, I thought using it for dinner was a good idea.  I could have made raw zucchini noodles but I didn't feel like that.  Finally after thinking about it all day at work, it dawned on my while I was out walking (my best time to think).  Savory pancakes!  I have made them with other shredded veggies in the past, but not zucchini.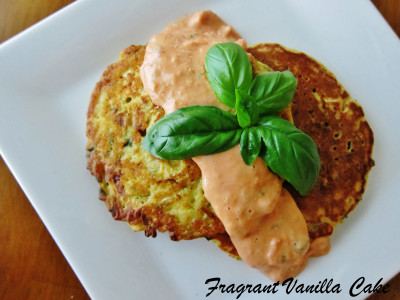 I ended up using chickpea flour for the batter because I love the flavor it has in dishes like this, and I wanted a good dose of protein in my dinner.  I used aquafaba (chickpea liquid in place of the usual eggs to keep it light as well. I also threw in some garlic and onions which were also in my CSA box, along with some basil. The pancakes were awesome!  I served them with a luscious roasted tomato cream, and it was the perfect hearty dinner.  Yes, I like breakfast for dinner.  I could go for these any time of the day though, and if you happened to make them for breakfast they would hold you and energize you for quite a while!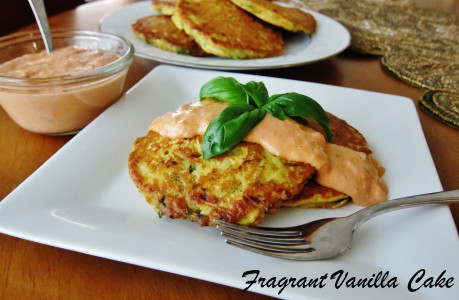 Savory Vegan Zucchini Cakes with Creamy Roasted Tomato Sauce
Serves 3-4
Sauce:
2 medium tomatoes, cut into wedges
3/4 cup full fat coconut milk (from the top of the can)
1/4 tsp sea salt (or to taste)
Pancakes:
1 3/4 cups chickpea flour
1 cup aquafaba (chickpea liquid)
1/4 cup chopped onion
2 garlic cloves, minced
1/2 tsp sea salt
1/4 tsp ground chipotle powder
1/4 cup chopped fresh basil
3 cups shredded zucchini
olive oil for cooking
Place the tomatoes in the oven on an oiled sheet pan, and roast at 400F degrees until soft and starting to brown, about 20 minutes.  Or, you may use the dehydrator, and "roast" them for 4 hours until soft if you do not want to heat up the oven (which is actually what I ended up doing since my oven was broken). To make the sauce, combine the tomatoes and all other sauce ingredients in a food processor and process until smooth. Set aside.
To make the pancakes, whisk  the aquafaba a little at a time into the chickpea flour until smooth.  Add the onion, garlic, sea salt, chipotle, basil, and whisk until combined.  Stir in the zucchini until well incorporated.
Pre heat your oven (or see dehydrator option below) to 150F-200F, and heat a pan over medium heat.  Add a little olive oil to the pan, then 1/3 cup batter.  Cook for about 3-4 minutes on the first side, until browned, then flip and repeat with the second.  Place in the oven to keep warm while you do the rest (alternatively you may place them in a 155F degree dehydrator on the trays, which is what I did since my oven was broken). Once your pancakes have finished cooking, serve them warm with the sauce!
(Visited 635 times, 1 visits today)