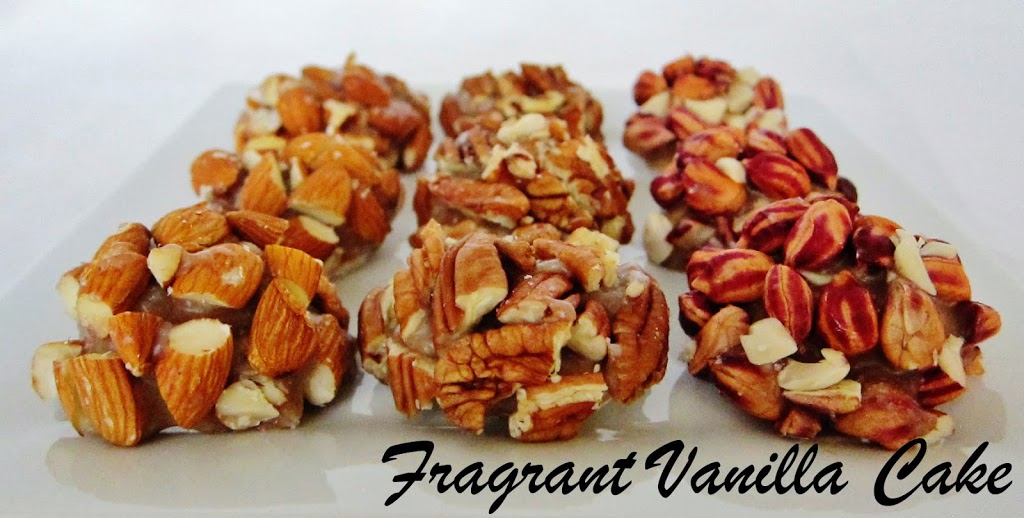 Salted Nut Roll Bites
I have my boyfriend Eric to thank for this recipe happening.  He told me that I should make a rawified salted nut roll a while back, and has mentioned it a few times since, each time I put it off since I had other things I wanted to make (sorry Eric).  Finally they happened though!
Salted Nut Rolls are a classic Minnesota candy all of us that grew up here are familiar with.  Pearson's Candy makes them locally.  Nougat on the inside, caramel and salted nuts on the outside.  I always thought they were quite delicious when I was little.  Of course I have not had one in over 15 years probably, but I thought rawifying them sounded like fun! I made them smaller instead of big bars so they would be individual servings.  I used a coconut based filling for the center, a raw caramel, and coated them in different types of nuts instead of just peanuts to keep it interesting.
They were way better than the nut rolls I had as a kid.  The pecan were my favorite, but they were all delicious.  I think it would be fun to experiment with other types of nuts on them as well, or even some cacao nibs and chocolate drizzled over if you are chocolate inclined.  Yes, I mess with the classics, nothing like putting my own spin on something and making a new creation!
Salted Nut Roll Bites
Makes 16
Filling:
1 cup coconut butter (not oil)
1/3 cup filtered water
2 Tbsp raw coconut nectar or maple syrup
1 tsp pure vanilla extract
pinch sea salt
Caramel:
1 cup soft medjool dates, pitted
2 Tbsp raw pecan butter
3 Tbsp raw coconut oil, warmed to liquid
2 Tbsp raw coconut nectar or maple syrup
1 tsp pure vanilla extract
1/4 tsp sea salt
3 Tbsp filtered water (or an additional Tbsp if it seems too thick).
3/4 cup Raw Pecans, chopped
3/4 cup Raw Jungle Peanuts
3/4 cup Raw Almonds, chopped
Whisk together all of the filling ingredients until smooth, then place into a pastry bag and pipe into mounds (about 2 Tbsp worth) on a foil lined sheet pan.  Place in the freezer until hard, about 20 minutes.  Meanwhile, whisk together the caramel ingredients.  Once the fillings have hardened, place the bowl of caramel next to the pan, and dip each center (mounded side down, leaving the bottom bare) into the caramel, then into the one of the bowls of nuts.  Repeat with about 1/3 of the centers, then switch to a different nut etc. (you want to have an equal amount of 3 different kinds when you are done).  Place in the freezer for about 15 minutes to set. Store in a container in the fridge.
*Note: if you want to just do one type of nut, you can just increase the amount of that nut to 2 1/4 cups.  Also, feel free to use other types of nuts than the ones I did and make it your own!
(Visited 126 times, 1 visits today)