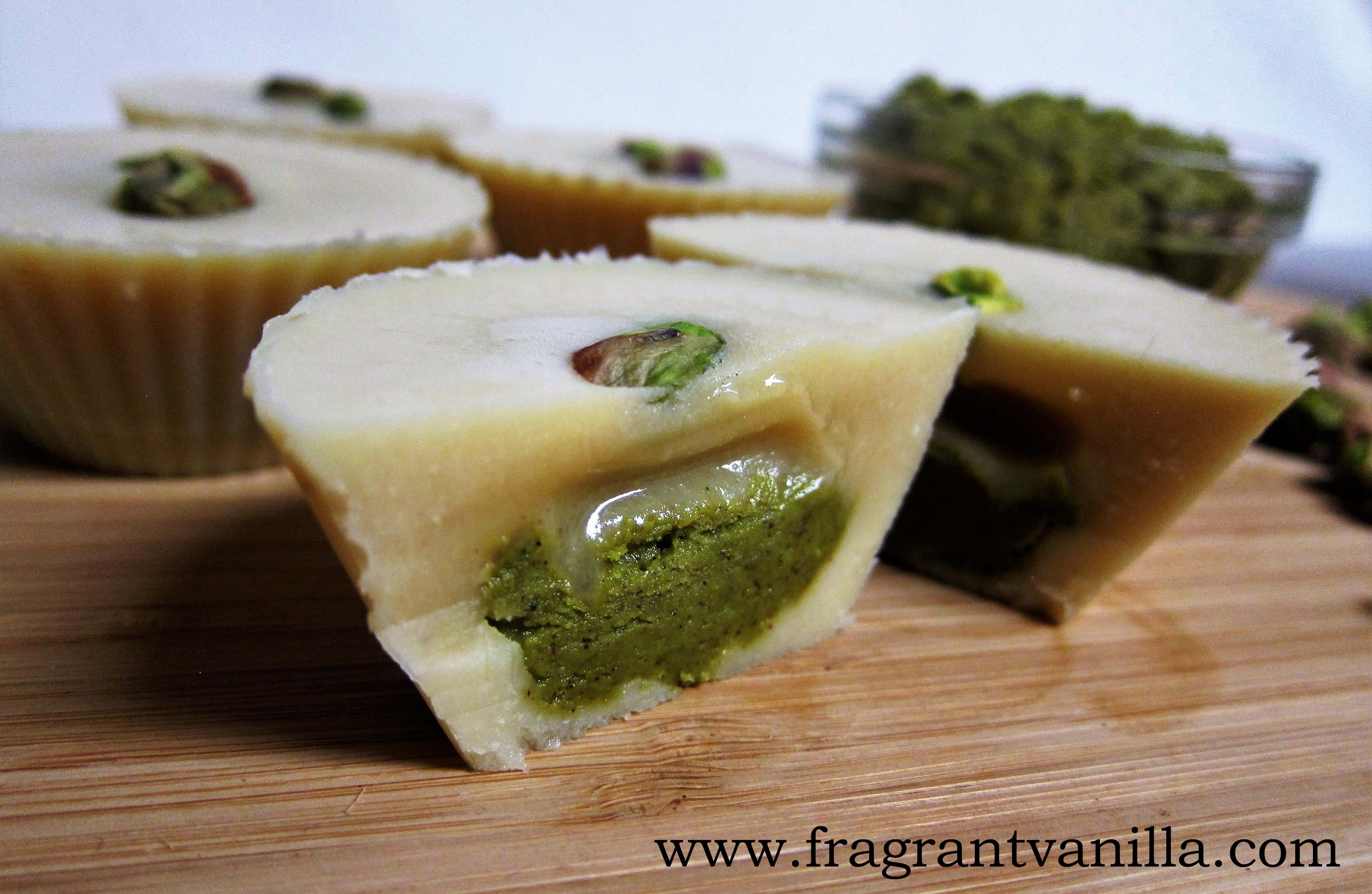 Raw White Chocolate Pistachio Butter Cups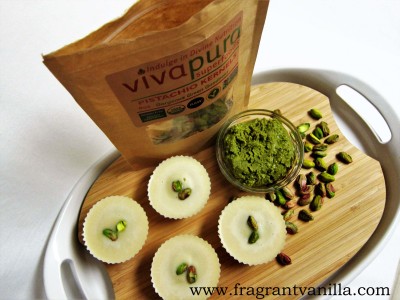 Vivapura was kind enough to send me some of their products recently to create some delicious recipes with, and one of them was Raw Pistachio Kernals.  I love pistachios!  When I was a kid, I used to enjoy shelling them, enjoying the fruits of my labor as I went. I can't say as much now.  Although it is satisfying to enjoy pistachios after you have taken the time to shell them, I do not have time for that for the most part when making recipes.  That is why I love that Vivapura has shelled raw pistachios! So I can just enjoy them and use them in recipes without having to go through a lot of work to shell them.  They are a beautiful color too, some of the freshest I have had!  Sometimes when you get them in bulk at the store they are discolored, but Vivapura's are a beautiful bright green.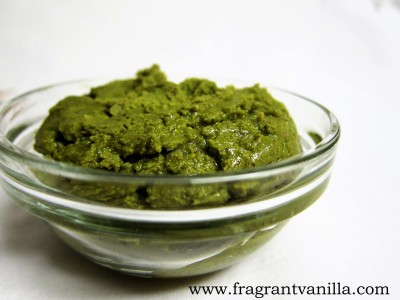 I have always wanted to make pistachio butter, and now was my chance.  I blended up the pistachios with a little sea salt and some avocado oil to make it smooth, and was it ever delicious!  Such a vibrant color too, and I thought it would be perfect paired with white chocolate.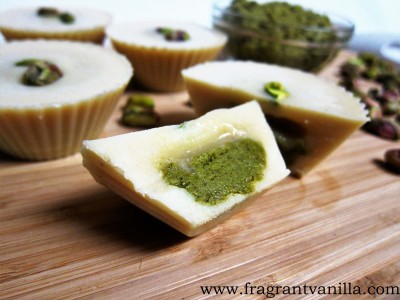 I wasn't in the mood to make something fussy, but chocolate candy cups sounded wonderful.  So, I made a bit of vegan white chocolate, and made some white chocolate pistachio butter cups! The sweet mellow vanilla scented white chocolate was perfect with the salty nutty pistachio butter. It was a match made in heaven.  This is one of those weeknight recipes you can make quickly, when you are in need of a sweet fix.  Craving white chocolate?  Try these!  and definitely next time you want pistachios, get them from Vivapura so you don't have to shell them!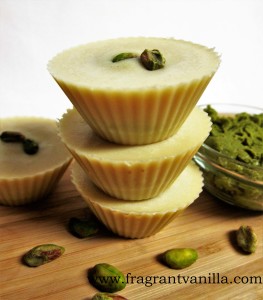 Raw White Chocolate Pistachio Butter Cups
Makes 6 large candies
Pistachio Butter:
3 cups Vivapura raw pistachio kernals
1/4 tsp sea salt
avocado oil as needed
White Chocolate:
1/4 cup cacao butter, warmed to liquid*
2 Tbsp raw cashew butter
1/4 cup coconut butter, warmed to liquid*
1 tsp pure vanilla extract
2 Tbsp maple syrup (or to taste)
To make the pistachio butter, combine all ingredients in a high speed blender and blend until smooth, using the tamper to press the mixture down into the blades.  Add avocado oil as needed until you get a smooth (but not runny) consistency. You will need about 2 Tbsp of this butter for the candy recipe, and if you want it a little sweeter, you may add a little maple syrup to those 2 Tbsp.
To make the white chocolate, whisk together all ingredients until smooth.  Pour into the bottoms of 6 larger peanut butter cup tins (or molds), then place them in the freezer to set.  Once set, spoon about 1 tsp of the pistachio butter onto the top of the set chocolate, then pour remaining melted chocolate over that.  Place them in the freezer to set, about 15 minutes.
I like to warm up my cacao butter and coconut butter in the dehydrator in a bowl, but you may also use a double boiler.  If you use the double boiler and you want these to be truly raw, then do not heat the mixture above 115F degrees. Of course if you do not mind it not being kept raw, don't worry about the temperature so much.
(Visited 101 times, 1 visits today)