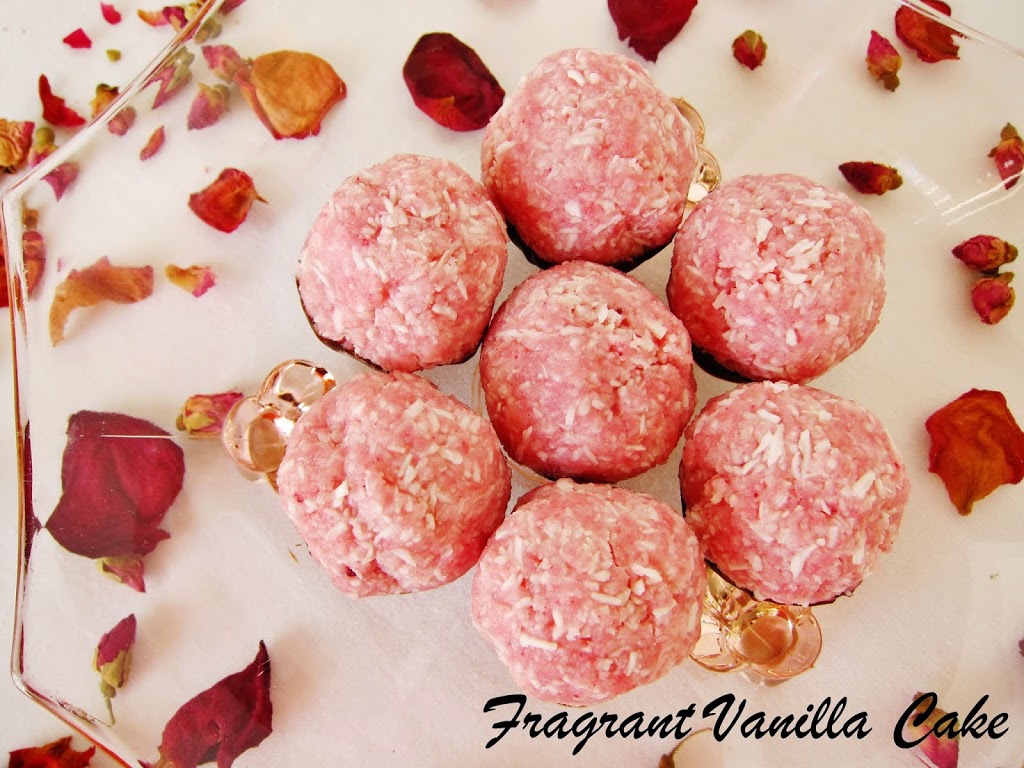 Raw White Chocolate Coconut Rose Macaroons
Raw cacao butter is one of the most heavenly aromas you can ever experience.  It is like close your eyes, relax and go to your happy place wonderful.  I had just some last week, and I asked my Mom to smell it and afterwords she told me that I needed to make her some coconut white chocolate macaroons with it.  The good daughter that I am, of course I was going to make some.  I thought it was a wonderful idea, and I agreed to on the condition that I could add a touch of rosewater as well to make them even more heavenly.
The dough (if you would even call it dough, well macaroon mixture) for these tasted seriously amazing. I am sure I would have ended up with a few more macaroons if it were not so tasty because I had to keep sampling it.  It was like the best white chocolate infused into a macaroon with the scent of rosewater.  They were good as they were but I decided to dip them in dark chocolate as well to make it even better.  My Mom, the person I made these for in the first place loved them. In fact, she ate one before I had even let them set or dipped them in chocolate and her facial expression was priceless.  I think a container of these might just be a perfect Valentine's gift for any coconut lover in your life.
Raw White Chocolate Coconut Rose Macaroons
Makes 12 small macaroons
Macaroons:
3/4 cup finely shredded unsweetened coconut
a pinch of sea salt
1/4 cup raw coconut nectar, or maple syrup
2 Tbsp melted cacao butter, warmed to liquid
1/8 tsp beet powder
1 tsp pure vanilla extract
1/2 tsp rosewater
2 cups finely shredded unsweetened coconut
1/2 cup chopped raw dark chocolate
For the macaroons, place 3/4 cup coconut, and sea salt in the food processor and process until fine as flour and well combined. Add the nectar, cacao butter, beet powder, rosewater and vanilla and process until the mixture holds together. Add coconut and pulse until the mixture holds together. Shape and lightly squeeze the mixture into balls (I say squeeze, because it is easier to squeeze them together as they are delicate and rolling makes them fall apart), and place in the freezer until very firm. Meanwhile, melt the raw chocolate.  When the coconut macaroons are hard, dip them into the chocolate and place on a foil lined sheet.  Place back in the freezer.


(Visited 50 times, 1 visits today)