Raw Tutti Frutti Ice Cream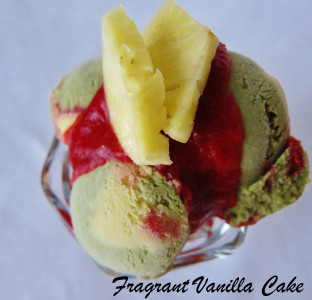 Sprout Living was kind enough to send me some more of their Green Kingdom Epic Protein powder to use in recipes.  In case you didn't catch my other post about it a few months back, this stuff is awesome!  Honestly, it is my all time favorite protein powder.  It is delicious as well as packed with nutrients including greens, it has a good texture, and most importantly it helps me refuel after a workout and feel good.  So what all is in this stuff?  Well, a blend of sprouted brown rice, yellow pea, sacha inchi, and cranberry proteins as well as superfoods  and greens.  It is raw, vegan, and organic.  I love it just plain with water mixed in (not all protein powders taste good that way, but theirs does).  And it is wonderful in smoothies and shakes like the Raw Green Berry Layered Shake I made recently. It has a fruity flavor to it, so I thought why not add it to a tropical ice cream recipe!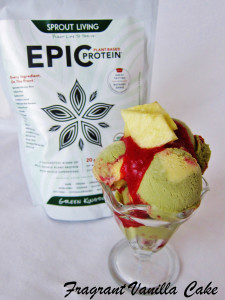 I ended up making what I called Tutti Frutti Ice Cream.  I am not sure what the original or traditional tutti frutti ice creams had in them, but this tasted tutti frutti to me!  So delicious, a blend of mango, pineapple and banana with the sweet fruity protein and marbled with a strawberry swirl plus a plain fruit blend swirl for a pretty effect.  It was sooo good!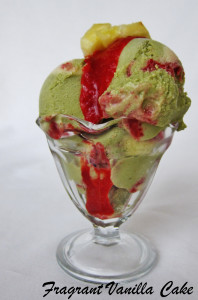 Why not have your ice cream and get some protein too!  The protein powder enhanced the flavor and made it taste even better. Plus you get some of your daily greens in your ice cream!  If you have not tried the Sprout Living Green Kingdom Epic Protein Powder, you should definitely get on it.  I am super picky about protein powders and I love it.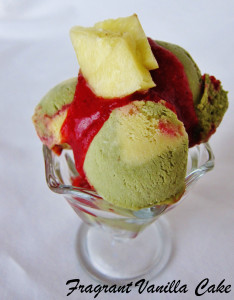 Raw Tutti Frutti Ice Cream 
Makes 4 cups
1 cup ripe mangoes
1 cup ripe pineapple
1 cup mashed banana
2 cups young coconut meat
3/4 cup coconut water
2 tsp pure vanilla extract
1/4 tsp sea salt
1/2 cup raw coconut nectar
3/4 cup coconut butter
2 scoops Sprout Living Epic Green Kingdom Protein Powder
Swirl:
1/2 cup fresh strawberries
1 Tbsp coconut nectar
In a high speed blender or food processor, combine all ingredients for the ice cream until smooth.  Remove 1/3 cup of the mixture and set aside.  Add the protein powder to the remaining mixture in the blender and blend until smooth.  Pour the mixture with the protein powder into an ice cream maker, processing according to the package directions.
Meanwhile, to make the swirl, combine all ingredients in a high speed blender or food processor until smooth, and set aside until the ice cream is done. 
Pour 1/3 of the finished ice cream into a freezer safe container, then drop some of the swirl by the Tbsp over that, as well as the plain mixture, then half the remaining ice cream, then more swirl and plain mixture, then the last of the ice cream and more swirl and plain mixture, and swirl with a knife to marble.  Let chill in the freezer for about 4 hours or overnight until more firm before scooping (if it becomes too hard, let sit out about 15-20 minutes before serving.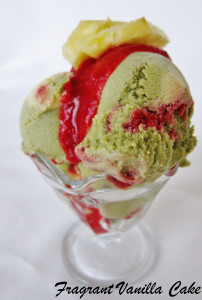 (Visited 130 times, 1 visits today)