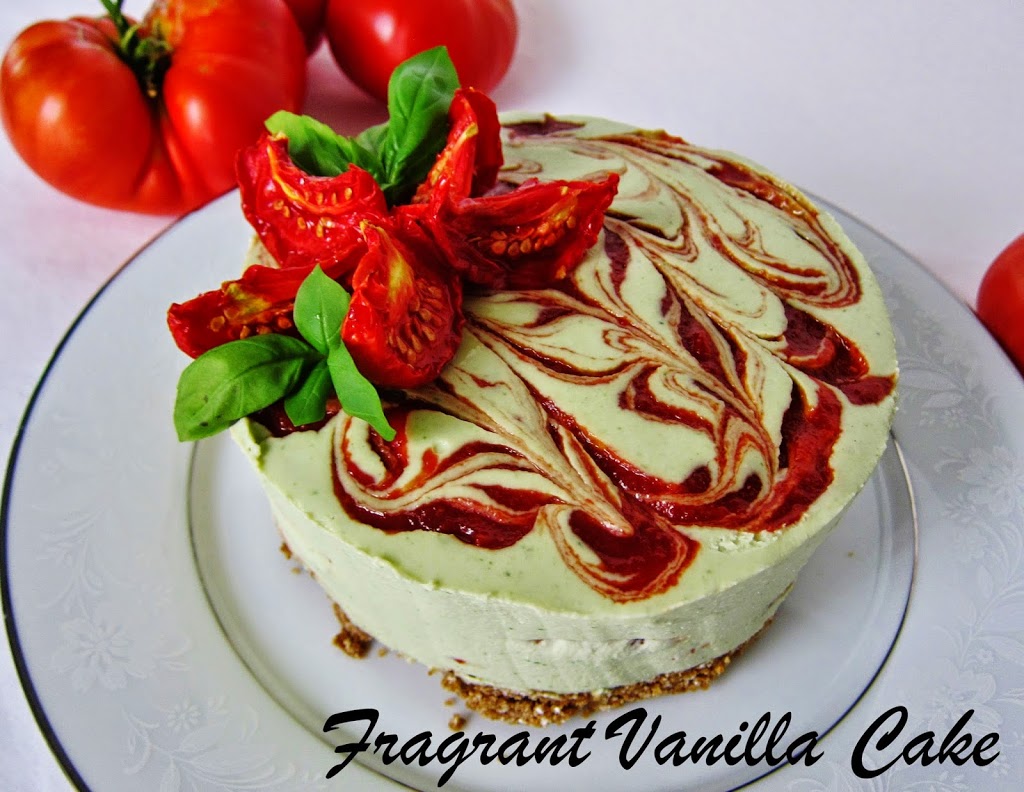 Raw Tomato Basil Cheesecake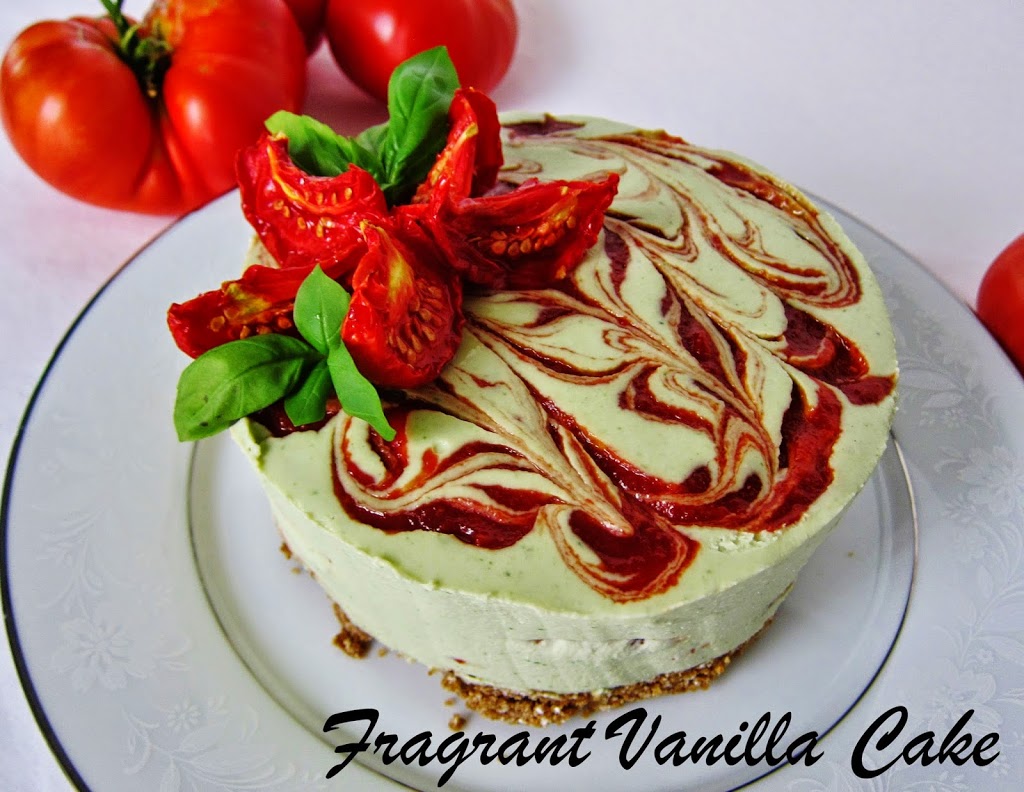 I know what you may be thinking...tomatoes and basil in a cheesecake?  Aren't those savory items fit for things like pasta sauce or salads?  Well, yes they are but...they are just as equally delicious when used creatively in sweets.  I love tomatoes and basil, so much that I wait all year for them, and I do not buy tomatoes at the store, I wait for the ones from my Grandpa's garden.  I grow my own basil in a pot on the patio as well, and nothing compares to those two ingredients combined, fresh and home grown.  Most often I like my tomatoes just with a hint of sea salt, with a little torn basil.  To me that is like dessert.  Savory dessert.  But tomatoes do have a hint of sweetness that can be brought out for a sweeter dessert. Like this Tomato Basil Cheesecake!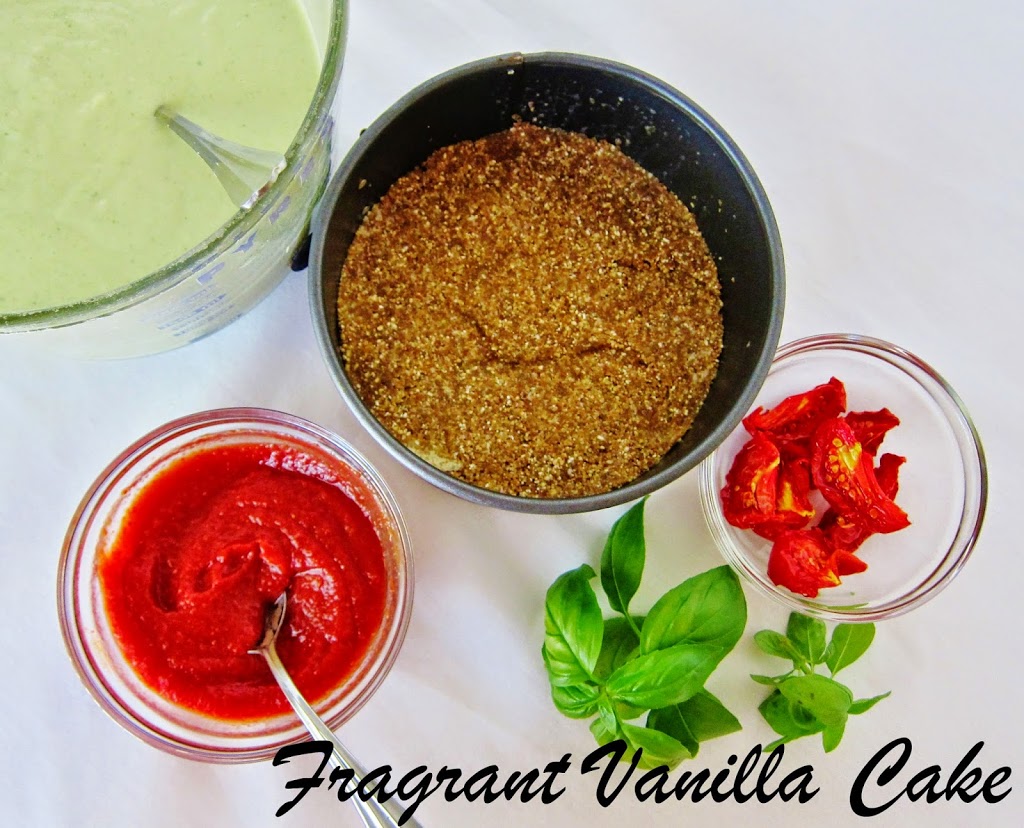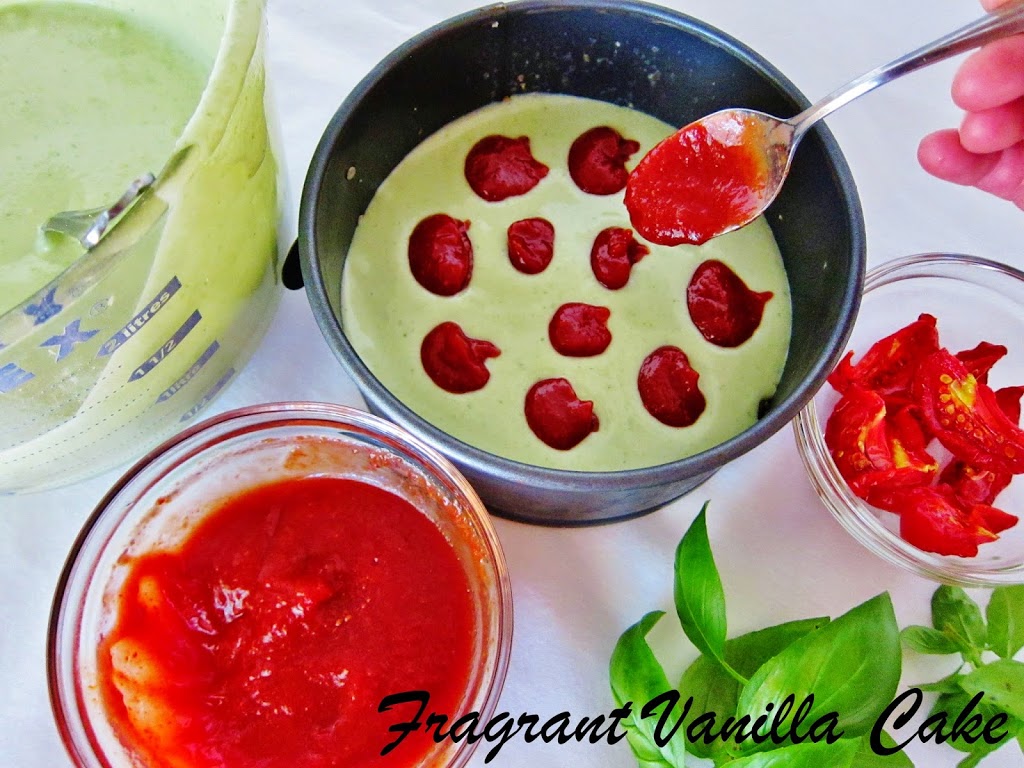 No, I am not crazy.  This is how the idea came about.  I have been wanting to try making a basil cheesecake for a long time, years in fact since I saw a recipe for a baked one that intrigued me. I love basil and I love cheesecake, so why not?  I have actually made sweet tomato desserts before, caramelized tomato ice cream and a tomato spice cake so I knew that tomato would work in a dessert.  I decided to combine the two by swirling a caramelized tomato jam throughout the cake. Tomato is a fruit after all, and it is wonderful in a jammy state.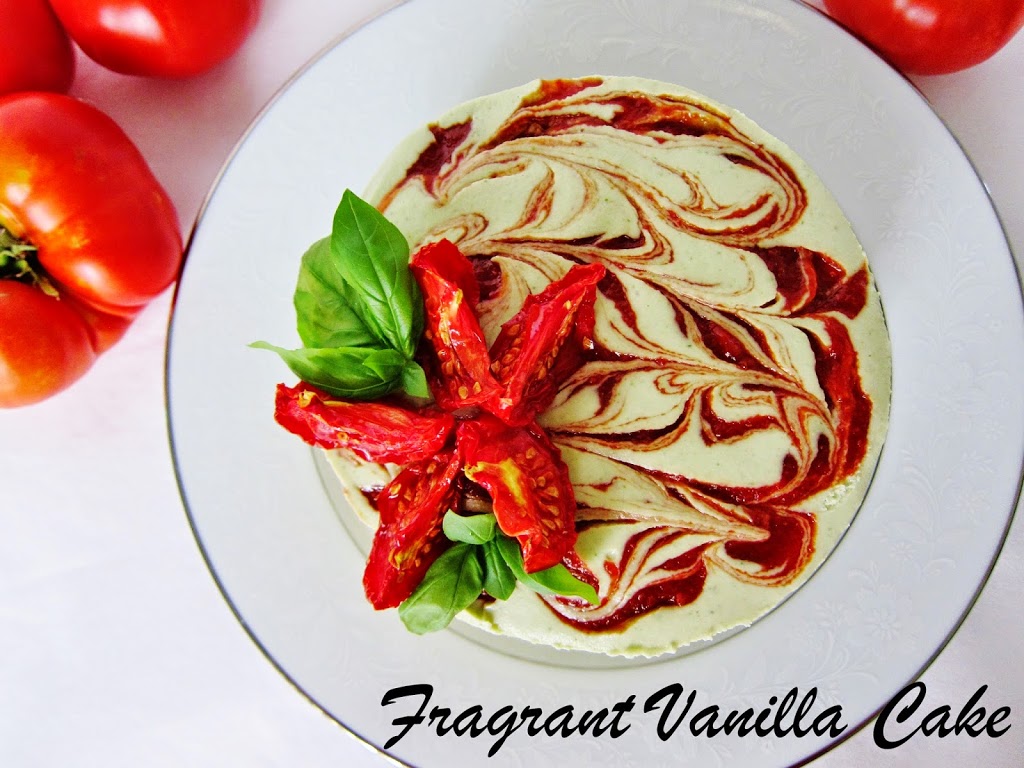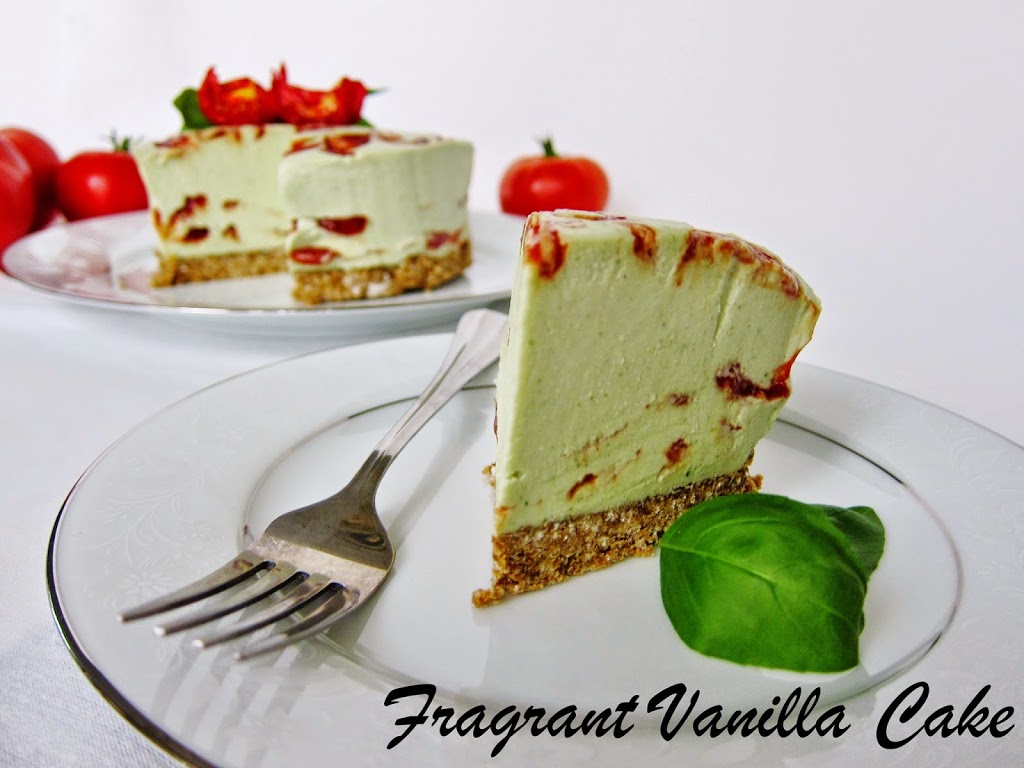 This cake was freaking amazing.  The marriage of flavors that are usually savory with sweet. My kind of dessert.  Something outside of the box. If you don't believe me I wish I could invite you over to try it.  Simply heavenly and a perfect use of the end of the summer tomato and basil harvest!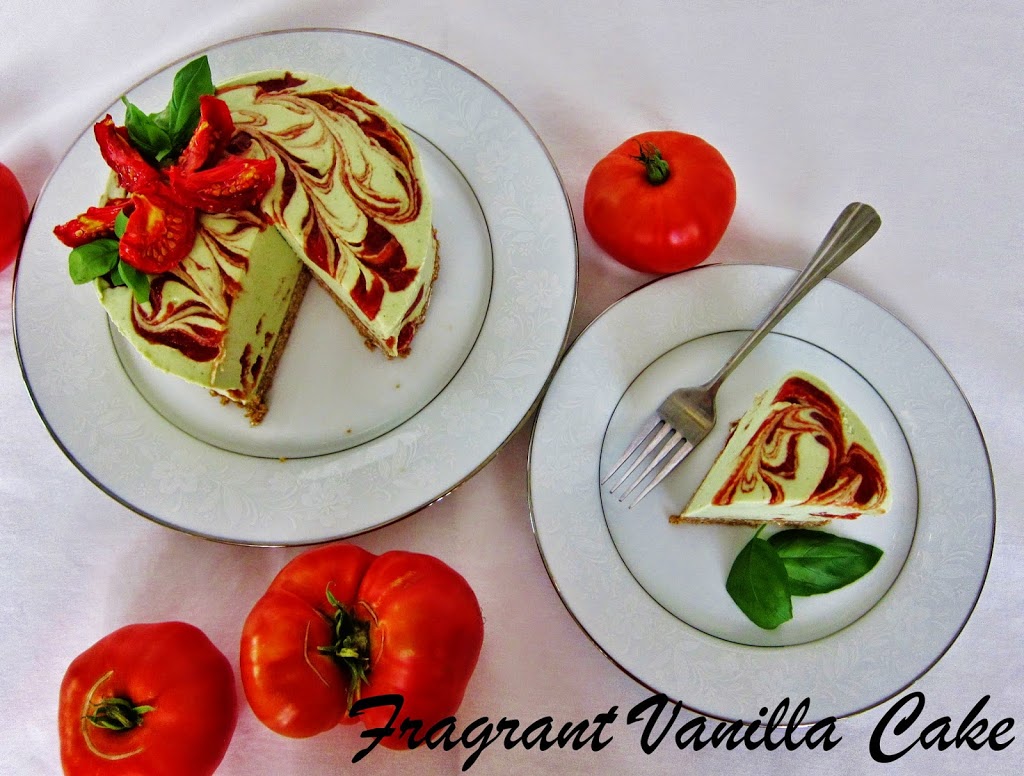 Raw Tomato Basil Cheesecake
Makes one 6 inch cake
Ingredients:
Garnish:
2 smaller tomatoes (preferably local and organic), cut into quarters
3 Tbsp maple syrup (or your choice liquid raw sweetener)
a pinch sea salt
Crust:
2/3 cup raw sprouted buckwheat groats (or additional coconut)
1/3 cup ground flax seed
3/4 cup dried finely shredded coconut
1/8 teaspoon sea salt
10-12 soft medjool dates, pitted and chopped (if they are not soft, soak them in water until they are and drain them well)
1/2 tsp ground cinnamon
Filling:
4 cups young coconut meat*
1/4 cup coconut water
2/3 cup raw coconut nectar, or maple syrup
1/2  teaspoon sea salt
1 Tbsp pure vanilla extract and seeds from half a vanilla bean
1/2 cup fresh organic basil, packed
3/4 cup plus 2 Tbsp raw coconut butter (warmed to liquid)**
Caramelized tomato jam:
3/4 cup sun dried tomatoes, soaked in water until soft, and drained***
1/3 cup diced fresh tomatoes
1/4 cup maple syrup (or your choice liquid raw sweetener)
1 tsp pure vanilla extract
2 Tbsp lemon juice
pinch sea salt
Instructions:
For the garnish, toss the tomatoes with the maple syrup and sea salt and set on a dehydrator tray. Dehydrate overnight, about 12 hours until the tomatoes have shrunken and flavors are intensified but are not completely dry.  Set aside in the fridge.
Lightly coat a 6 inch spring form removable bottom pans with coconut oil. To prepare the crust, process flax, coconut, buckwheat and sea salt in a food processor until fine crumbs, then add the dates and cardamom and process until the mixture holds together when squeezed between your fingers (if not holding together, add more dates). Firmly press crust into the bottom of the prepared pan, and set aside.
To make the filling, in a high speed blender or food processor, combine coconut, coconut water, coconut nectar, sea salt, vanilla and basil in a food processor and blend until smooth and creamy. With the processor running, add the coconut butter and and process for a minute until blended.
To make the tomato jam, combine all ingredients in a high speed blender and blend until smooth.  If it seems too thick add a little more maple syrup or water.
To assemble cheesecake, 1/3 of the basil filling over the crust, then drop some of the tomato jam by the tsp over that and swirl with a knife. Then pour half the remaining filling over that, then drop more of the jam over that and swirl with a knife. Pour the remaining basil filling over that, and then drop more jam over that. Once the pan is full, tap the bottom on the counter to level, and swirl with a knife in a spiral from the outside in to the center, then a toothpick if you want more intricate swirls.
Place in the freezer for 4 hours or until set.  When ready to serve, garnish with dried caramelized tomatoes, and basil.
*If you are unable to get young coconut meat, you may substitute 4 cups raw cashews, soaked 4 hours and drained and filtered water instead of the coconut water.
**If your coconut meat is very soft and watery, you may need to add a few More Tbsp coconut butter.
***To make sun dried tomatoes, cut your tomatoes into wedges (about 4 for smaller and 8 for larger), and dehydrate on a lined tray at 115F for 24 hours or until dry.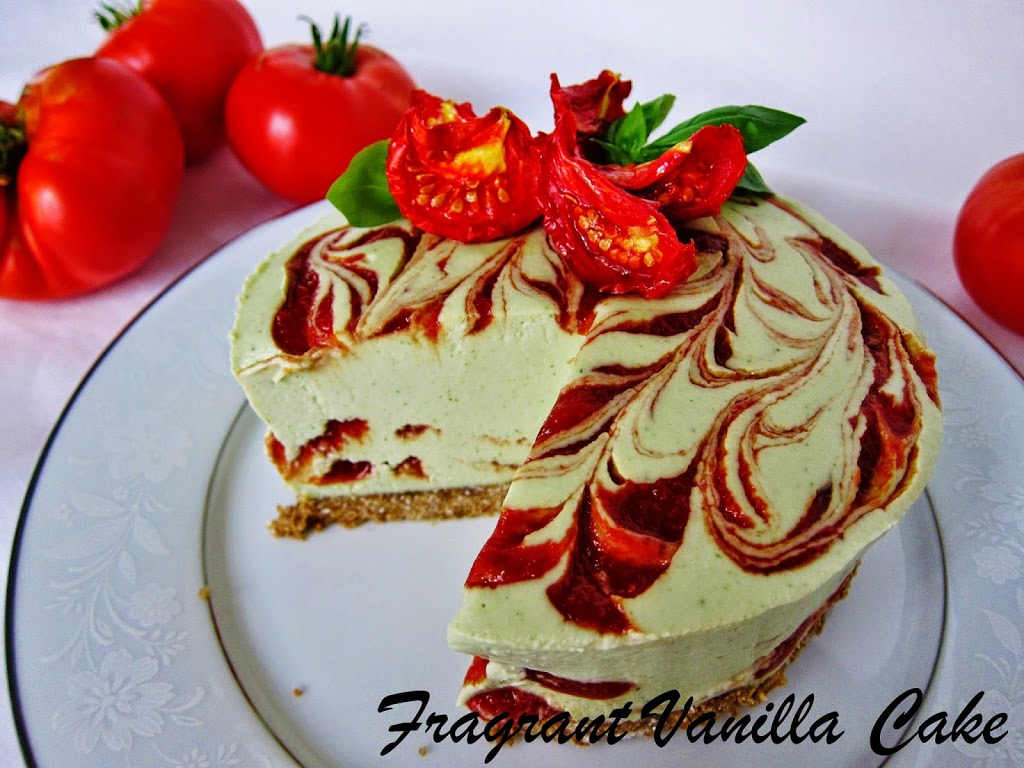 (Visited 463 times, 1 visits today)