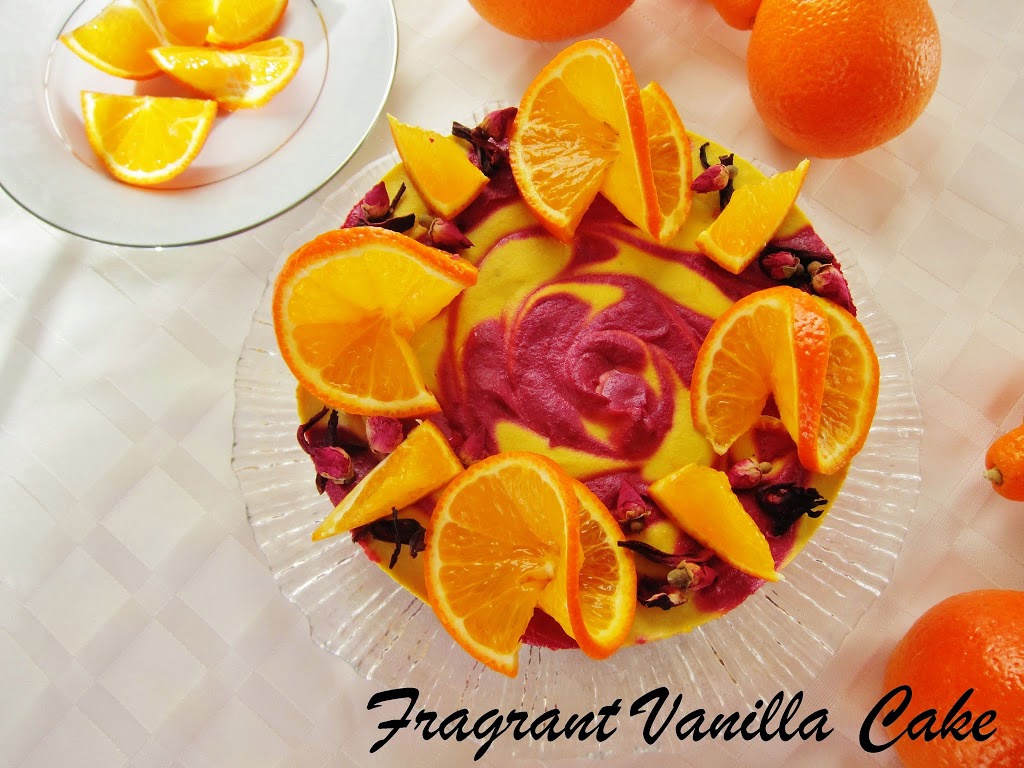 Raw Tangerine Hibiscus Cake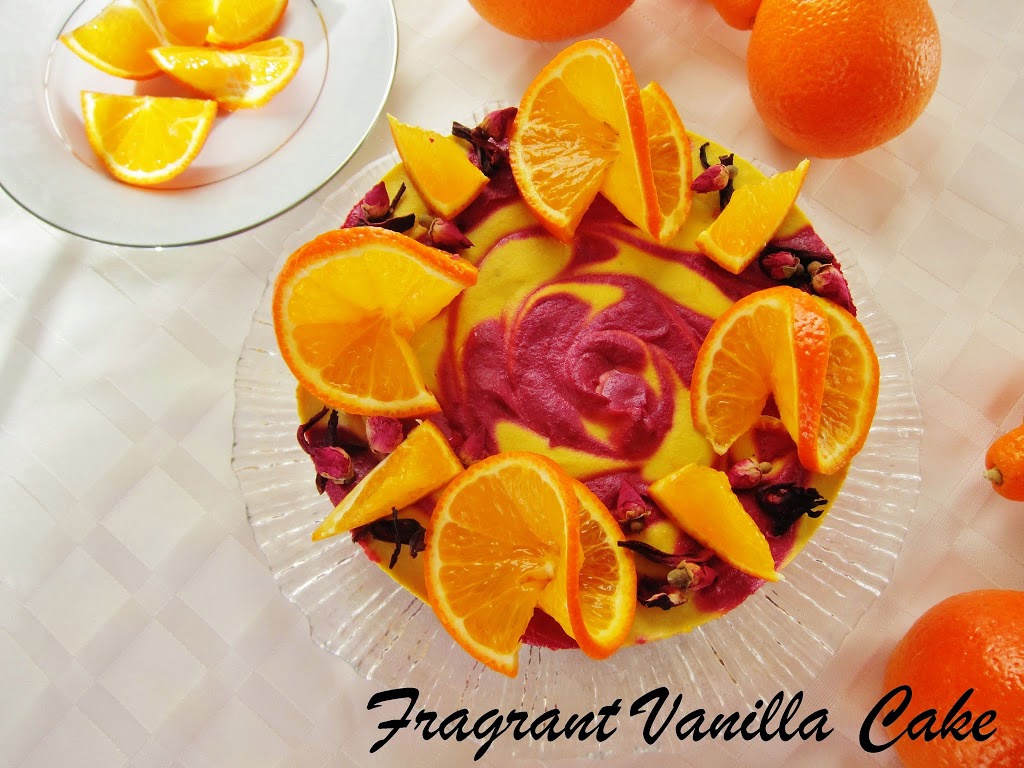 I am not one to wear black or white often. You see, I am all about the color. Especially the warm colors, oranges, pinks and yellows. They make me happy. Even though I am not the one having to look at what I am wearing (unless I walk by a mirror), I figure others will be made happy by the bright colors too.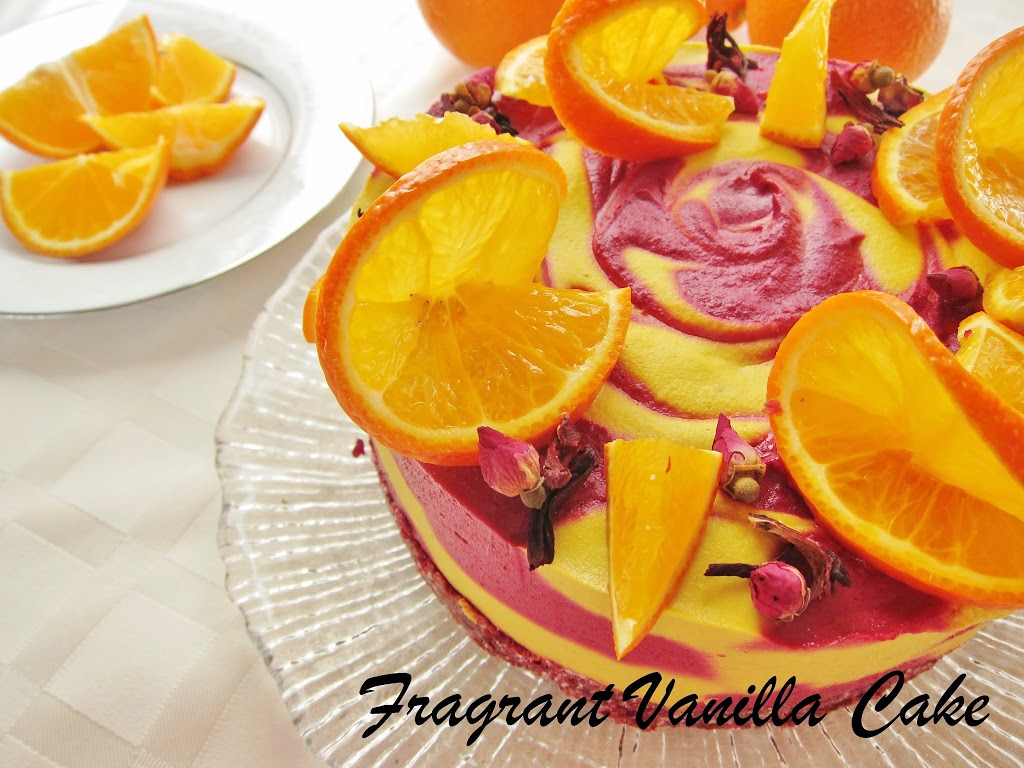 I feel that desserts need a little color too! No, I am not talking about those dyes that come in the little tear drop shaped bottles. Which they seem to be coming out with more hues of than ever lately. I am talking about natural color from beautiful fruits and veggies! I think most people are unaware of the possibilities of color they provide! Take this Raw Tangerine Hibiscus Cake I made last weekend for example. Red beets and carrots made it beautiful and you could not taste the veggies, if anything they just made the cake a little sweeter.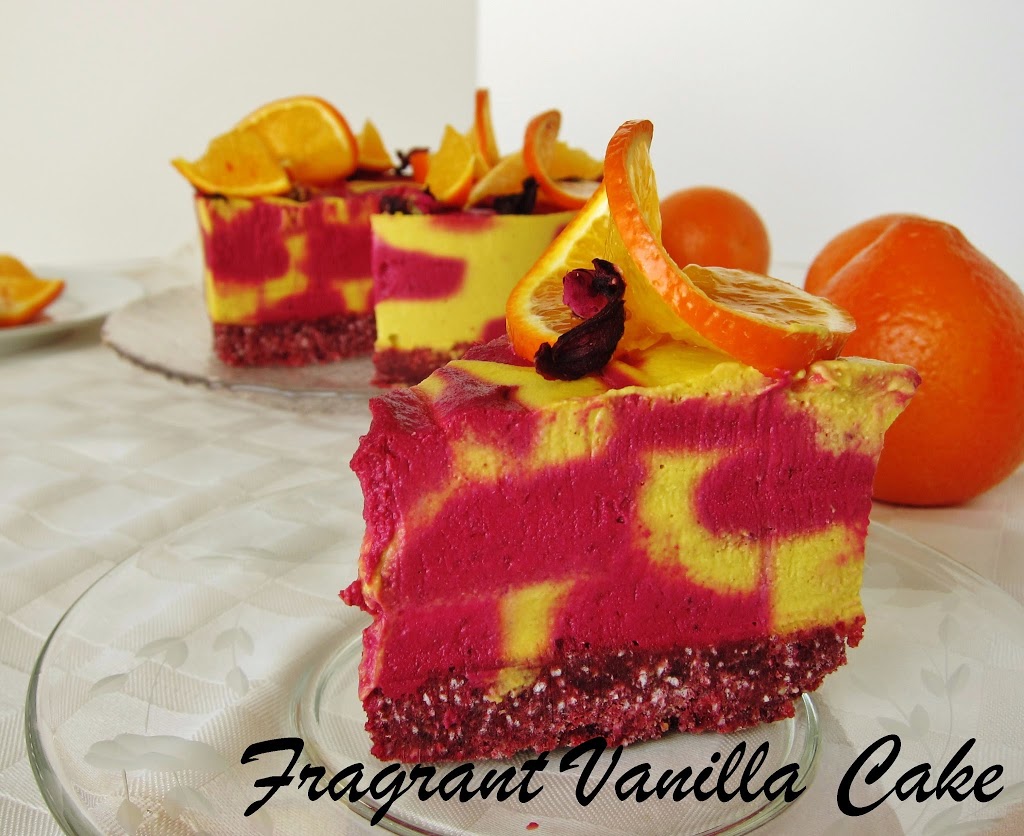 About the combination of tangerine and hibiscus by the way...it is amazing! Floral, sweet and a little tart, the perfect pairing for a raw cheesecake. I knew this cake would taste heavenly when I decided to make it, but I wanted the colors to be beautiful as well hence the natural veggies used in it for that purpose.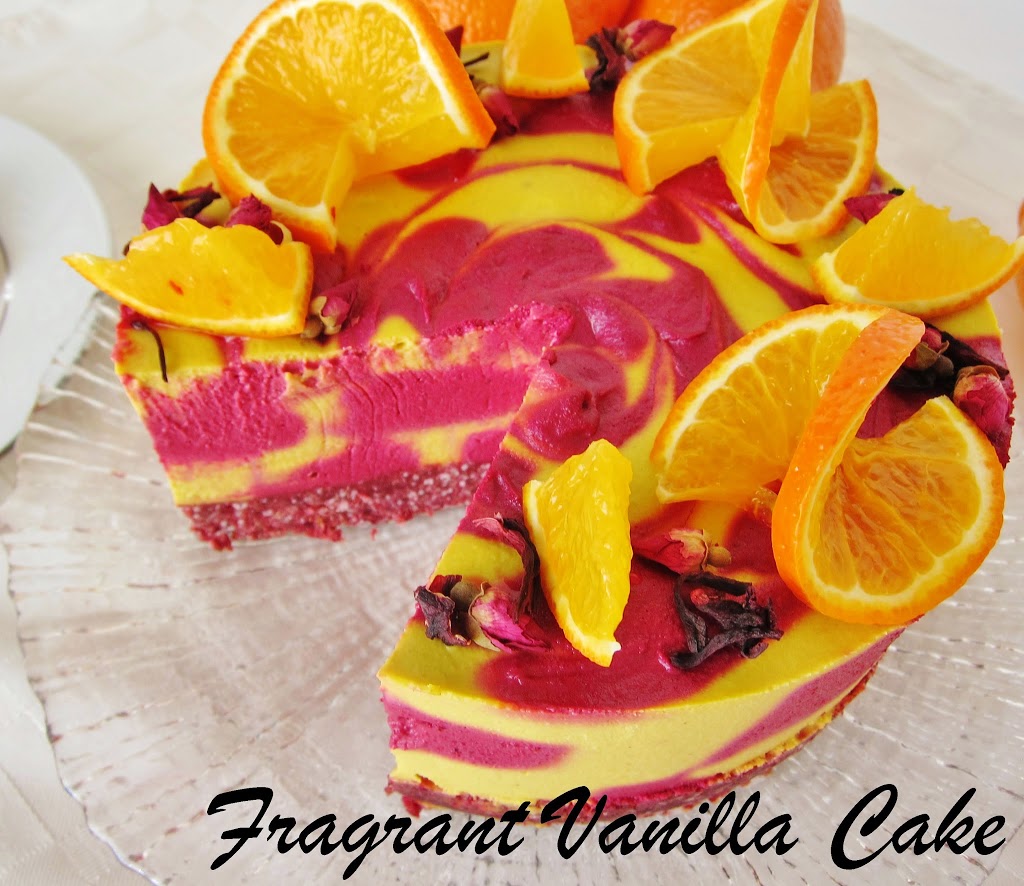 One can not be in a bad mood when eating a cake like this, or if they are, they won't be for long. The happy colors, the decadent texture and bright sweet flavors are a recipe for joy. I hope you all are having a wonderful week!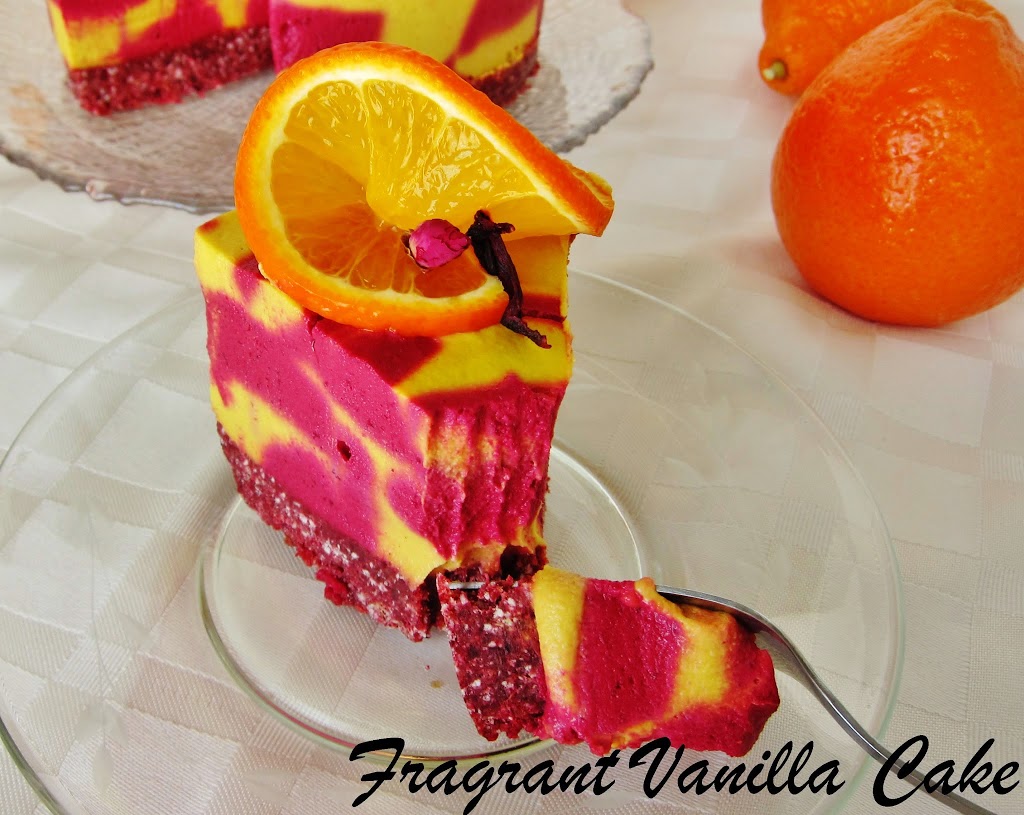 Raw Tangerine Hibiscus Cake
Makes one 6 inch cake
3/4 cup dried finely shredded coconut
1/4 cup ground flaxseed
1/8 teaspoon sea salt
1/2 tsp cardamom
2/3 cup soft medjool dates, pitted and chopped
1 very small raw red beet (about 3 Tbsp), chopped
3 cups young coconut meat*
1/2 cup raw coconut nectar or your choice of raw liquid sweetener
1 Tbsp pure vanilla extract and seeds from half a vanilla bean
3/4 cup
raw coconut butter
(warmed to liquid)
3/4 cup chopped raw carrot
1/4 cup tangerine juice
2 Tbsp tangerine zest

3/4 cup chopped raw red beet
1/4 cup brewed hibiscus tea**
1 tsp rosewater

dried hibiscus flowers and roses for garnish
tangerine pieces for garnish


Lightly coat a 6 inch spring form removable bottom pans with coconut oil. To prepare the crust, process buckwheat, coconut and sea salt in a food processor until it is fine crumbs, then add the dates and beet, and process until the mixture holds together when squeezed between your fingers (if not holding together, add more dates). Firmly press crust into the bottom of the prepared pan, and set aside.
To make the filling, in a high speed blender or food processor combine coconut, coconut nectar, sea salt vanilla, and coconut butter blend until smooth and creamy. Divide the mixture in half, and add half back to the blender, along with the carrot, tangerine juice and zest, and blend until smooth. Place in a bowl. Rinse out the blender, and add the other half of the plain mixture, along with the beet, hibiscus tea and rosewater, and blend until smooth. Place in a bowl.
To assemble cheesecake, drop the two fillings over the crust by the Tbsp randomly, then swirl with a knife to create marbling. Place the cheesecake in the freezer to firm up for about 4 hours until set before unmolding.
Garnish the top of the cake with tangerine slices, and hibiscus flowers and dried roses around the top and bottom of the cake on the plate. Store cake in the fridge.

*If you do not have access to young coconut meat, you can substitute 3 cups raw cashews soaked for 4 hours and drained for the coconut.
** Pour 1/4 cup hot water over 2 Tbsp dried hibiscus flowers and let cool. You will use the flowers and liquid for the tea in the recipe.
(Visited 188 times, 1 visits today)