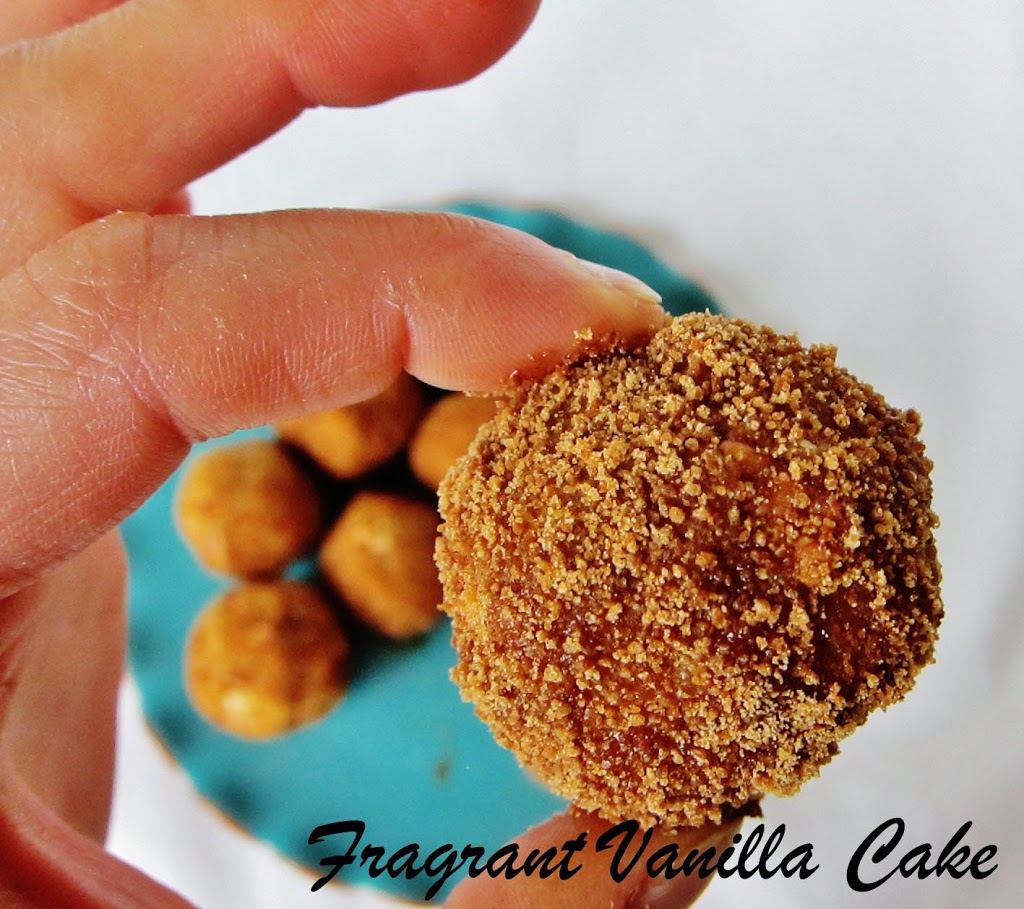 Raw Sweet Potato Pecan Doughnut Holes
When I think of doughnut holes, I think of my Grandmother's garage sales. You see, my Grandma loved garage sales. Visiting them, searching thorough them to find treasures, and of course hosting her own. She was a garage sale pro. I can remember sitting out in the garage with her at one of her sales, and eating doughnut holes she had bought from a local bakery. They were pretty much a staple at the sales...along with grapes, ham sandwiches and chips. I know, not the healthiest but us kids were not concerned with healthy food at that point. Grandma always had tons of food around, she never wanted us kids to go hungry.



She would have different types of those doughnut holes, sometimes chocolate glazed or powdered sugar, but the cinnamon sugar coated were always my favorite. Sadly Grandma no longer has these sales because she has dimentia, but the good memories remain for me.



I decided to make some cinnamon sugar coated doughnut holes this week. Raw of course. But I wanted them to have a seasonal twist, so I made them sweet potato pecan. Let me tell you...pure delicious goodness right there! The batter was amazing, and I could not stop sampling it. Once it was made into doughnuts with the cinnamon sugar was even better. In case you are wondering about the sugar, I used raw palm coconut because it is low glycemic and a lot kinder to the system. I have to say I loved these doughnuts way more than actual real doughnut holes. Which was the goal!



Raw Sweet Potato Pecan Doughnut Holes
Makes 24
Dough:
4 1/2 cups raw coconut flour (home made is preferred)
1 1/2 cup sprouted buckwheat flour (or additional coconut flour)
3/4 cup ground flax seed
1/4 cup plus 2 Tbsp ground psyllium husk
1/4 cup lucuma powder
1 cup soft medjool dates, pitted
1/4 tsp sea salt
1 tsp pure vanilla extract
1 tsp maple extract
1 3/4 cups chopped sweet potatoes*
1/4 cup raw coconut nectar (or your choice liquid raw sweetener)
1/2 cup raw pecan butter
1/4 cup raw coconut butter (NOT oil), warmed to liquid

3/4 cup raw pecans
Coating:
1/3 cup raw palm coconut sugar
1 Tbsp cinnamon
For the dough, in a food processor, combine the coconut flour, buckwheat flour, flax seed, psyllium husk, lucuma, dates and salt, and process until the dates are very finely chopped and it is all well combined. Add the vanilla, sweet potatoes, coconut nectar, pecan butter, and coconut butter and process until smooth like dough**. Mix in the pecans. Mix together the cinnamon and coconut sugar in a small bowl. Then roll the dough into balls, and roll in the cinnamon and sugar mixture. Dehydrate at 115F for 2-3 hours until more cakey (or if you do not wish to dehydrate and do not mind them being doughy, place in the freezer about an hour). Store in the fridge.
*Yams may also be used.
**Since sweet potatoes can vary in moisture levels, if your dough seems too dry, add a little water a tsp at a time until it is the right consistency.
(Visited 74 times, 1 visits today)