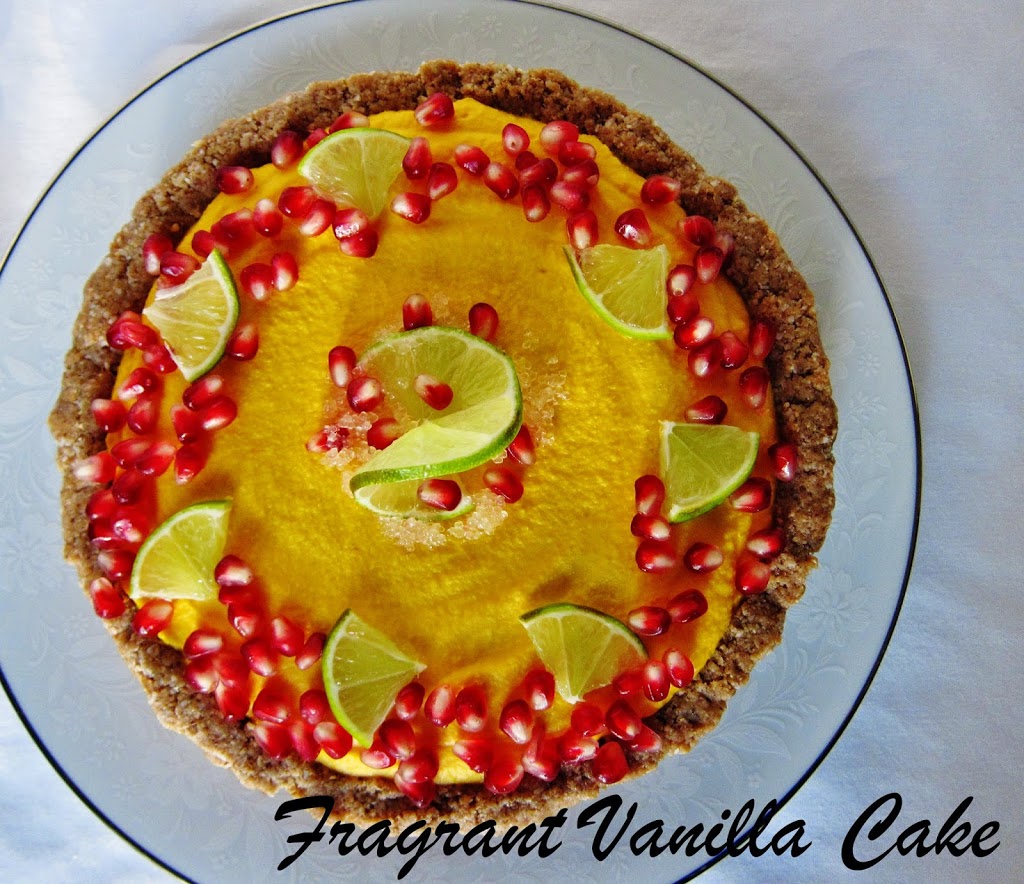 Raw Sweet Potato Ginger Lime Tart with Pomegranate Seeds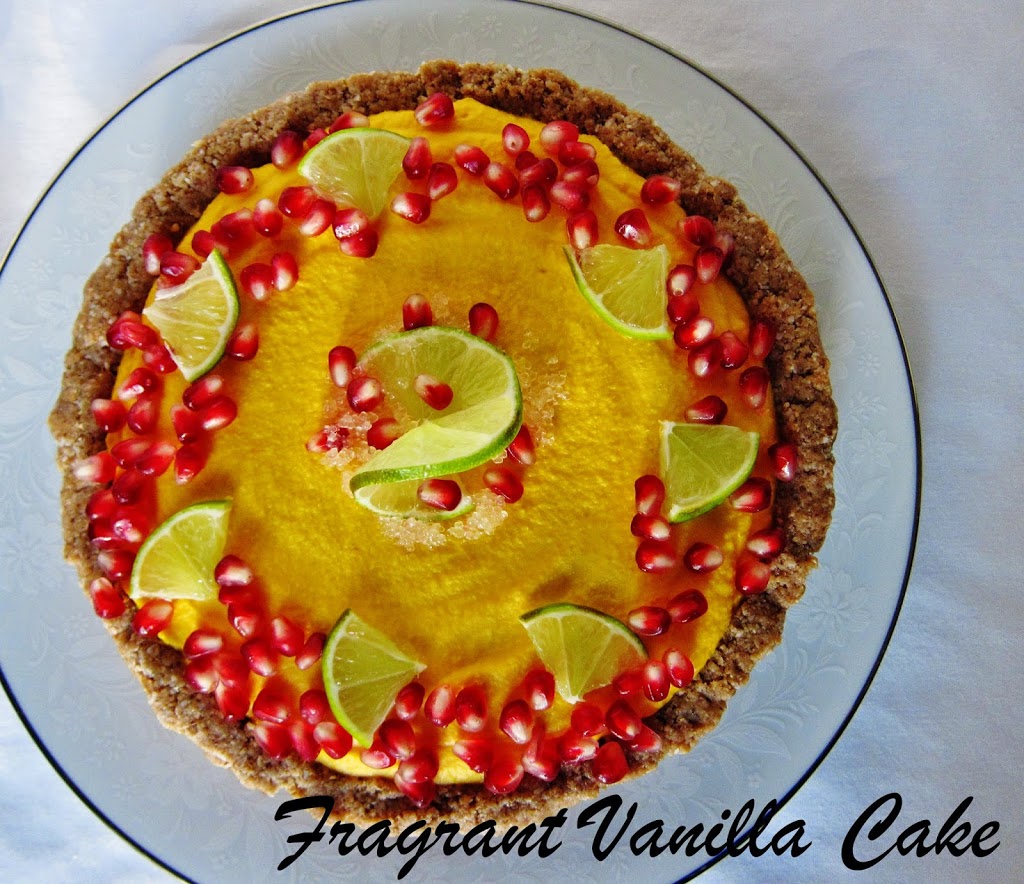 Sweet potatoes with lime are simply divine.  If you haven't tried this combo, you are missing out!  It is sooo heavenly! I first experienced it when I was in college and I saw a recipe for mashed roasted sweet potatoes with lime.  It was foreign to me at the time, but I tried it and I was hooked!  Just simply the potatoes roasted until tender, then combined with a touch of lime and sea salt.  Nothing else.  They were so sweet and so crave worthy!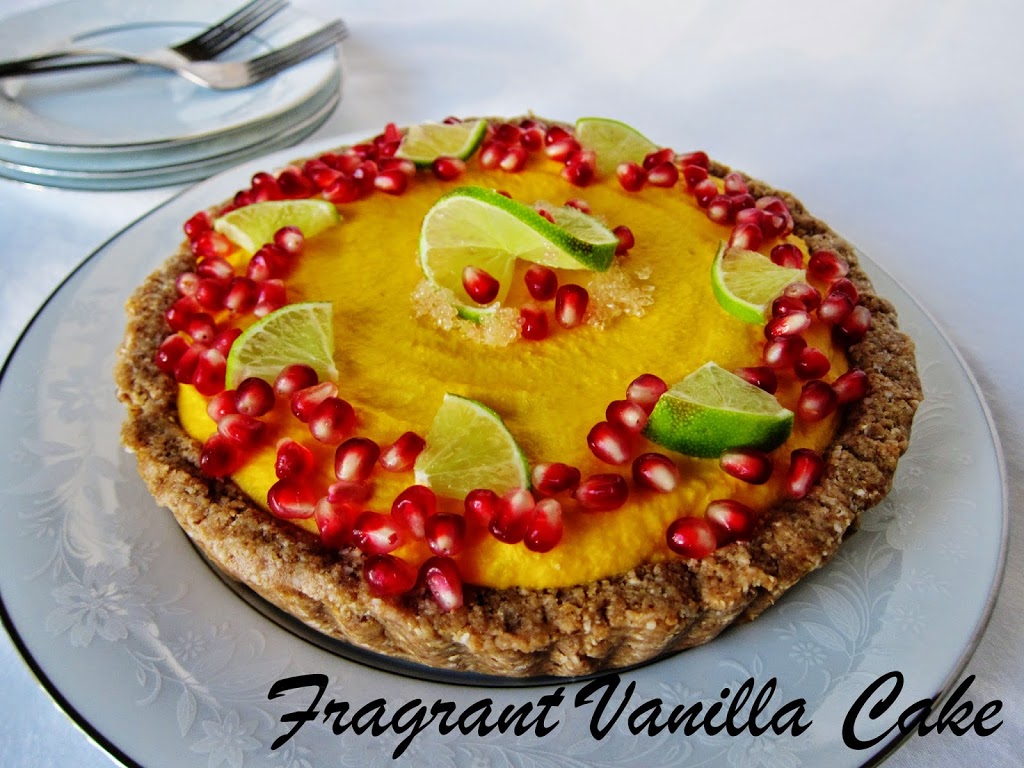 I have since made other recipes using the combo.  Including this one I made last week, Raw Sweet Potato Ginger Lime Tart with Pomegranate Seeds. I had a sweet potato on the counter and I could not resist making it into some sort of delectable dessert.  That is why I made it.  The filling was actually simple to make.  No cracking of thai coconuts involved, just blending.  Coconut butter made it nice and silky creamy, and it was pure deliciousness before I even poured it into the crust.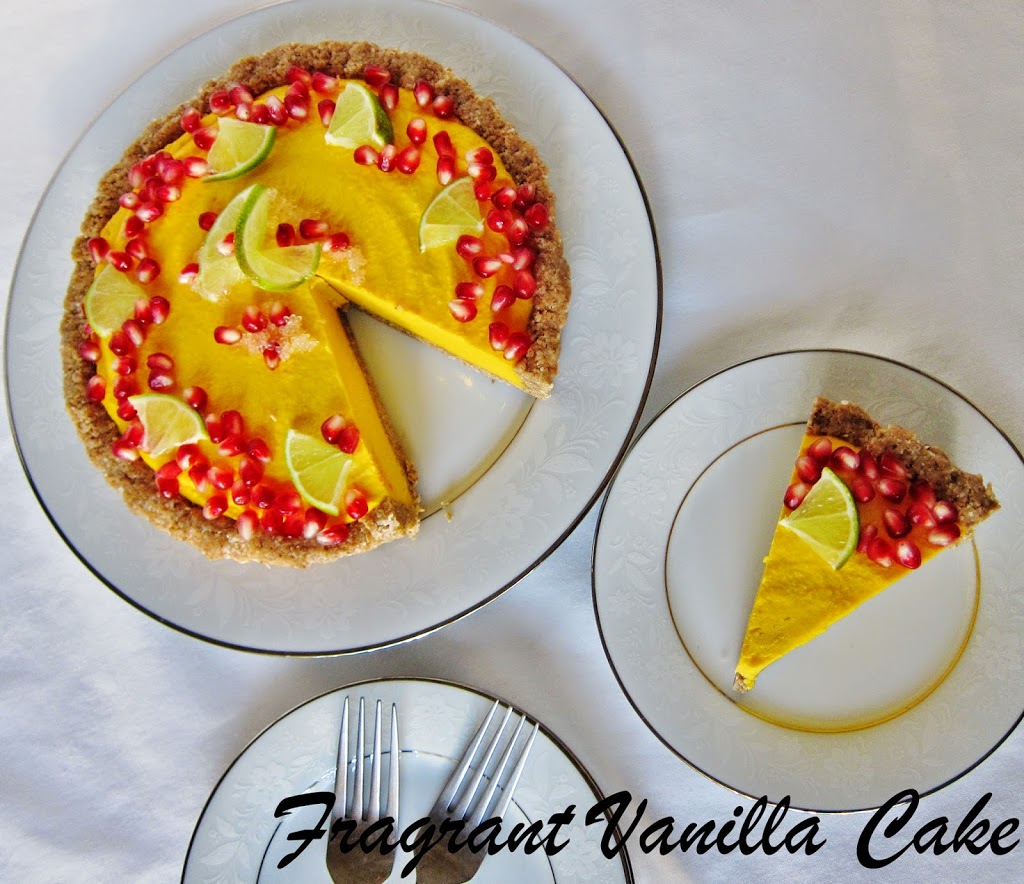 I happened to have a pomegranate on hand as well, and I thought I would use it to decorate the tart.  The tartness would be a nice contrast to the sweetness of the tart, and the seeds a nice crunch.  I had some finger limes as well, which I used as part of the garnish on top.  If you have never seen them, they are little tiny long limes which have flesh inside that looks like caviar,but tastes like the most intense key lime.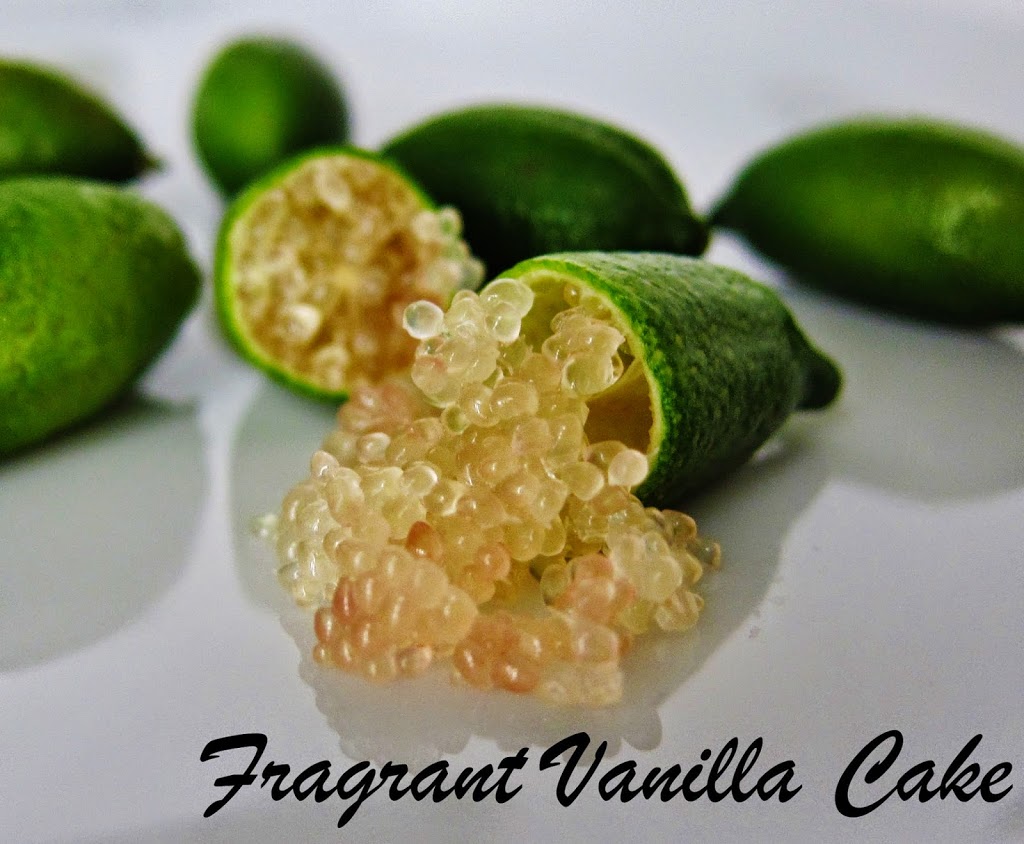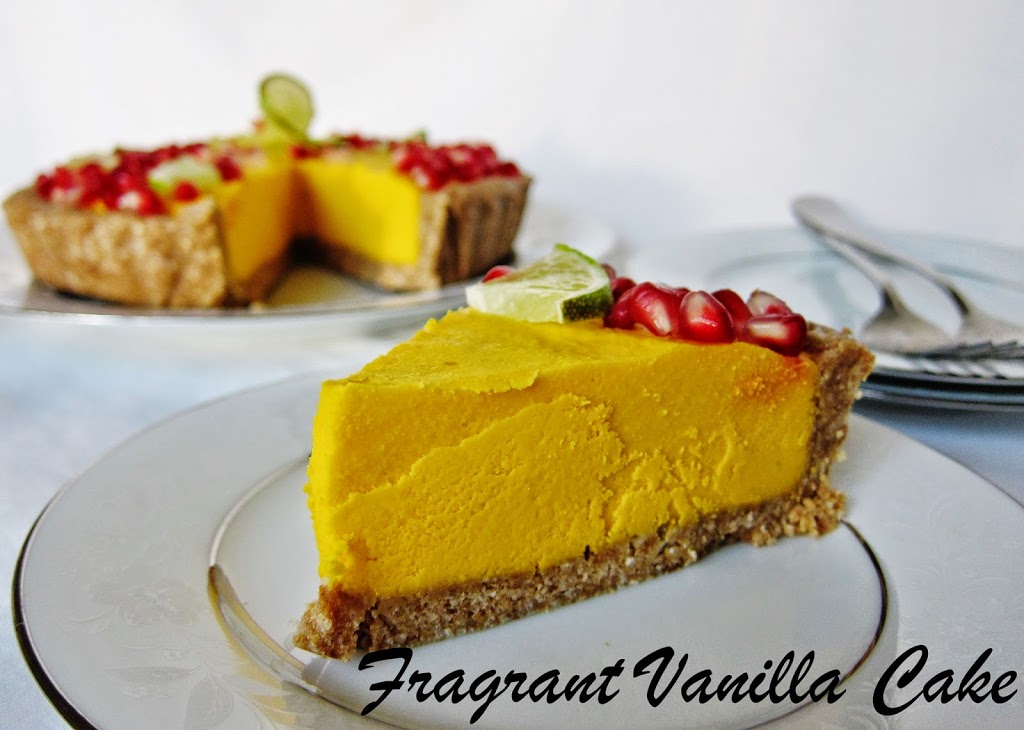 The tart turned out fabulous!  Sweet, and a little tart, kind of like a sweet potato pie had a baby with a key lime pie.  Super silky and creamy, with a little kick from the ginger.  I can imagine this being served as part of a holiday feast as the finale, maybe in place of pumpkin pie if you wanted something a little different for a change.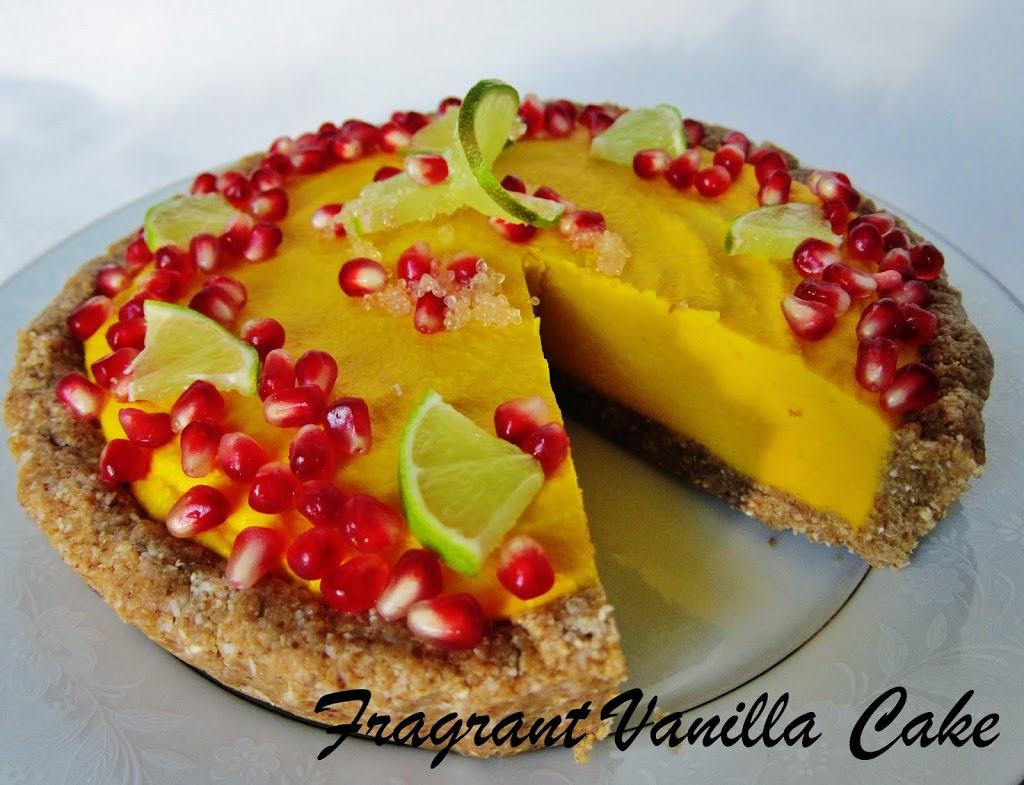 Raw Sweet Potato Ginger Lime Tart with Pomegranate Seeds
Makes 2
Crust:
1/2 cup ground flax seed
1 1/2 cups finely shredded, dried coconut
1 cup sprouted, dehydrated buckwheat (or additional coconut)
1/8 teaspoon sea salt
1 cup soft medjool dates, pitted and chopped
Filling:
3 cups raw sweet potatoes or yams, cubed
1/3 cup lime juice
2 Tbsp lime zest
1/3 cup plus 1 Tbsp raw coconut nectar, or maple syrup
1/4 tsp sea salt
2 tsp pure vanilla extract and seeds from half a vanilla bean (other half reserved for topping)
1 inch piece fresh ginger
3/4 cup raw coconut butter (warmed to liquid)
1 cup pomegranate arils
Lime slices, or finger lime flesh
Spray one 8 inch  tart pan, lined with plastic wrap to make removal easier. To prepare the crust, process flax, coconut, buckwheat and sea salt in a food processor until fine crumbs, then add the dates and process until the mixture holds together when squeezed between your fingers (if it doesn't, add a little filtered water 1 tsp at a time while processing until it does). Firmly press crust into the bottoms of the pan, and set aside in the freezer to firm up.
To make the filling, in a high speed blender or food processor, combine the sweet potatoes, lime juice, nectar, sea salt, vanilla, ginger and coconut butter and blend until smooth and creamy. (If you are not using a high speed blender, you may want to add the coconut butter through the feed tube with the motor running after already blending all the other ingredients to evenly distribute it.  Also, once blended, if you are not using a high speed blender, and you have little sweet potato bits, press the filling mixture through a fine meshed strainer to remove them if you wish, or you can skip this but the filling may not be as smooth.) Pour the filling into four the four prepared crust. Place in the freezer until it is set,about 2 hours.
(Visited 89 times, 1 visits today)