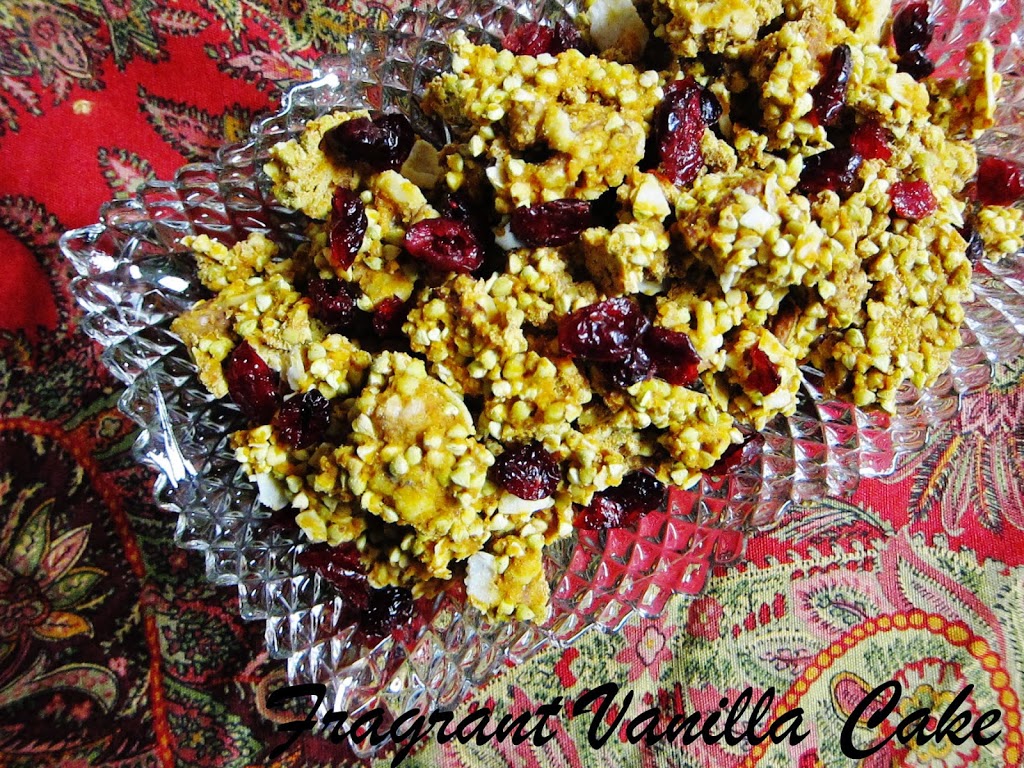 Raw Sweet Potato Cranberry Granola
My Mom told me a few weeks back that I should make her some Sweet Potato Cranberry Granola. She had loved another flavor of granola I had made and said that this could be her Thanksgiving themed granola. Not that people eat granola for Thanksgiving, but you know everyone is in a festive mood and has lots of sweet potatoes and cranberries on hand. I liked the idea. Add in a little maple, nuts and cinnamon and it would be delicious.
Funny, I am saying that sweet potatoes and cranberries would make a good granola flavor because those two things were what I disliked most on the Thanksgiving table as a child. It for sure had something to do with the overly sweet sweet potatoes in syrup and can shaped cranberries. As an adult I have grown to love sweet potatoes and cranberries, I just know that they do better when prepared simply and not loaded with sugar. They made the perfect combination in this granola, my Mom was right! This stuff is pretty darn addictive!
Raw Sweet Potato Cranberry Granola
Makes about 8 cups
2 cups raw buckwheat
1 1/2 cups dried large coconut flakes
1 1/2 cups raw walnuts
3/4 cup raw pecans
1/3 cup raw coconut nectar, maple syrup (or your choice sweetener, more if you prefer sweeter)
1/4 cup raw coconut butter
1 cup chopped raw sweet potato
1/2 tsp sea salt
1 Tbsp pure vanilla extract
1 tsp maple extract
1/4 cup filtered water
1 Tbsp cinnamon
1 Tbsp raw coconut oil, liquefied
1 cup dried cranberries
Soak buckwheat for 30 minutes, rinse very well (as it has a slimy coating that needs to be removed) and drain well. Place in a large bowl, along with the coconut and nuts. In a food processor, combine the coconut nectar, coconut butter, sweet potato, sea salt, vanilla, maple, water, cinnamon, coconut oil. Process until smooth and pour the mixture over the granola, and mix well with your hands. Spread out a lined dehydrator tray, and dry for about 12 hours at 115F until crispy. Stir in dried cranberries. Can be stored in an airtight container for a few weeks at room temperature.
(Visited 29 times, 1 visits today)