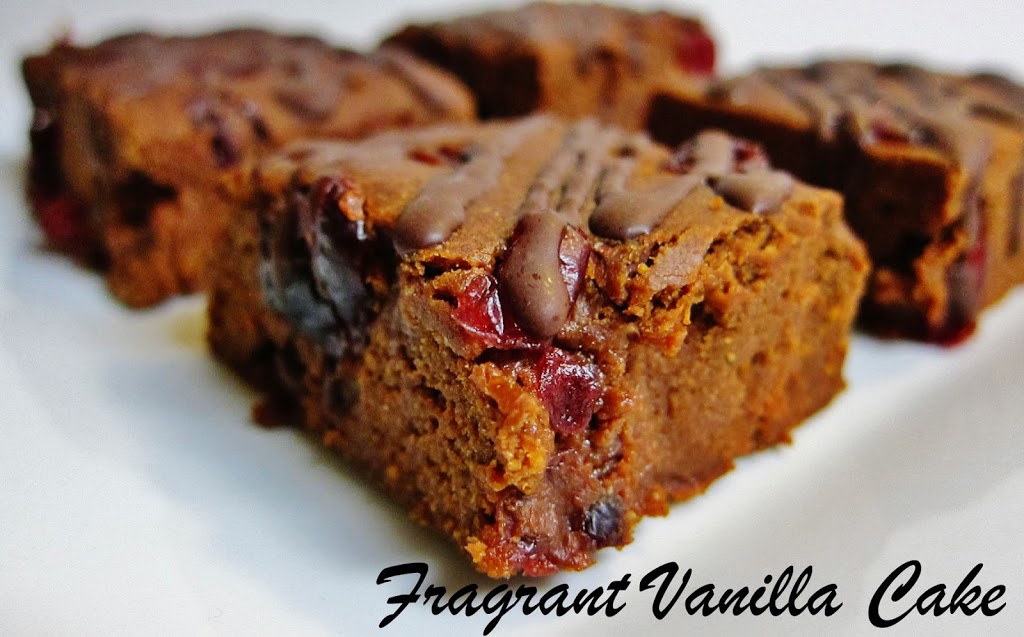 Raw Sweet Potato Cranberry Brownies
I tend to have a lot of sweet potatoes around my house this time of the year. They are sort of addictive once I prepare something with them...because they are so sweet and delicious. But being addicted is ok because they are so packed with nutrients! Although I love them in savory dishes, using them in sweet is just as exciting to me. So I decided that I wanted to use them in some raw brownies this week. When I first started making raw brownies, they had mostly nuts for a base, and were very dense, but then I later learned the magic of fruits and veggies in raw "baked" goods to keep them lighter. I often use things like beets, zucchini and carrots in my brownies, so I knew the sweet potatoes would be wonderful as well.
Not only would the sweet potatoes keep the brownies light and moist, but they would add sweetness. The dough for these was scrumptious! Like cookie dough, but brownie style. I decided that I needed to mix some cranberries into it to make the brownies festive, and some cacao nibs for crunch.
They were wonderful as was, but I decided to guild the lily and drizzle raw chocolate over them for one last touch. These were crave worthy. Soft, decadent, fudgy, sweet and just how brownies should be!
Raw Sweet Potato Cranberry Brownies
Makes 12
Dough:
2 cups raw coconut flour (home made is preferred)
2 cup sprouted buckwheat flour (or additional coconut flour)
3/4 cup ground flax seed
1/2 cup lucuma powder
1 cup raw cacao powder
1 cup soft medjool dates, pitted
1/4 tsp sea salt
1 tsp pure vanilla extract
1 tsp maple extract
2 tsp cinnamon
2 cups chopped raw sweet potato*
3/4 cup filtered water
2 Tbsp raw coconut nectar (or your choice liquid raw sweetener)
3/4 cup raw pecan butter
2/3 cup raw coconut butter (NOT oil), warmed to liquid
1 cup raw cacao nibs
1 cup dried cranberries

Chocolate drizzle:
1/4 cup raw coconut oil, warmed to liquid
1/3 cup raw cacao powder
2 Tbsp raw coconut nectar (or your choice liquid raw sweetener)
a pinch sea salt

For the dough, in a food processor, combine the coconut flour, buckwheat flour, flax seed, cacao powder, lucuma, dates and salt, and process until the dates are very finely chopped and it is all well combined. Remove from the food processor. To the processor, add the vanilla, maple, cinnamon, sweet potato, water, coconut nectar, pecan butter, and coconut butter and process until smooth. Add back the dry ingredients, and process until smooth like cookie dough. Turn out into a bowl or on a piece of parchment, and knead in the cacao nibs, and cranberries. Then press the brownies into a 1 1/2 inch square on a lined dehydrator tray. Dehydrate** for about 4-6 hours until a little dry on the outside, then cool and cut into12 squares. Whisk together the chocolate drizzle ingredients, then drizzle over the brownies and allow to set a few minutes until dry. Enjoy! Store in the fridge.

*Since sweet potatoes may vary in dryness, if you feel that the dough seems too dry add a little more moisture in the form of a few tsp water at a time until it reaches the consistency you like.
**Alternatively, you may simply place the bars in the freezer to firm up but keep in mind they will be more fudgy.


(Visited 112 times, 1 visits today)