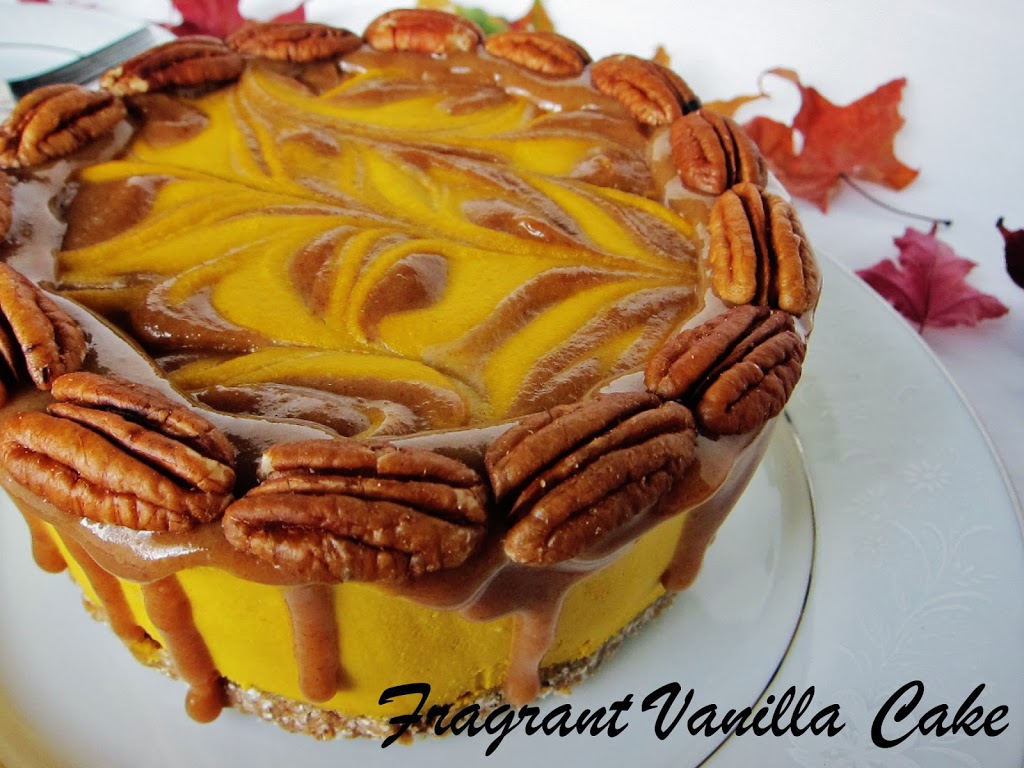 Raw Sweet Potato Caramel Pecan Cheesecake
My Grandma used to make a sweet potato casserole for Thanksgiving every year.  It had lots of brown sugar, marshmallows, and I have to say it was not my favorite thing.  Despite all of the sugar and sweetness, I never touched that stuff.  Even when I was little and loved sugar.  Sorry Grandma, you were a great cook (other than that dish), but I prefer my sweet potatoes not out of a can and baked to death.  Truth is I love sweet potatoes!  Just not like that.  My favorite way to prepare them cooked is actually simply roasted with a little sea salt.  Maybe a dash of lime juice if I have that.  Those roasted sweet potatoes were a staple in my house for a long time, and whenever I made them, I thought to myself, these taste like dessert.  Just as they were.
Which is exactly why I love to use them in desserts now!  People are obsessed with pumpkin desserts (including myself at times), but I think we all tend to forget about the naturally sweet yams and sweet potatoes which actually taste better unadorned. So, I thought I would give those sweet potatoes some time in the spotlight and make a cake with them.
Sweet potatoes in a raw cheesecake are simply heavenly.  Especially when combined with raw caramel and pecans.  Why should pumpkins get all of the special treatment?!  I decided to leave this cake spice free this time because I wanted it to be different than all of the pumpkin spice desserts I have been making lately.
It was sooo freaking good!  Like the best sweet potato pie, creamy and dreamy. Gooey caramel ribboned throughout and on top, and of course crunchy rich, nutty pecans.  Delicious fall goodness at its best, I would be proud to serve this at a Thanksgiving feast in place of the usual offerings.  Or alongside them, because I would not be opposed to a Thanksgiving dessert buffet.
Raw Sweet Potato Caramel Pecan Cheesecake
Makes one 6 inch cake
(Visited 203 times, 1 visits today)