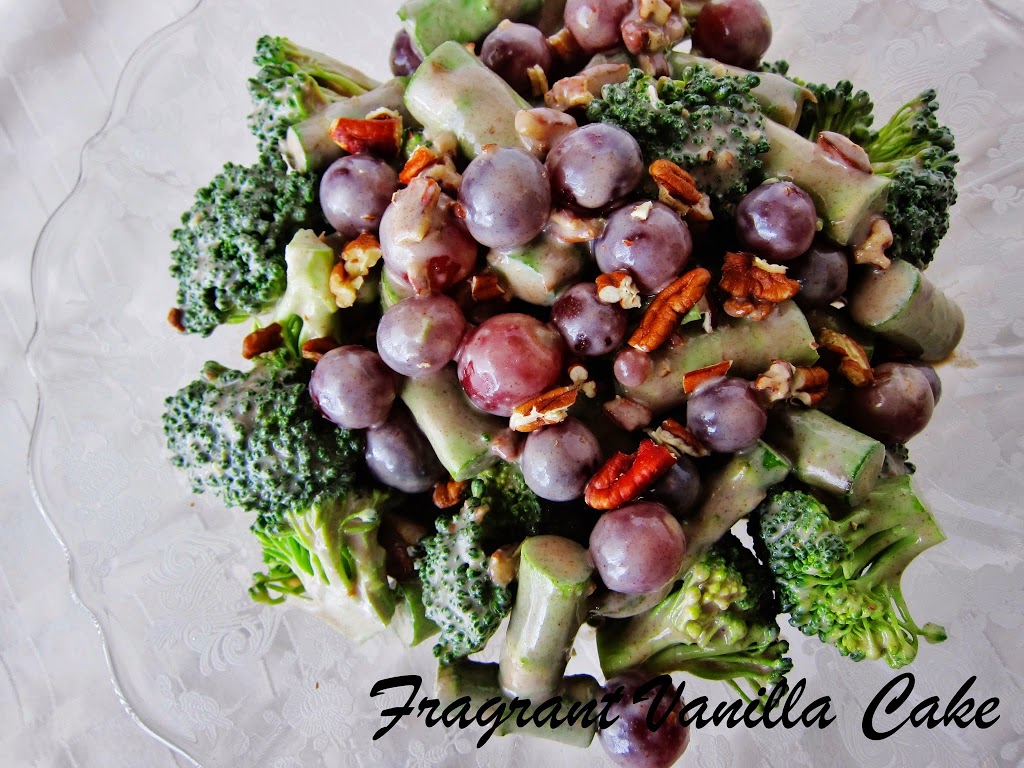 Raw Sweet Broccoli Asparagus Pecan Salad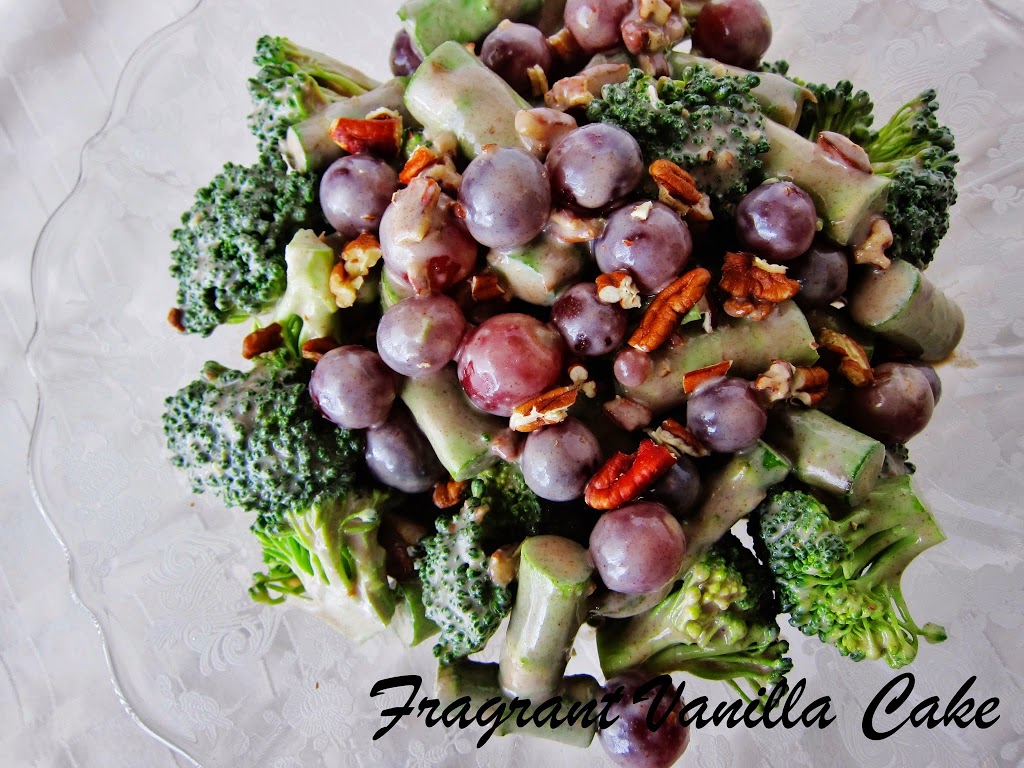 Broccoli salads with sweet dressing are always a hit.  We sell one in the deli I work at which is one of our best sellers that has a sweet creamy dressing, crunchy bacon and raisins. Of course, I would not touch it since it contains dairy, eggs and meat.  But I can understand the appeal.  Broccoli is wonderful with something a little sweet since it is a little sweet itself.  My boyfriend Eric gave me some broccoli last week and I decided that I wanted to make my own delicious raw vegan broccoli salad.  I had some asparagus and grapes on hand as well, that I thought would be perfect with the broccoli.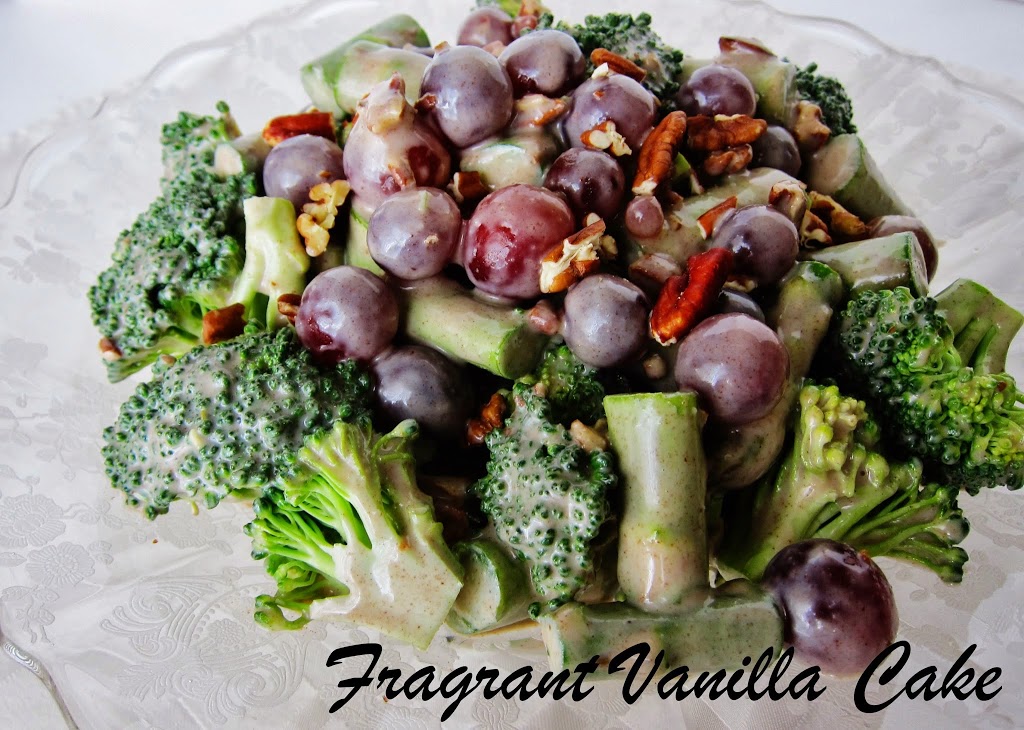 I suppose I could have made a faux mayonnaise for the dressing, but I decided instead upon something simpler and way tastier.  A creamy lemon pecan butter dressing.  Very few ingredients, but this dressing was so delicious, silky, nutty, tart and sweet in perfect balance.  It was delicious with the broccoli, asparagus and grapes.  I tossed in some crunchy pecans as well and that was all it needed to round out the textures.  This salad kicks the bacon salad's butt as far as I am concerned!  I would even suggest serving this as one of your dishes in your Easter spread it is that good, and it took me very little time to make (which I know is important when serving guests for a meal).  Be warned though, take a few bites of this salad and you may just wind up eating the whole batch.  It is pretty addictive (yes, I just called a salad addictive).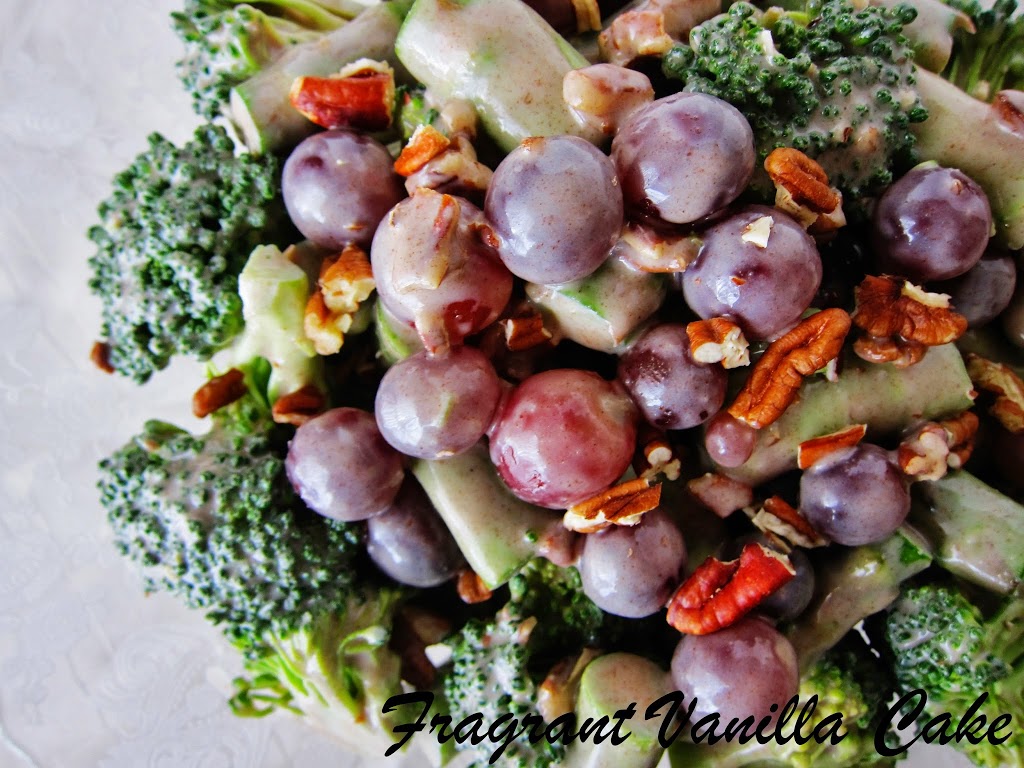 Raw Sweet Broccoli Asparagus Pecan Salad
serves 4
2 medium heads of broccoli cut into flowrettes
1 bunch asparagus cut into 1 1/2 inch pieces
3 scallions, sliced
3 cups red grapes
1/2 cup chopped raw pecans
Dressing:
1/2 cup raw pecan butter
1/4 cup lemon juice
1 Tbsp lemon zest
2 Tbsp raw coconut nectar, or maple syrup
1/4 cup filtered water
sea salt
In a large bowl combine the veggies. Whisk together the dressing ingredients until smooth, then toss with the veggies and serve!
(Visited 225 times, 1 visits today)