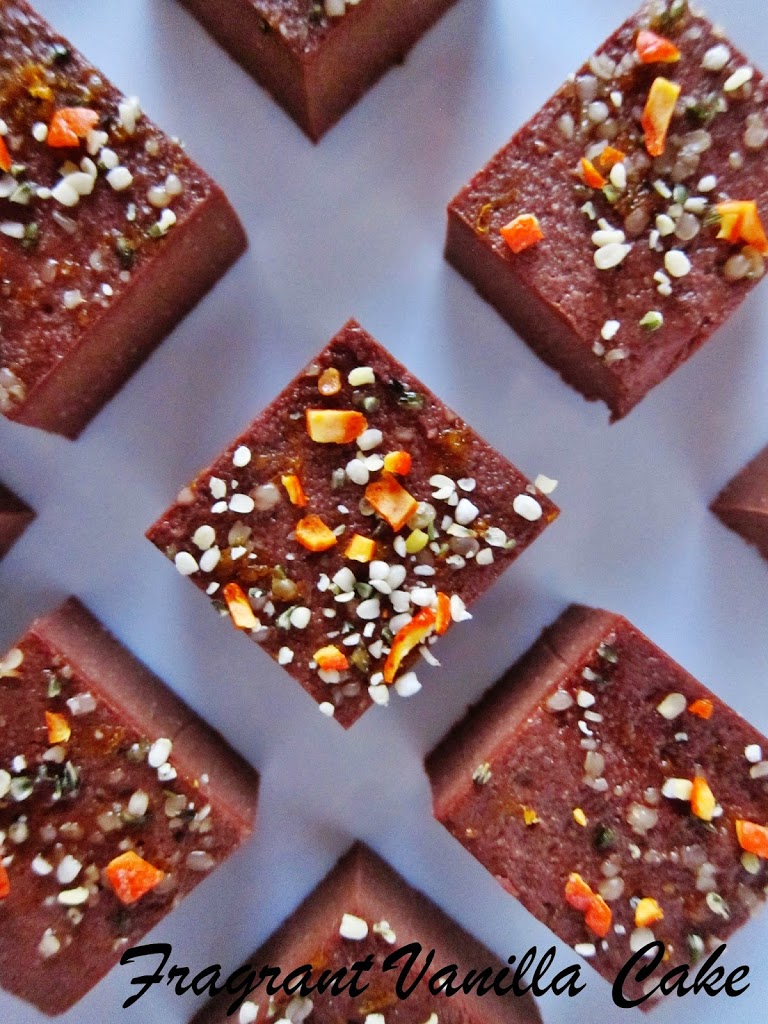 Raw Superfood Tangerine Cacao Fudge
Citrus season makes me happy. Yes, walking into the store and looking at all of the rows and rows of brightly colored citrus fruits is beautiful and I love that, but I love eating them even more. Nothing compares to a perfect tart red grapefruit, sweet orange or refreshing lime in the winter when we are all sunshine deprived. It is like bringing a bit of sunlight inside my body.
Although I eat them plain all the time, I also love using the citrus fruits in my desserts. They create an aroma like no other which adds a special touch to something already delicious and makes it spectacular. Raw cacao was calling my name, so I decided something chocolate and citrus was in order. However, I was feeling a little bit lazy, so I thought fudge was the perfect option. Just blend, spread out, cut and eat. No shaping, rolling, or dehydrating or decorating required. I had lots of tangerines, so I thought their sweetness would be perfect with the cacao in the form of a bit of zest and juice.
I like my desserts to have good things in them so I can feel good about eating them (and after eating them). Plus, who doesn't need more omega 3 oils in their diet, so this fudge contained some special ingredients. Hemp and chia seeds, which you would not even know were there since I used a high speed blender to smooth this out to silk consistency. This fudge was pure heavenly bliss! So smooth, creamy, aromatic and delightful! Do yourself a favor and make some so you can enjoy it too!
Raw Superfood Tangerine Cacao Fudge
Makes 24 small squares
1 cup raw walnuts
2 1/2 cups raw finely shredded coconut
1/2 cup raw shelled hemp seeds
1/4 cup chia seeds
1 cup pitted soft medjool dates
1/2 cup raw cacao powder
3/4 cup raw coconut butter
2 Tbsp organic tangerine zest
1/2 tsp sea salt
3/4 cup tangerine juice
hemp seeds and tangerine zest for topping
Combine all ingredients but the juice in a high speed blender* and blend until smooth, using the tamper to press the mixture down into the blades. Add the juice and blend until well combined. Spread out onto a square on a foil lined sheet pan, and sprinkle with zest and hemp seeds. Refrigerate until firm (a few hours) and cut into small squares.
*If you do not have a high speed blender, and you use a food processor, keep in mind the fudge will be lumpy and not smooth.
(Visited 41 times, 1 visits today)