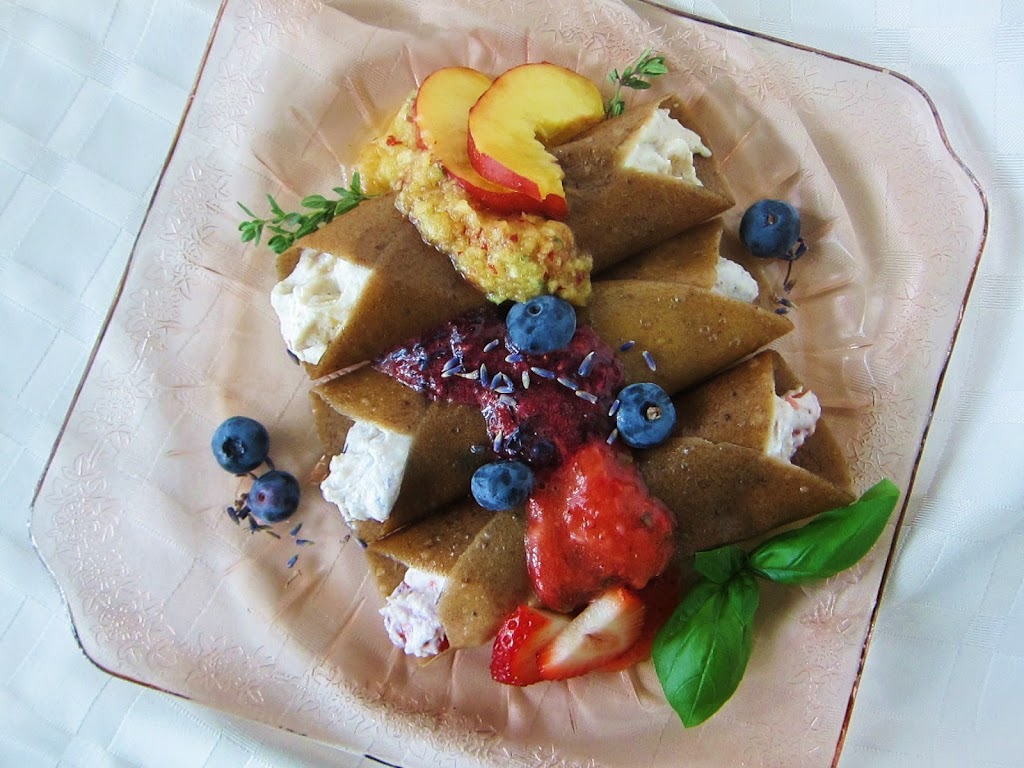 Raw Summer Fruit Cream Crepes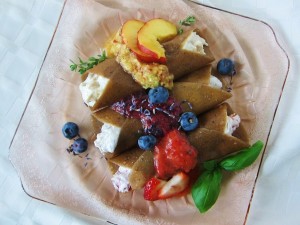 I can remember the first time I was exposed to crepes. It was in highschool French class, and we had a special treat one day, our teacher let us make crepes and we filled them with all sorts of delicious things like chocolate, fruit, whipped cream, nutella...you name it! I loved them so much I attempted to make them at home, and they were not the prettiest sight the first time, but got the hang of it.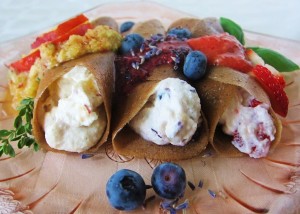 It has been a while since I have made them, because I try not to eat too much flour and sugar lately. However, I have been seeing many recipes for raw crepes lately and they inspired me to create my own! I love that you just let the "batter" dry in the dehydrator overnight while you sleep and voila! Delicious crepes ready to be filled!



I used a banana base for them this time, as it is sweet and neutral. I have to admit I didn't know what I was going to fill them with at first because there are so many delicious possibilities, but I knew it had to contain cream. Coconut cream that is!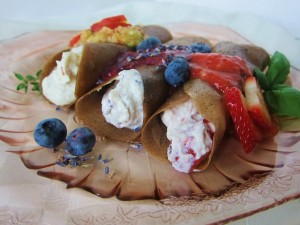 I thought about chocolate, but then fruit sounded better. I am the type of person who chooses vanilla over chocolate any day so no surprise there. For variety, I thought I would make a strawberry basil, blueberry lavender, and peach thyme cream filling. Three luscious flavor pairings using the fruits and herbs of summer so good right now.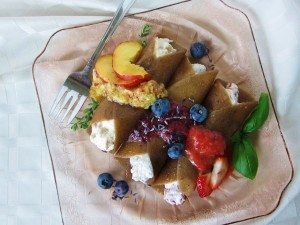 They were delicious! About 100 times better than I remember crepes tasting. The fruit and herb combinations were definately a win, and I devoured the plate of heavenly deliciousness in no time. I can't wait to make more types of raw crepes in the future. I think I am in love.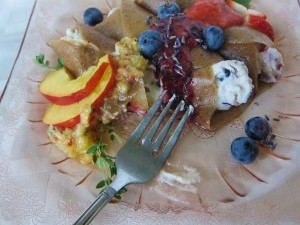 Raw Summer Fruit Cream Crepes
Makes enough for one, or to share with a friend

Raw Crepes:
2 bananas
1 Tbsp lemon juice
1 tsp agave nectar


Cream:
3/4 cup raw cashew pieces (preferably soaked overnight)
1/2 cup coconut water
3/4 cup fresh young coconut meat* (or additional soaked cashews if not available)
2 tablespoons maple syrup
1 teaspoon pure vanilla extract and seeds of half a vanilla bean
1/4 cup coconut oil (warmed to liquid)
Fruit:
3/4 cup strawberries, divided
1 tsp lemon juice
a few fresh basil leaves
2 tsp agave nectar
3/4 cup fresh blueberries, divided
1 tsp lemon juice
1 tsp lavender
2 tsp agave nectar
3/4 cup fresh ripe peaches, diced, divided
1 tsp lemon juice
a few fresh sprigs of thyme
2 tsp agave nectar
Additional basil, thyme and lavender to serve
To make crepes, combine all ingredients in a food processor and process until blended. Pour into 3 circles on a teflex lined dehydrator sheet, and spread thin. Dehydrate for about 8 hours or until no longer wet and tacky, but still plyable. Remove from dehydrator and set aside.
To make cream, drain cashews and blend all ingredients until smooth in a food processor, and set in the freezer about 30 minutes until a frosting consistency. Divide the mixture into 3 bowls, and keep chilled.
To make the fruit sauces, first, puree 1/4 cup strawberries with lemon juice, basil and agave nectar until smooth and set aside. Next, puree 1/4 cup of the blueberries with lemon juice, lavender, and agave nectar until smooth, set aside. Next, puree 1/4 cup peaches with lemon juice, thyme, and agave nectar. Add to the first cream bowl, most of the remaining strawberries (reserving the rest for topping) and 1 Tbsp of the puree. Fold in. Repeat with the other two bowls using the blueberry and peaches and the sauces (same as you did with the strawberries, most of the remaining fruit and 1 Tbsp sauce each). To assemble, place a crepe on your work surface then top with the strawberry cream filling. Roll it up, and place on a serving plate. Spoon some of the strawberry sauce over. Do the same with the blueberry cream on the second crepe and drizzle with the blueberry sauce. Lastly do the same with the peach cream on the third crepe and drizzle with the peaceh sauce. Garnish the plate with the remaining fruit, and a little basil, thyme and lavender if desired and serve!
(Visited 30 times, 1 visits today)