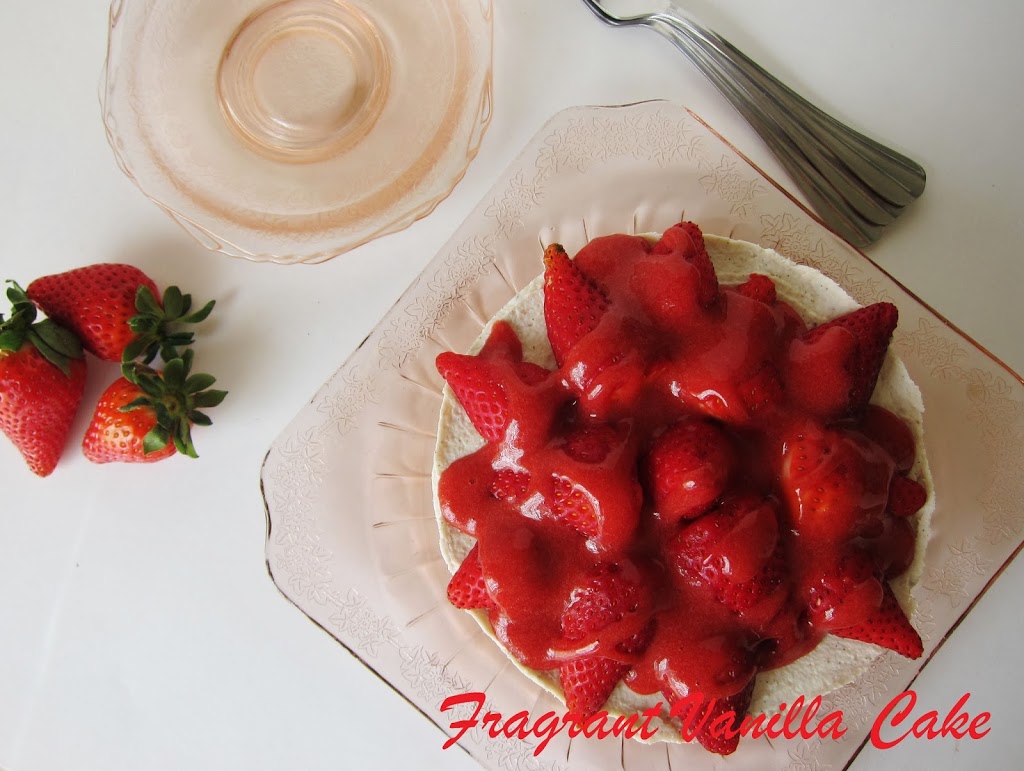 Raw Strawberry Short Cake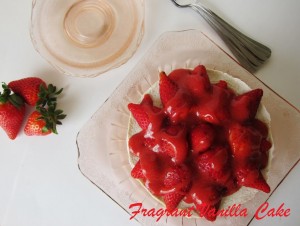 I have been wanting to make raw strawberry shortcake for a few weeks now and finally this weekend I got around to it.  It may not sound all that complicated, simple strawberry short cake, but I wanted mine to be a bit more special and beautiful than that.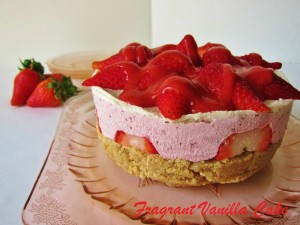 I did not simply want two biscuits with cream in the middle and strawberries, I wanted this in larger cake form so I could share it. Also, the cream and berries are my favorite part of strawberry short cake so I wanted plenty of them.  So I decided to make a white cake topped with a layer of strawberry cream then a layer of vanilla cream, plus plenty of fresh berries and sauce.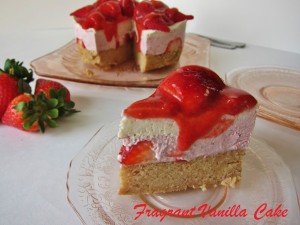 I have never actually made raw white cake before.  Because it scared me.  As silly as it sounds, I was afraid that it would not turn out as tasty as regular white cake.  I have seen some recipes for it, but they all look way too dense and that is not what I wanted.  I keep my other raw cakes lighter using fruits and veggies, but since this was going to be white vanilla cake I did not want any off flavors or colors, just the sweet white cake.  So, I decided to try using young coconut meat in it to keep it moist and not so heavy.  It turned out perfect!  The batter was so delicious and it seriously tasted like white cake.  It dehydrated nicely as well, and so I will be using the recipe in the future for other desserts.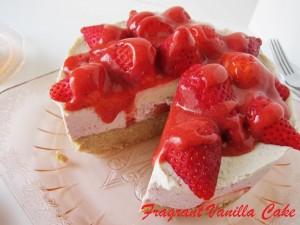 The cake was the perfect base for the sweet cream layers and berries.  I can honestly say this is hands down the best strawberry shortcake I have ever eaten...and I love strawberry shortcake!  My Mom and boyfriend Eric agreed.  I think this would be a perfect Birthday cake for summer when berries are fresh and local.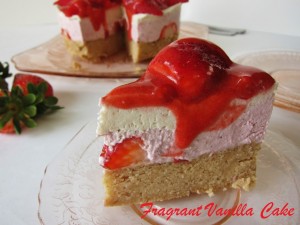 Raw Strawberry Short Cake
Makes one 6 inch cake
Cake:
1/2 cup raw almond meal
2 cups raw coconut flour
1/4 tsp sea salt
1 tsp pure vanilla extract
12 medjool dates, pitted
2 cups coconut meat*
1/4 cup coconut water
2 Tbsp raw coconut nectar
Cream topping:
2 cups raw cashew pieces (preferably soaked overnight)
2 cups fresh young coconut meat (or 1 3/4 cups soaked cashews if coconut meat is unavailable)
1/2 cup coconut water
1/4 cup plus 2 Tbsp raw coconut nectar, or your choice of raw liquid sweetener
1/2 tsp sea salt
1 Tbsp pure vanilla extract and seeds of  a vanilla bean
1/2 cup raw coconut oil (warmed to liquid)
1/2 cup organic strawberries8 organic strawberries halved (or enough to cover the cake layer)
Sauce:
1/2 cup organic strawberries
2 medjool dates
Topping:
8 organic strawberries halved (or enough to cover the top of the cake)
Combine almond flour, coconut flour, sea salt, in a bowl and whisk together until and set aside. To a food processor, add the dates, vanilla, coconut and coconut water, and nectar to the processor and process until pretty smooth. Add the dry ingredients back and process until smooth and well incorporated. Place the batter on a teflex lined dehydrator sheet, in slightly larger than a 6 inch circle and dehydrate for about 8 hours, until dried but still moist in the center. Once dried, trim into a 6 inch circle, place in the bottom of a 6 inch springform pan (greased with coconut oil), and set aside.
To make the cream topping, combine the cashews, coconut, coconut water, coconut nectar, sea salt, vanilla, vanilla bean, and process until smooth.  Add the coconut oil with the processor running to incorporate it completely.  Once blended, remove half the cream mixute and set aside in a bowl.  Add the 1/2 cup strawberries to the remaining cream in the processor and process until smooth and well blended.  Scoop into a bowl.
To assemble the cake, place 8 strawberries (or however many it takes to cover the cake layer) over the cake layer in the prepared pan cut side down.  Pour the strawberry cream over it and smooth it out to the sides.  Pour the vanilla cream over that, and smooth the top to the sides.  Place in the freezer and allow to set until firm, about 3 hours or so.
While setting, make the strawberry sauce.  Combine 1/2 cup strawberries with 2 medjool dates in the food processor and process until smooth.
Once the cake is set, top with the 8 halved strawberries (or however many it takes to cover the cake), and then spoon some of the sauce over.  Serve!
*If you cannot get fresh coconut meat, soak 2 cups dried coconut for 4 hours then drain.  Continue with the cake recipe.
(Visited 115 times, 1 visits today)