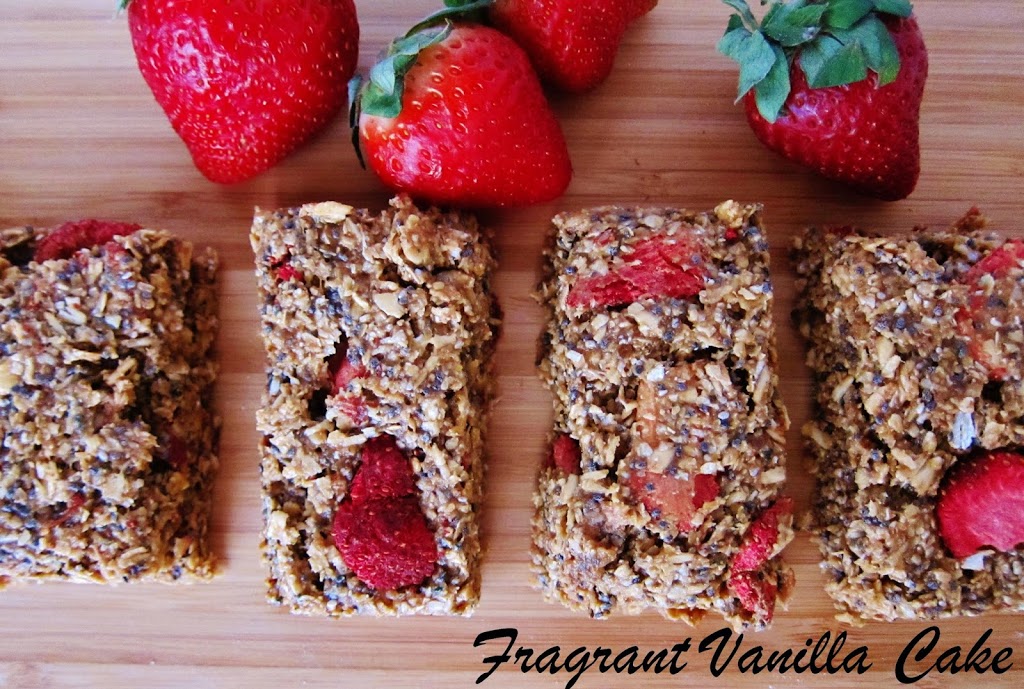 Raw Strawberry Oat Breakfast Bars
When I was a kid, it was hard for my Mother to get me to eat breakfast on school days.  I usually didn't want anything, and I ended up going to school with a Nutrigrain bar or something similar since I hated cereal.  Not the most nutritious and zero protein in those things, but I don't blame my Mother who tried to get me to eat better things but I refused.  As I got older, I realized the importance of breakfast when I joined sports in high school and I needed to fuel myself more.  My breakfast of choice by the time I graduated was a big bowl of warm oatmeal with nut butter.  That did not change for 10 years! Every day I ate the same thing.  It filled me up and kept me going!  I switch it up more, and have things like smoothie bowls and chia porridge, but I do still love my oatmeal.
Some people think oatmeal is too tedious to cook in the morning though.  Which is where overnight oats can be awesome...or these bars I recently made for my breakfast challenged boyfriend who works early often and forgets to eat before hand.  I couldn't have him going to work hungry, so I made something with all of the goodness of oatmeal, plus nutrient rich seeds and sweet strawberries to make it extra delicious.  They taste wonderful as well.  Think oatmeal with the flavors of peanut butter and jelly sandwich thanks to the strawberries.  I chose peanut butter because it is Eric's favorite, but feel free to use whichever nut butter you prefer. Make these on the weekend, and you will have breakfast all week no fuss!
Raw Strawberry Oat Breakfast Bars
Makes 6
3/4 cup pitted, soft medjool dates
1/2 cup mashed banana
1/4 cup raw jungle peanut butter or raw almond butter
1/4 tsp sea salt
3 Tbsp chia seeds
3 Tbsp hemp seeds
3 Tbsp ground flaxseed
2 cups raw rolled oats (or gluten free rolled oats)
1 cup dried strawberries
In a food processor, combine the dates, banana, almond butter, sea salt and process until smooth. Add the seeds and one cup of the oats and pulse until combined.
Remove to a bowl, and stir in the remaining cup of oats, and the strawberries.
Spread the mixture out on a lined dehydrator tray about an inch thick in a square.
Dehydrate for 4 hours, then cut into 6 bars, separate a little and continue to dehydrate for 4 more hours until not sticky, and firm but still a little soft in the centers.  Store in the refrigerator.
(Visited 78 times, 1 visits today)