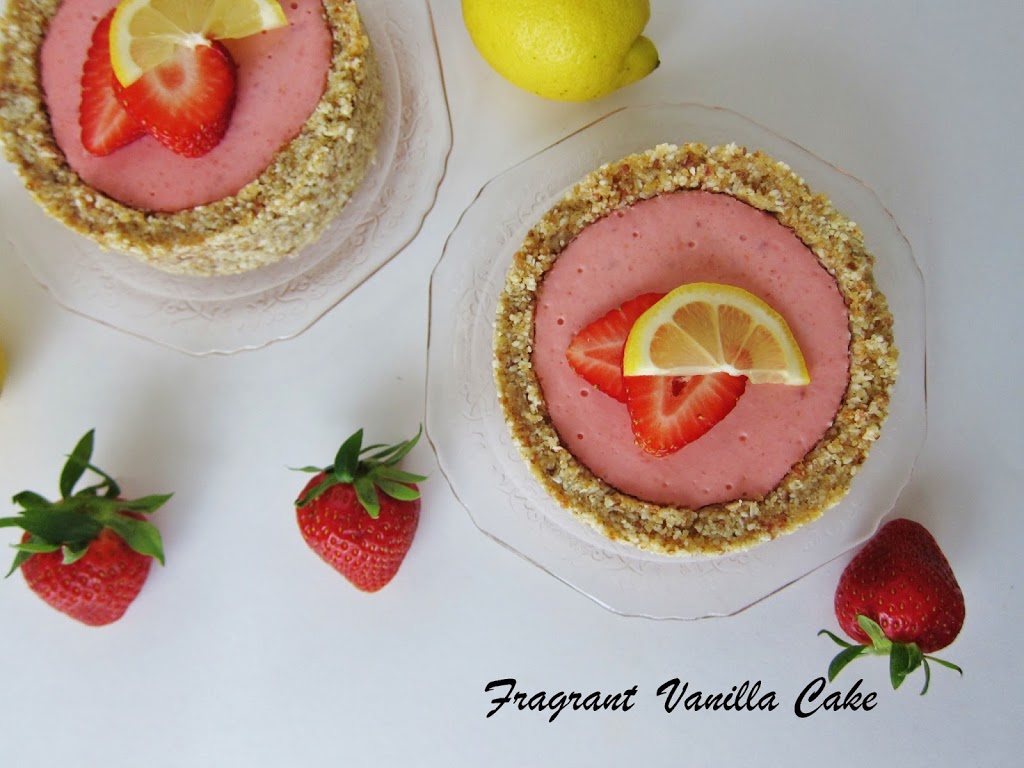 Raw Strawberry Lemonade Tartlettes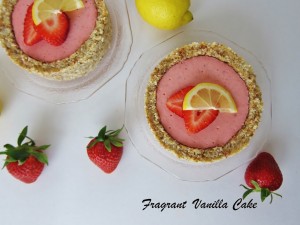 I finally ventured outside for a walk today with my boyfriend Eric after work, because I decided that 45 was warm enough.  I guess I am being a bit of a wimp about the cold lately that is still clinging to Minnesota, but it snowed last weekend.  Last year it was already in the seventies at this time and I was wearing shorts.  So being a little bummed that it is still chilly is only natural. Spring will come eventually I suppose, but until then I am still dreaming about it and making things that remind me of its warmth. Like the Strawberry Lemonade Tartlettes I made last weekend.
My Mom had asked if I could make lemon curd bars, and I was going to, but I did not want to make that big of a batch, so instead I decided on lemon curd tartlettes.  But I did not want plain lemon curd tartlettes, I wanted something more exciting...something pretty as well.  So I decided to let strawberries join the party.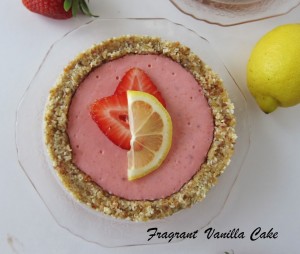 I love strawberry lemonade in the spring and summer when berries are sweet, and so I knew tartlettes with strawberry lemon filling would be fantabulous!  When I blended the curd up, the color was so lovely!  A pale pink from the berries.  Nothing beats natural food coloring!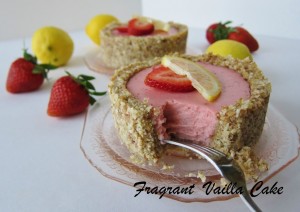 They were delicious as well, the filling was lusiously creamy, the perfect balance of tart and sweet between the lemon and the berries in a sweet crunchy coconut crust.  It allowed me to escape the lingering winter for a bit, which was awesome. Hopefully soon I will be sipping strawberry lemonade outdoors in the sunshine.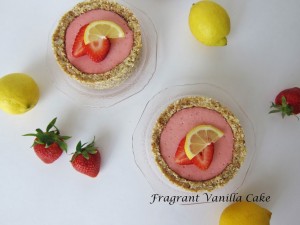 Raw Strawberry Lemonade Tartlettes
Makes 2
2 4 inch removable bottom tart pans
crusts:
2/3 cup finely shredded dried coconut
1/3 cup sprouted, dehydrated buckwheat (or additional coconut)
1 cup almond meal or pulp (dehydrated)
6-8 medjool dates, pitted
1/4 tsp sea salt
lemon curd:
1/4 cup plus 2 Tbsp very hot filtered water
1 Tbsp flaked agar agar
1/2 cup lemon juice
zest of one organic lemon
2 Tbsp raw coconut nectar
4 organic strawberries
1 tsp pure vanilla extract
3 Tbsp raw coconut butter
1 Tbsp raw coconut oil
lemon slices
strawberry slices
To make the crust, combine all the ingredients in a food processor and process until finely chopped and starting to hold together. Press the mixture into 2 4 inch removanle bottom tart pans sprayed with non-stick spray. Place in the freezer while you prepare the curd.
For the curd, place the agar in the hot water in a bowl, and stir to dissolve. Once dissolved, let cool to room temperature and add other ingredients. Pour into a blender and blend until smooth. Pour into the prepared crusts and place in the fridge for about 4-6 hours or until set and chilled. Once chilled, garnish with a lemon slice, and strawberry slices.
(Visited 36 times, 1 visits today)