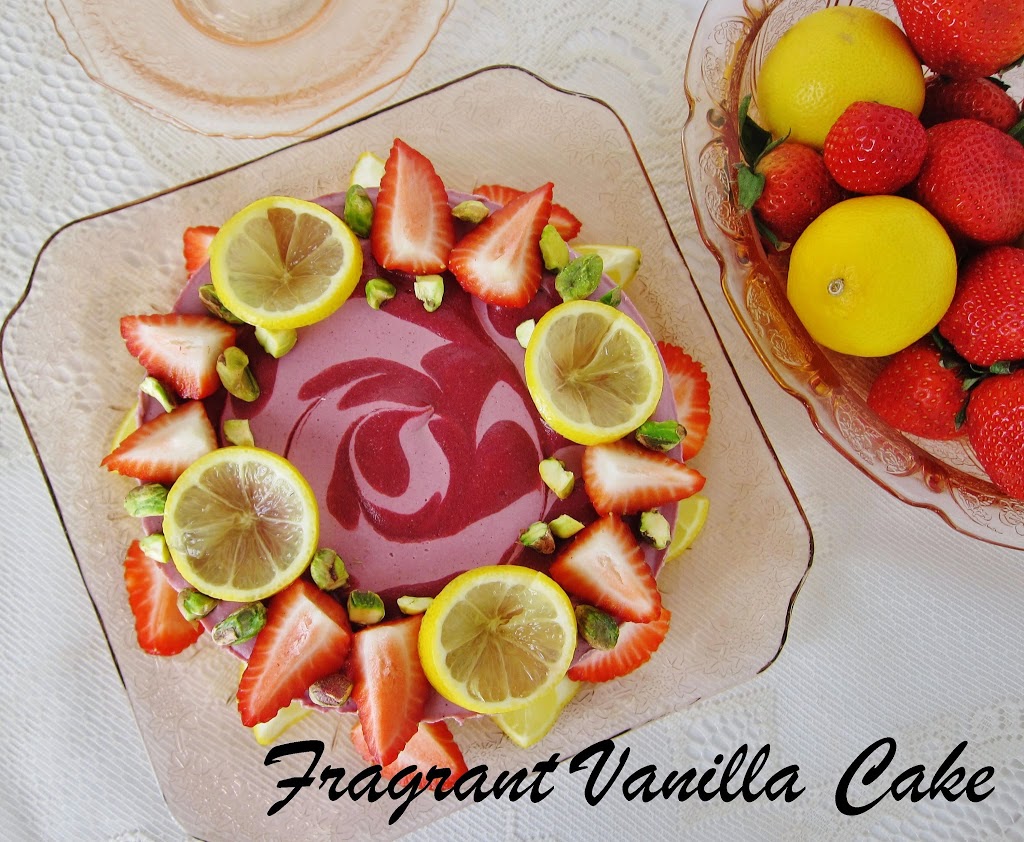 Raw Strawberry Lemon White Chocolate Cake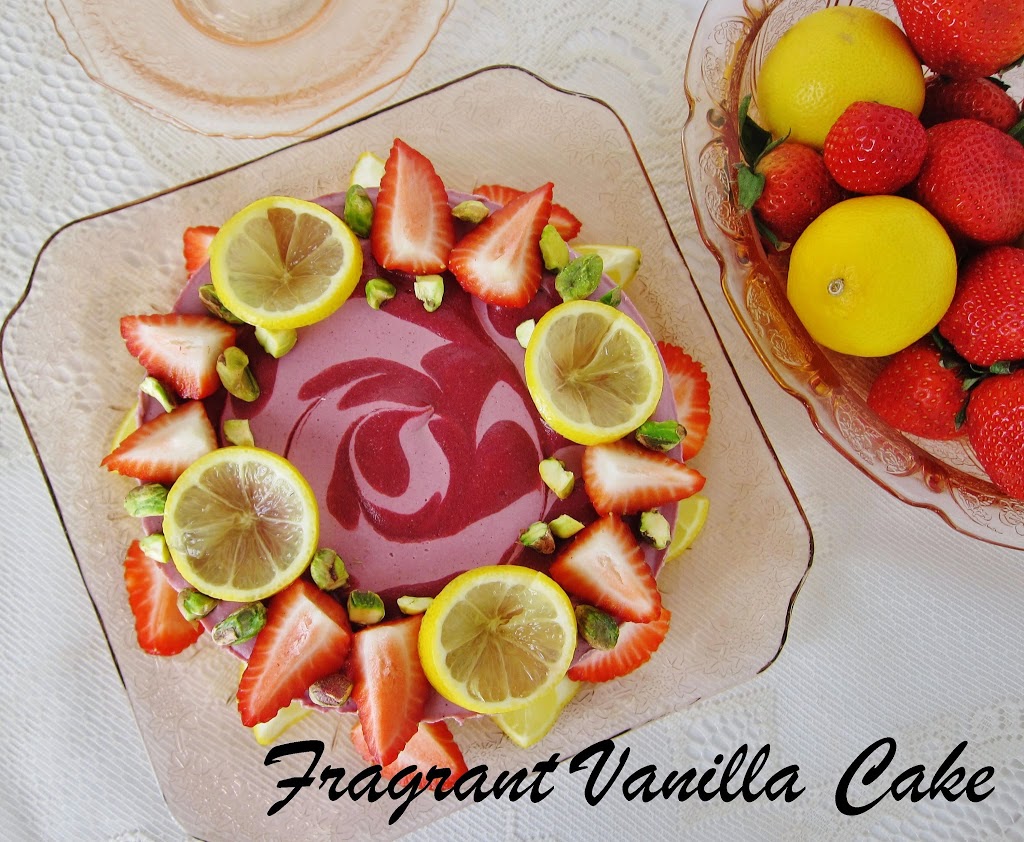 I have been so busy...that I forgot my own blogaversary!  That is like forgetting my own birthday for pete's sake!  So by the time I realized I had forgotten it this week, it was a month over due.  I have been blogging for 4 years now, since February 2010!  I can't even believe it has been that long and so much has changed about this blog and myself since then.  My first post was red velvet cupcakes with beets.  So my love of beets has not changed, but my use of dairy and sugar in my recipes has.  Along with me striving to treat my body the best I can, I have changed my recipes and gone from being a vegetarian, to vegan, to raw foodist. I have learned so much along the way, and as I go I try to give you all the best recipes possible to my current knowledge.  I have only been a raw foodie for about a year and a half, and I feel as though I still have a lot to learn.  When I started out I relied heavily on nuts, and as you may have noticed now, a lot of my recipes are nut free or use very few just as a garnish (such as in the recipe on this post).  This is because I try to cater to those with allergies, and I feel that the end product has a better texture.  I am still working on my dehydrated cake recipes and perfecting the batter to lighten it, but they have come a long way since I started with things that could be a door stop haha.  I would like to thank you all who have stuck with me along my food journey and supported me, it means so much and your kind comments always make my day!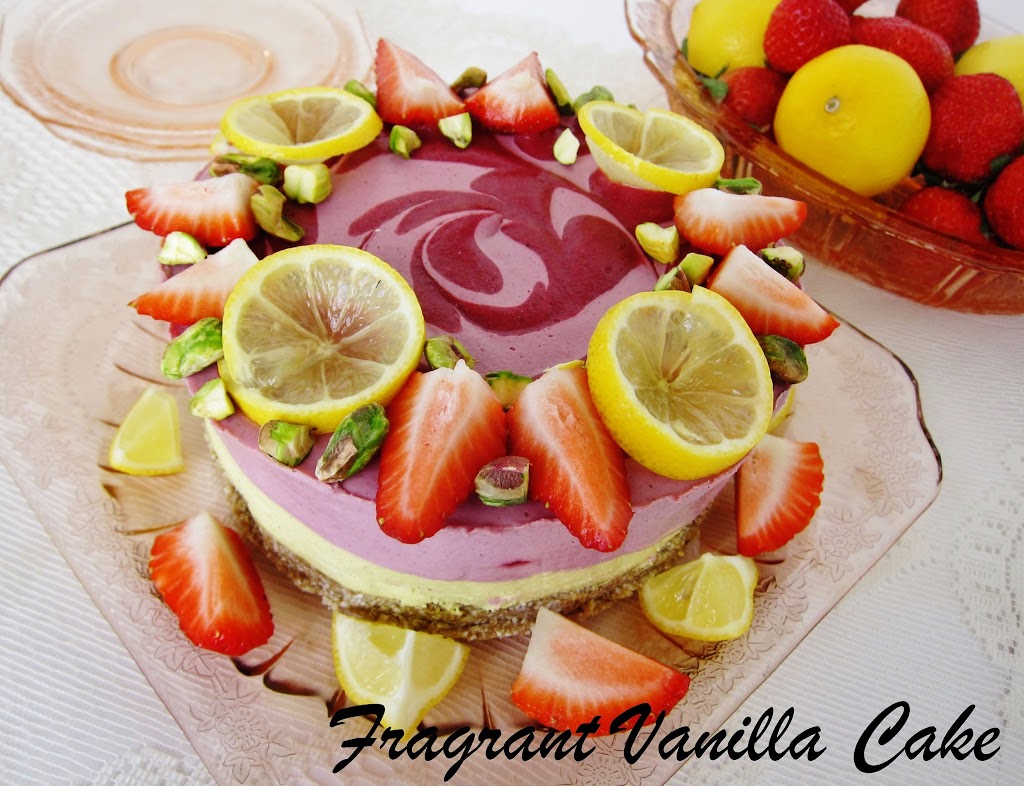 So...since a Birthday deserves a cake, even if it is belated, I made one.  This Raw Strawberry Lemon White Chocolate Cake.  I told you all I would make it a couple weeks ago (since it was second place in a poll I took on what to make), and I have sooo been looking forward to doing so!
If I had a spring Birthday, this would be my cake.  The filling is enriched with cacao butter (the white chocolate part of the recipe), a layer of tart, luscious lemon, and sweet heavenly strawberry creams rippled with jammy strawberry swirl.  Topped off with more berries and crunchy pistachios.  Pure heaven.  That is the best way to describe it.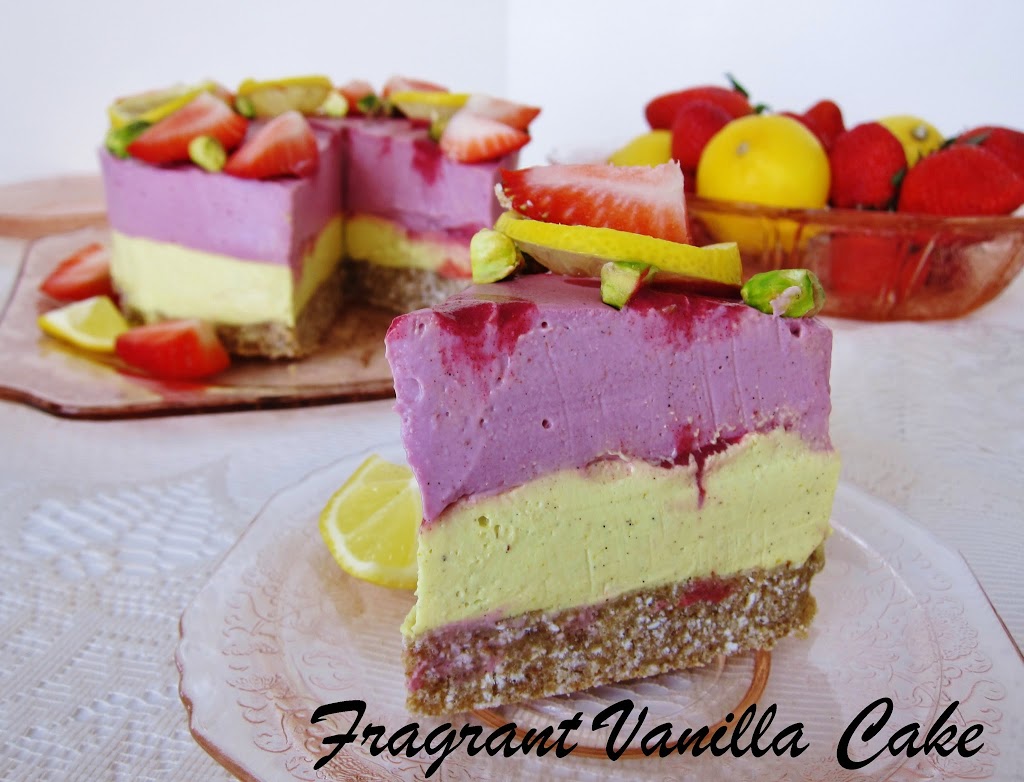 This cake is really more simple to make than it looks, and so worth the time (which isn't much, it is the waiting for it to set that is hard).  Happy Birthday to my blog, and I am looking forward to sharing many more posts and recipes with you all in the future!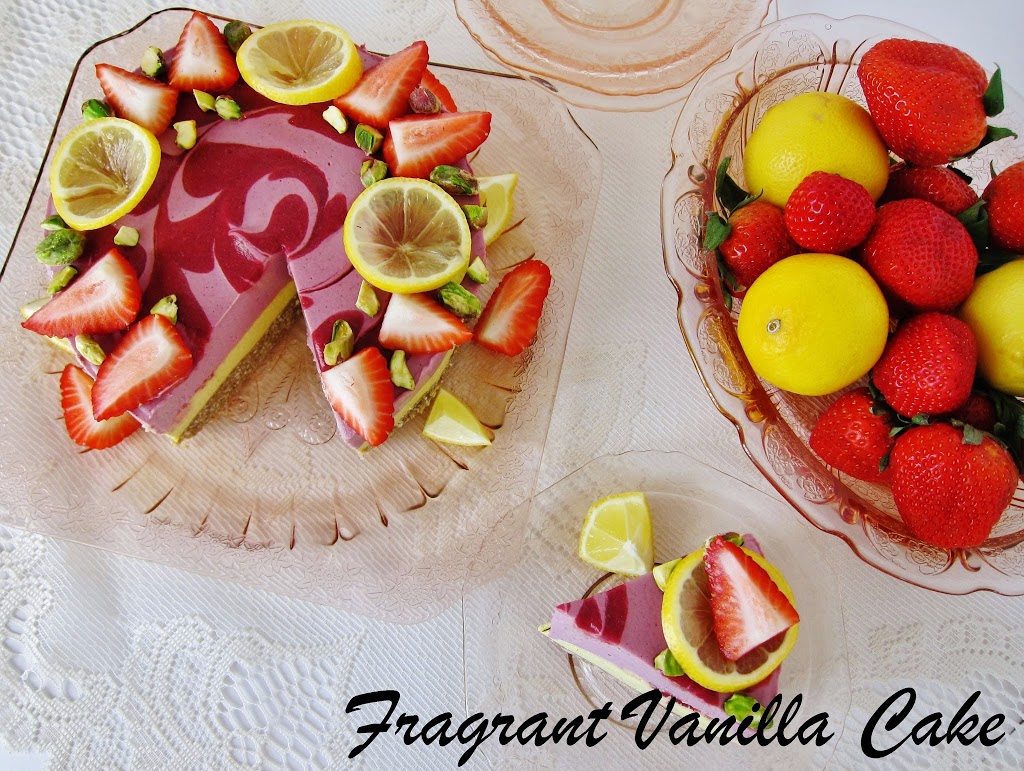 Raw Strawberry Lemon White Chocolate Cake
Makes one 6 inch cake
Crust:
2/3 cup raw sprouted buckwheat groats (or additional coconut)
1/3 cup ground flaxseed
3/4 cup dried finely shredded coconut
1/8 teaspoon sea salt
10-12 soft medjool dates, pitted and chopped (if they are not soft, soak them in water until they are and drain them well)
Strawberry Puree:
1 cup fresh organic strawberries
2 medjool dates, pitted (and soaked in water until soft if not soft)
a pinch sea salt
1 Tbsp lemon juice
Filling:
4 cups young coconut meat*
2/3 cup raw coconut nectar, or maple syrup
1/2  teaspoon sea salt
1 Tbsp pure vanilla extract and seeds from half a vanilla bean
1/3 cup raw coconut butter (warmed to liquid)
1/3 cup raw cacao butter (warmed to liquid
1/4 cup lemon juice
1/4 cup lemon zest
1 tsp turmeric
1/2 cup fresh organic strawberries
1 small chunk red beet
1/4 cup coconut water
fresh strawberries, lemon slices and coarsely chopped raw pistachios for garnish
Lightly coat a 6 inch spring form removable bottom pans with coconut oil. To prepare the crust, process flax, coconut, buckwheat and sea salt in a food processor until fine crumbs, then add the dates and process until the mixture holds together when squeezed between your fingers (if not holding together, add more dates). Firmly press crust into the bottom of the prepared pan, and set aside.
For the strawberry puree, combine all ingredients in a food processor and process until smooth.  Set aside.
To make the filling, in a high speed blender or food processor, combine coconut meat, coconut nectar, sea salt, and vanilla in a food processor and blend until smooth and creamy. With the processor running, add the coconut butter and cacao butter and process for a minute until blended.
Divide the mixture in two, and add half back to the food processor.  Add the lemon juice, zest, and turmeric, and blend until smooth.  Put in a bowl, and set aside.  Rinse out the food processor and add the strawberries, beet, coconut water and plain mixture.  Blend until smooth, and set aside.
To assemble cheesecake, pour the lemon filling over the crust, then drop some of the strawberry puree over it by the tsp and swirl with a knife to create marbling. Pour the strawberry filling over that, and drop more of the strawberry puree by the tsp over that (you may have extra for another use), then swirl with a knife to create marbling. Place in the freezer for about 4 hours to firm up. Garnish the top with fresh berries, lemon slices and pistachios before serving.
(Visited 100 times, 1 visits today)