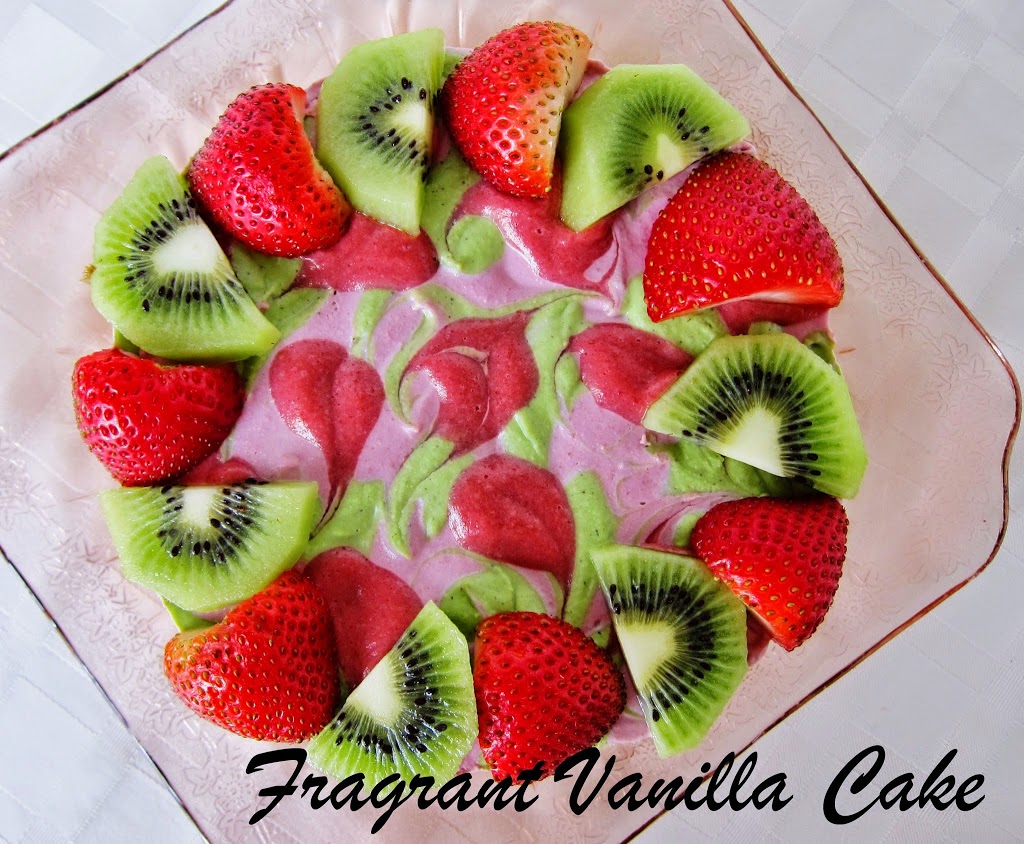 Raw Strawberry Kiwi Coconut Yogurt Cake
Before I went raw, I made cheesecake often. Like every weekend often.  I loved it so much I would eat about 1/4 of it at least in one sitting too, leaving my tummy pretty unhappy with all of the heavy dairy.  It was delicious though, and I had perfected my recipe using Greek yogurt along with the neufchatel cheese in the filling. I was thinking about that last week and I decided to try using coconut yogurt in a raw cheesecake recipe. This Raw Strawberry Kiwi Coconut Yogurt Cake was what resulted.
I admit I thought about making a plain strawberry yogurt cheesecake because I had so many strawberries on hand thanks to Eric, but me not being one to do a plain anything decided that kiwi needed to join the party as well.  I made my plain coconut yogurt first...which needed to sit overnight, which only built my anticipation and excitement to try making and tasting this cake.
The yogurt was delicious in the cheesecake fillings!  A little tangy, and so creamy!  I could have just eaten it all with a spoon, but that would just make it yogurt and not a cake which was not what I was going for here.  I swirled in some strawberry jam along with the pastel kiwi and strawberry fillings and it was simply lovely!
Once it had set and I was able to dive in it was pure heaven!  The yogurt added another depth of flavor, like it used to for my real cheesecakes, and the strawberry and kiwi provided notes of tart and sweet that were simply divine!  Plus, I was getting a dose of probiotics while enjoying this beauty which I can always use. If you make coconut yogurt, you need to try this...and if you haven't yet, now is the time, you will thank yourself for doing so!
Raw Strawberry Kiwi Coconut Yogurt Cake
Makes one 6 inch cake
Crust:
2/3 cup raw sprouted buckwheat groats (or additional coconut)
1/3 cup ground flax seed
3/4 cup dried finely shredded coconut
1/8 teaspoon sea salt
10-12 soft medjool dates, pitted and chopped (if they are not soft, soak them in water until they are and drain them well)
1 inch chunk raw red beet
Strawberry Puree:
1 cup fresh organic strawberries
2 medjool dates, pitted (and soaked in water until soft if not soft)
a pinch sea salt
1 Tbsp lemon juice
Filling:
4 cups young coconut meat*
1/2 cup coconut water
1 tsp powdered probiotics (you can open capsules and pour them in)
juice and zest of one lime
2/3 cup raw coconut nectar, or maple syrup
1/2  teaspoon sea salt
1 cup fresh organic kiwi
handful of spinach (optional for color)
1 cup fresh organic strawberries
1 tsp beet powder (optional for color)
Fresh strawberries and kiwis for decorating
Lightly coat a 6 inch spring form removable bottom pans with coconut oil. To prepare the crust, process flax, coconut, buckwheat and sea salt in a food processor until fine crumbs, then add the dates and beet and process until the mixture holds together when squeezed between your fingers (if not holding together, add more dates). Firmly press crust into the bottom of the prepared pan, and set aside.
For the strawberry puree, combine all ingredients in a food processor and process until smooth.  Set aside.
To make the filling, in a high speed blender or food processor, combine coconut meat and water, and puree until smooth.  Mix in the probiotic powder, place in a bowl, and let sit out on the counter overnight.
The next day, add to a high speed blender with the lime juice and zest, coconut nectar, sea salt, and vanilla in a food processor and blend until smooth and creamy. With the processor running, add the coconut butter and and process for a minute until blended. Divide the mixture into two bowls.  Add one back to the food processor and add the kiwi and spinach.  Blend until smooth.  Remove, and rinse out.  Add the remaining plain mixture to the food processor. Add the berries and beet powder, and blend until smooth.
To assemble cheesecake, drop the fillings over the crust alternating the colors and after every layer of filling drop the swirl by the tsp over that (see below).
Once the pan is full, tap the bottom on the counter to level, and swirl with a knife in a spiral from the outside in to the center, then a toothpick if you want more intricate swirls.
Place in the freezer for about 4 hours to firm up.
Once the cake and the decorating cream have chilled, Garnish the top with fresh berries and kiwi slices before serving.
*If you do not have access to young coconut meat and you do not mind the recipe not being nut free, you can substitute 4 cups raw cashews soaked for 4 hours and drained in the filling, and 1 cup soaked for the optional cream.
Pan Filling and Swirling Process:
(Visited 91 times, 1 visits today)