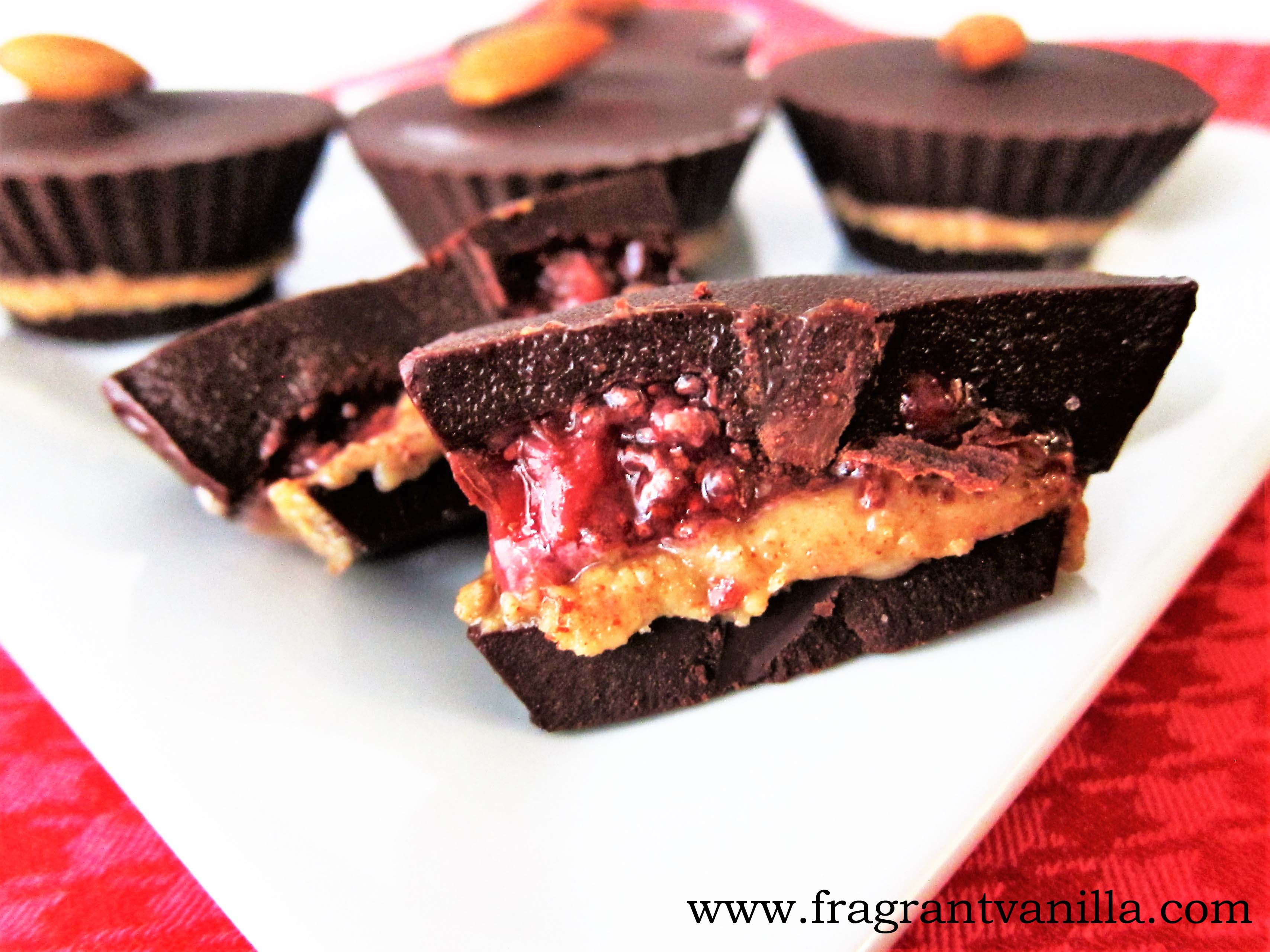 Raw Strawberry Jam and Almond Butter Cups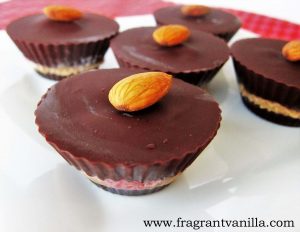 I try to be thankful for the little things.  I am trying not to dwell on the negatives or things I can't change lately and instead try and find the positives in things.  And if I can't find a positive, like it is a really bad day or something I go home and do something that I enjoy to calm and relax myself.  Like making chocolates.  One can simply not be unhappy while making chocolate.  Chocolate makes me happy at least.  The other thing about it is, it is easy to make.  Of course you could start off with pre-made raw chocolate and melt it and that would be even easier but I usually make my own because it is cheaper.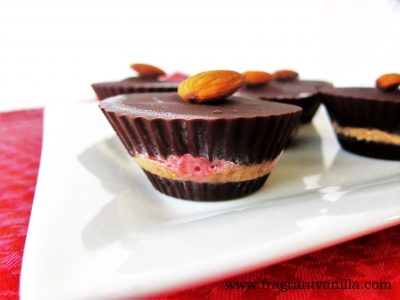 I had some strawberries in my fridge and I was thinking about making chocolate dipped strawberries, but then I was also craving some nut butter...so I decided to make raw strawberry jam almond butter cups so I could have it all.  I whipped up my raw chocolate, and while the bases of the cups were setting I made the jam.  It is only 3 ingredients, so super simple and fast to make and of course it is raw so it doesn't require cooking.  I had just made raw almond butter the day before so I was set!  They were ready within the hour and I was so ready to try one.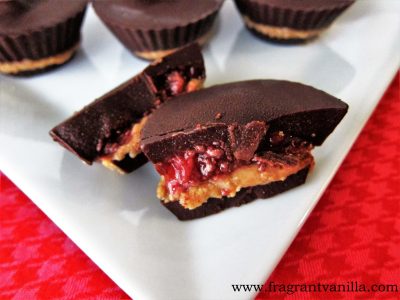 Talk about pure delicious goodness!  This is such a heavenly flavor combination! Like a AB and J with chocolate.  My Mom occasionally made me almond butter and jelly sandwiches as a kid, and I always thought that they were a little more special than PB and Js (as delicious as they were) because almond butter was harder to come by at that point in time.  Anyways, I was also happy I did not have to heat up the kitchen to make these, because it had been a hot humid day.  If you are in need of a little deliciousness in your life, do try these chocolate cups!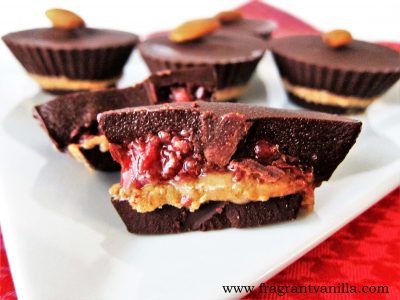 Raw Strawberry Jam and Almond Butter Cups
Makes 6
Chocolate:
3/4 cup raw cacao powder
1/2 cup melted cacao butter (warmed to liquid)
pinch sea salt
1/4 cup maple syrup (at room temperature)
Filling:
1/3 cup raw almond butter*
1/3 cup quick raw strawberry jam (recipe follows)
To make the chocolate, whisk together all ingredients until smooth. Spoon a little chocolate into the bottoms of 6 peanut butter cup molds, filling them about 1/4-1/3 full. Place in the freezer until hard, about 10 minutes. Once the chocolate has hardened, spoon a heaping tsp of the almond butter over that, making sure it stays in the center (so you don't have it oozing out the sides later). Spoon a tsp of jam over that. Pour more chocolate over the cups until the jam is covered, and place them in the freezer until set, about 20 minutes. Store any extra in the refrigerator.
Quick Raw Blackberry Jam:
1 cup organic strawberries
1 Tbsp raw coconut nectar or maple syrup
1-2 Tbsp chia seeds
Combine berries and nectar in a food processor and pulse until the strawberries are saucy. Pour into a bowl. Stir in the chia seeds. If they are very runny (if you used frozen) use 2 Tbsp chia seeds, if they are fresh use one. Keeps for 1 week in a covered container in the refrigerator.
*If your almond butter is really runny, whisk some melted coconut butter or coconut oil into it, about 1 Tbsp to thicken it up.
(Visited 68 times, 1 visits today)