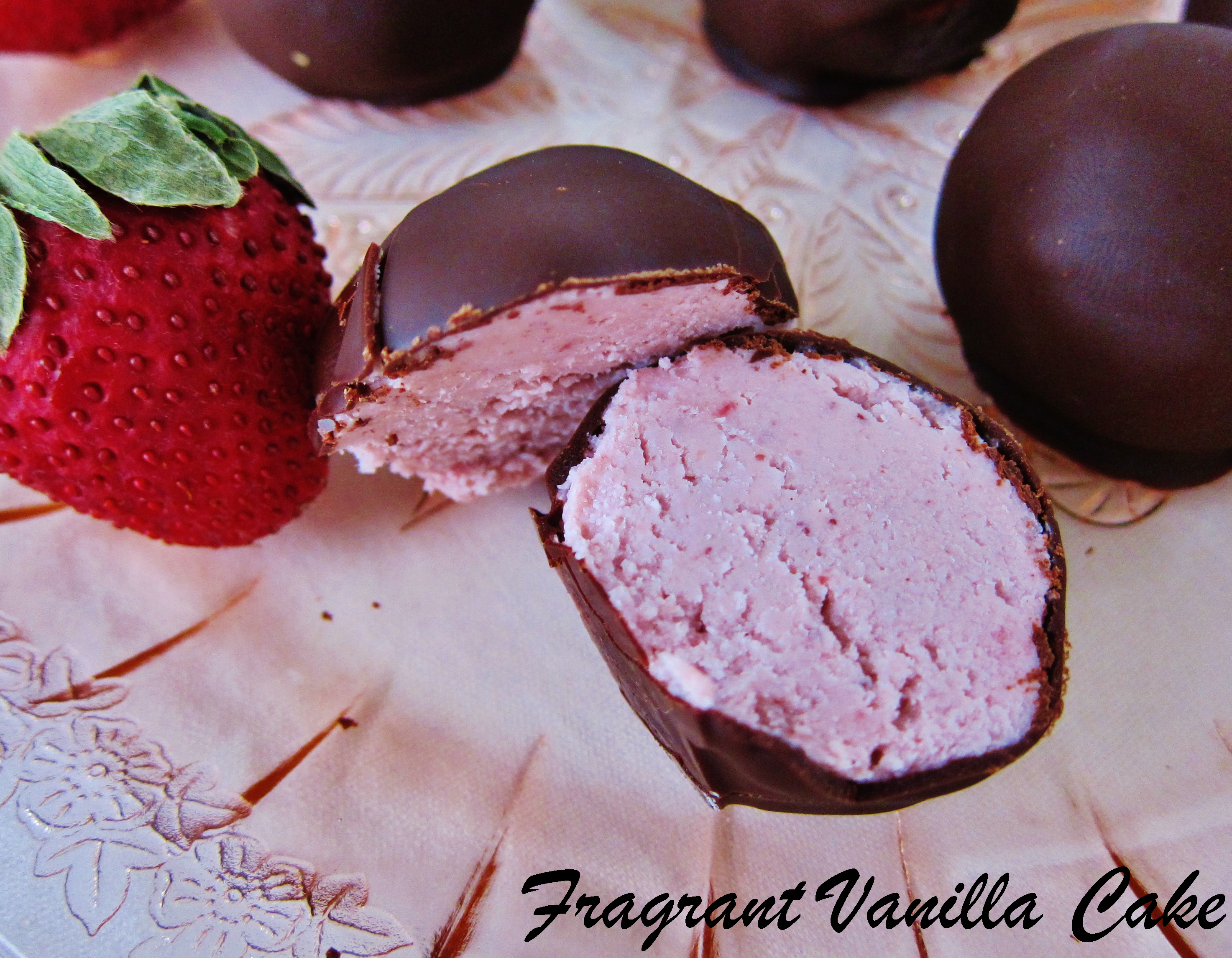 Raw Strawberries and Cream Truffles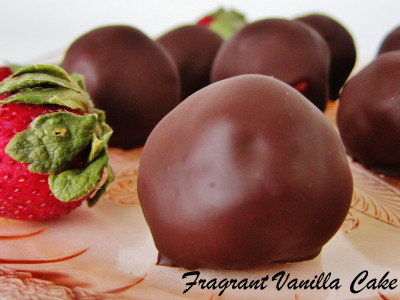 We have all had one of those days.  You know, the ones where you wake up on the wrong side of the bed, repeatedly drop things, ruin things...like spilling something that stains on your favorite pair of shoes or burn a huge pot of soup and have to throw it out. Or have to face rude people throughout the day.  Although days like that are tough, it is always nice to know that at the end of the day you can do things to make yourself feel better.  After one of those days, I like to relax, maybe watch something funny, or make a new delicious recipe.  Involving chocolate is best.  Brownies are awesome, but truffles are faster. So, I had a tough day last week and made some truffles.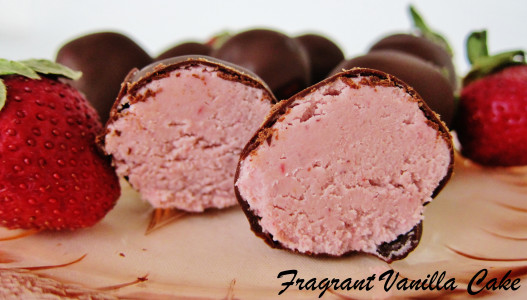 I chose strawberry white chocolate filling, because it sounded heavenly.  And it was.  I admit I sampled a couple truffles worth while making them because it was that good. With the dark chocolate coating even better.  You could not possibly be in a bad mood while enjoying one of these babies.  This recipe is a keeper for special occasions by the way.  I would definitely recommend it for Valentine's Day next year.  But don't wait until then to make these, enjoy them now!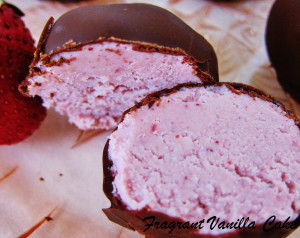 Raw Strawberries and Cream Truffles
makes about 10
Filling:
1/4 cup raw coconut nectar or maple syrup
1/2 cup fresh strawberries
1/2 tsp pure vanilla extract
1/4 tsp sea salt
1/2 cup raw coconut butter, warmed to liquid
1/4 cup raw cacao butter, warmed to liquid
Chocolate:
3/4 cup melted cacao butter (or you may use coconut oil)
1/4 cup plus 2 Tbsp maple syrup at room temperature
heaping 3/4 cup raw cacao powder
a good pinch of sea salt
In a high speed blender, combine the coconut nectar, berries, vanilla, and salt and blend until smooth. Add the coconut butter and cacao butter and blend until combined.  Pour into a bowl, and place in the freezer until firm enough to scoop, about an hour.
Once the filling is firm enough to scoop, scoop out little 1 1/2 inch balls, and set on a parchment lined sheet pan or tray.  Freeze until firm, about 1 hour.
Meanwhile, when the truffles are almost ready, to make the chocolate, melt the cacao butter in the top of a double boiler with simmering water beneath (being careful not to let the chocolate mixture on top get above 115F degrees).  Or alternatively you can melt it in the dehydrator as I often do, it just takes a little longer.  Once the cacao butter is melted, whisk in all other ingredients until smooth.
When ready to dip the truffles, place one on a fork, drop it into the chocolate, then lift it out, letting the excess drain off back into the bowl.  Place back on the tray, and repeat with the others.  Once they are all done, allow the chocolate to set (which will happen faster if you pop them in the freezer for about 10 minutes).
Store candies in the refrigerator in an airtight container.
(Visited 207 times, 1 visits today)