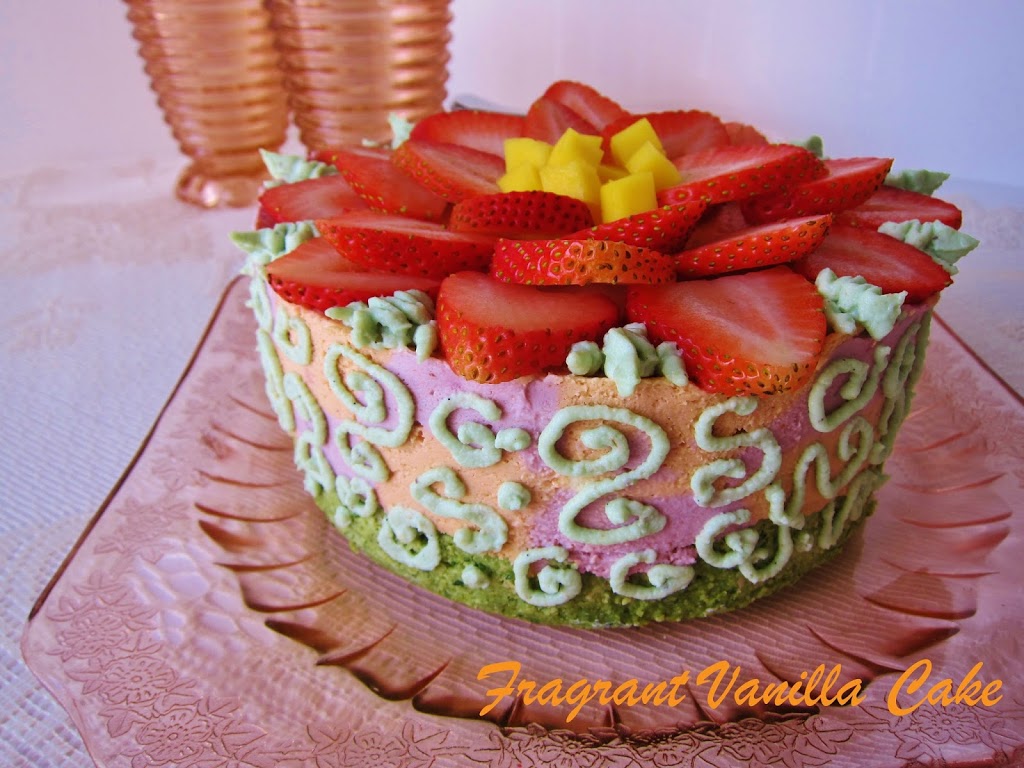 Raw Spring Blossom Cake
It is finally feeling like spring may have arrived in Minnesota.  Warm enough that my boyfriend Eric and I decided to have a picnic in the park this week.  It was wonderful to just sit and enjoy the sun's warmth, watch the loons swimming on the lake and dream up what the clouds looked like while we enjoyed each other's company and dinner.  Although the weather is warming up, the one thing that is missing is the flowers!
My favorite part of spring is enjoying the flowers popping up in people's yards while I go for my morning run.  Seeing the crocus and daffodils pop up where there was previously just brown dirt is quite refreshing.  Hopefully they come up soon, but until then I decided to make a flower cake to enjoy.
I was not exactly sure where I was going when I started, but I wanted it to resemble a flower and have lots of delicious fruit flavor.  I decided on a coconut lime cake, tinted green with spinach (you can't taste it) for the bottom portion.  I then topped it off with 3 different fruit mousses, lemon, mango and strawberry, then swirled them for a tie dye affect.  The colors reminded me of spring flowers as well.  Lastly, I decided that it needed to have fresh fruit on top so I made a flower out of strawberries and mango.
I showed it to Eric and he said "Whoa...I can't believe you made that!  It is so pretty, visually my favorite cake you have ever made!" I was thinking...I decorate cakes all the time, and I had to laugh.  I guess this one was special.
It tasted as good as it looked as well, like biting into a bouquet of fruit and cream.  Hopefully the April showers will bring the May flowers, I am ready! Until then, I can enjoy my cake.
Raw Spring Blossom Cake
Makes one 6 inch cake
Cake:
1/2 cup raw almond meal
2 cups raw coconut flour
1/4 tsp sea salt
1 tsp pure vanilla extract
12 medjool dates, pitted
2 cups coconut meat*
2 Tbsp coconut water
2 Tbsp fresh lime juice
2 Tbsp organic lime zest
2 Tbsp raw coconut nectar
one large handful organic spinach
Cream topping:
2 1/3 cups raw cashew pieces (preferably soaked overnight)
2 1/3 cups fresh young coconut meat (or 1 3/4 cups soaked cashews if coconut meat is unavailable)
1/2 cup plus 2 Tbsp coconut water
1/2 cup raw coconut nectar, or your choice of raw liquid sweetener
1/2 tsp sea salt
1 Tbsp pure vanilla extract and seeds of  a vanilla bean
1/2 cup plus 2 Tbsp raw coconut oil (warmed to liquid)
3 Tbsp coconut butter2 Tbsp lemon juice
1 Tbsp lemon zest
turmeric, divided**
1/3 cup organic mango
1 small 1/2 tsp raw beet and 1 Tbsp raw beet**
1/3 cup organic strawberries
a small handful spinachTopping:
about 10 sliced organic strawberries
1 Tbsp mango, diced small
Combine almond flour, coconut flour, sea salt, in a bowl and whisk together until and set aside. To a food processor, add the dates, vanilla, coconut lime juice and zest, coconut water, nectar and spinach to the processor and process until pretty smooth. Add the dry ingredients back and process until smooth and well incorporated. Place the batter on a teflex lined dehydrator sheet, in slightly larger than a 6 inch circle and dehydrate for about 8 hours, until dried but still moist in the center. Once dried, trim into a 6 inch circle, place in the bottom of a 6 inch springform pan (greased with coconut oil), and set aside.
To make the cream topping, combine the cashews, coconut, coconut water, coconut nectar, sea salt, vanilla, vanilla bean, and process until smooth.  Add the coconut oil with the processor running to incorporate it completely.  Once blended, divide the cream mixture into 4 bowls and set aside.  To the first bowl, add the lemon zest, juice and a pinch of turmeric to the bowl and whisk to blend.  Add the second bowl of cream back to the food processor and add the 1/3 cup mango, a small pinch of turmeric and a small piece of beet and process until blended then remove back to the bowl.  Add the third bowl to the processor and add 1/3 cup strawberries and the 1 Tbsp raw beet and process until smooth and well blended.  Add back to the bowl.  Add the 4th bowl of cream back to the food processor and add the spinach.  Process until smooth and add back to the bowl and place in the fridge.
To assemble the cake, drop the lemon filling, the mango filling and the strawberry filling by the Tbspful randomly over the lime cake in the prepared pan.  Once the pan is filled tap on the counter to level and swirl with a knife (being sure to go to the bottom of the filling).  Place in the freezer to set, about 3 hours.  Once set, arrange the sliced strawberries on top of the cake to resemble a flower and place the diced mango in the middle.  Place the green cream in a pastry bag (or a plastic bag with the end cut off and decorate the sides of the cake, creating leaves and vines.  Serve!  Store extra cake in the fridge.*If you cannot get fresh coconut meat, soak 2 cups dried coconut for 4 hours then drain.  Continue with the cake recipe.
**The beets and turmeric are for coloring the cake more vividly, but if you do not have them you can sub natural food coloring.
(Visited 64 times, 1 visits today)