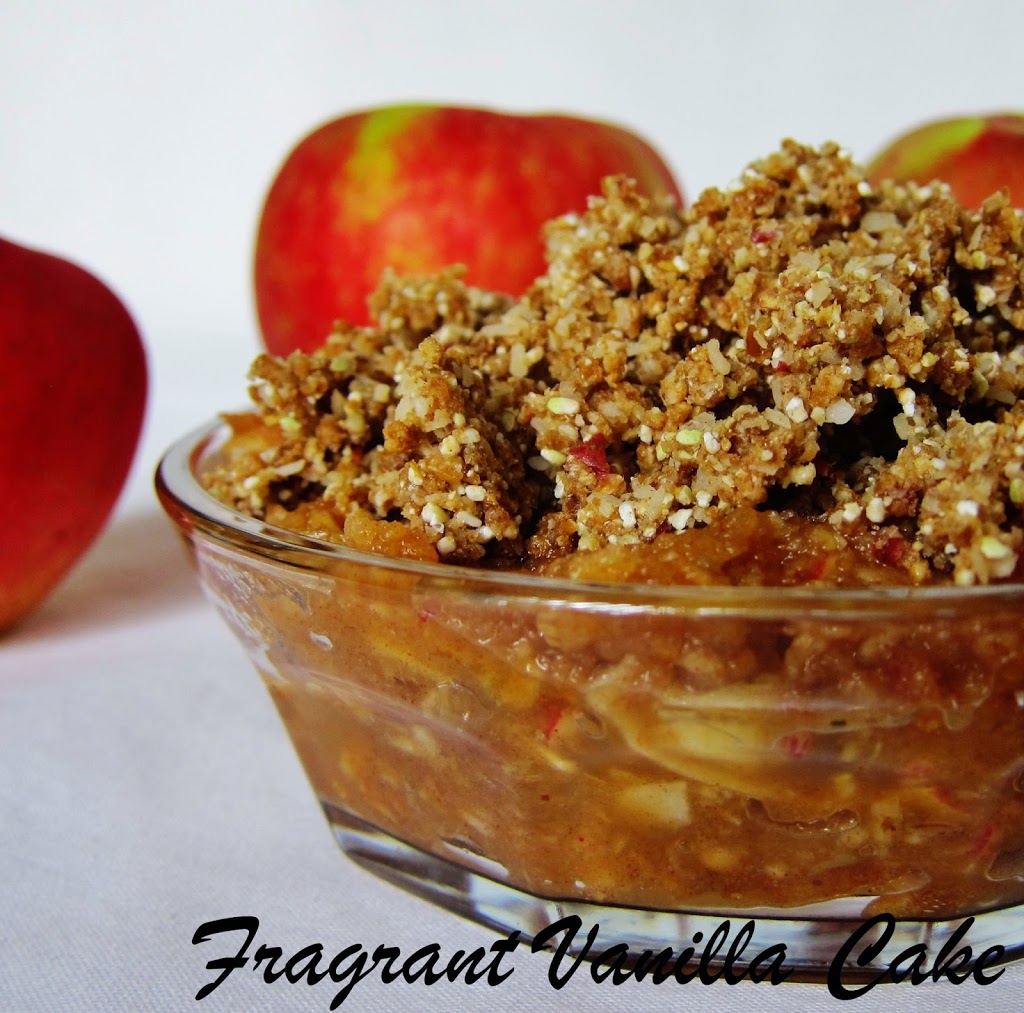 Raw Spicy Sweet Apple Crisp
Apple Crisp is one of my favorite Autumn desserts. Probably because my Mom used to whip it up often. I can remember coming home from cross country practice in high school to the aroma of apples and spice baking in the oven and being really excited for dessert later that night. Because I knew it would be apple crisp. My Mom would always use Haralson apples in her crisp and pies because they were nice and tart against the sweet. I use them when I can get them from the local apple orchard, but I also appreciate a Honeycrisp or Sweet Tango lately.
Last Sunday I decided that I needed to whip up some apple crisp. I made it a little different than the classic version I usually make this time though, adding in a bit of chipotle for a kick, since I love it with apple lately. It did not take long to make the crisp, just about 15 minutes of prep time, and then I popped it in the dehydrator to warm it up and Eric and I went for a walk since it was a beautiful perfect Autumn day. By the time we arrived home, it was all warm, delicious and aromatic.
It was super delicious! Sweet and spicy, jammy apples that tasted as if they had been roasted in the oven (which is hard to achieve sometimes with raw), and the crunchy topping was perfect! Eric and my Mom who I also shared some with approved, my Mom saying it was "Excellent! As good as baked apple crisp!" I have to mention that she is my biggest critic, and very honest. She was right though, this apple crisp was the bees knees!
Raw Spicy Sweet Apple Crisp
Serves 2
Crumble:
1/3 cup sprouted dehydrated buckwheat groats
1/3 cup finely shredded coconut
2 Tbsp ground flax seed
1/4 cup soft medjool dates, pitted
1/8 tsp sea salt
1/2 tsp cinnamon
1 Tbsp chopped apple
Filling:
1/2 cup dried apples
1 large fresh apple
6 large medjool dates, pitted
1/4 tsp sea salt
1 1/2 tsp cinnamon
1/4 tsp chipotle powder
juice of one small lemon
1 tsp maple extract (optional)
2 large sweet apples, sliced (such as honeycrisp, sweet tango, or pink lady)
For the crumble, combine all ingredients but the apple in a food processor and process until crumbs. Add the apple, and process until starting to hold together when squeezed (if it doesn't add a little more apple). Spread out onto a lined dehydrator tray, and dehydrate at 115F for 2 hours until crispy.
Meanwhile, to make the filling, combine the dried apples, 1 large fresh apple, dates, sea salt, cinnamon, chipotle, lemon juice, and maple extract, in the food processor and process until smooth. Add the sliced apple and pulse, until chopped a little, but still very chunky. Place the mixture in a bowl, and place in the dehydrator. Warm for about an hour to an hour and a half at 115F, then when ready to serve, top off with the crumble.
(Visited 104 times, 1 visits today)