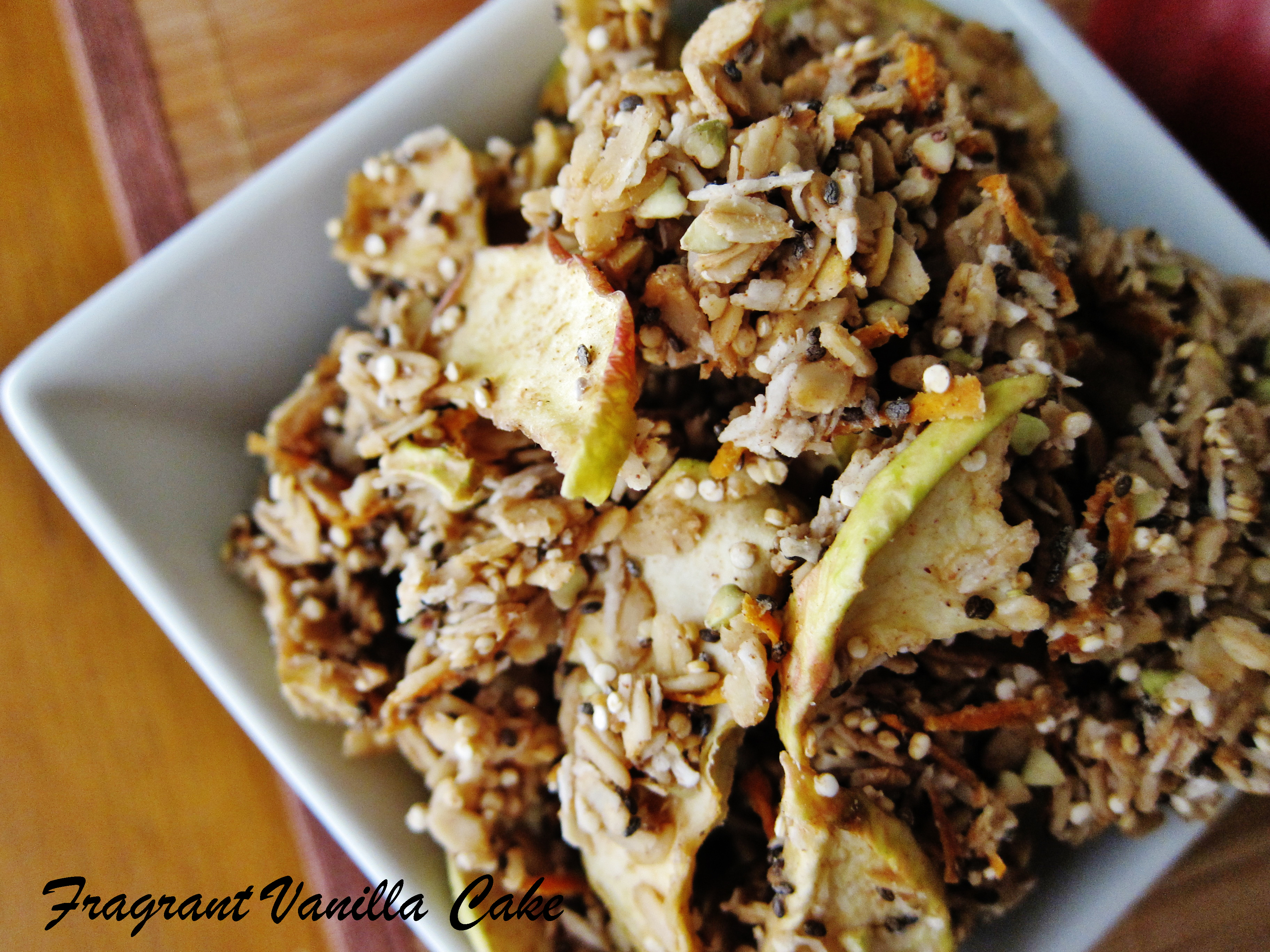 Raw Spiced Carrot Apple Granola
The aroma of Autumn is in the air.  You can especially smell it in the morning.  As I head out for my runs, the air feels crisp and dry.  The trees are just starting to show signs of color, reds, yellows and oranges appearing on a select few, and a few are falling to the ground like fluttering confetti.  The weather can't seem to make up its mind here lately, going from the 60s to the 90s in one week, but I know the crisp air will soon be here to stay. This is my favorite time of the year.  The time of year when I can wear cozy sweaters, bake apple pie and run through the crunchy leaves.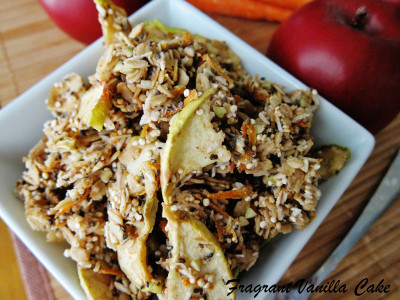 The apples are amazing this time of the year and I have been hoarding the honey crisps. I have made a few desserts with them, but the latest thing I made was granola.  We have a apple carrot scone recipe in the deli I work at, and it always sounds so good to me, so I decided to make apple carrot granola.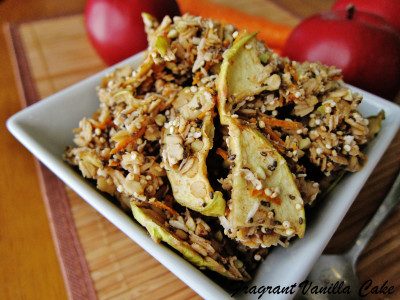 Granola has been the "it" snack at my house lately since I started making it again a few weeks back. I tend to go in streaks with my granola, making it all the time, then taking a break when I get too busy.  It is so good though...sometimes I wish I could snap my fingers and it would appear!  Not that it is hard to make, but you know, we all feel like relaxing sometimes.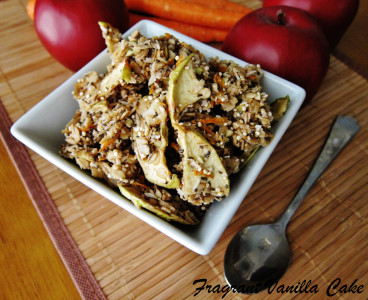 Anyways, back to the granola, I decided to make it nut free this time and include chia seeds, quinoa, and buckwheat for extra crunch along with the oats.  I also added coconut, carrots and apples for extra sweetness, and a few of my favorite fall spices. It turned out so good!  Really, it was crave worthy. Bonus, it smells amazing while dehydrating, so you will wake up to a beautiful aroma when you wake up the next morning.
Raw Spiced Carrot Apple Granola
Makes about 8-10 cups of delicious granola
1 cup buckwheat groats soaked for 30 minutes and drained well
1 cup quinoa, rinsed well and drained
6 cups gluten free raw rolled oats
1/2 cup chia seeds
2 cups finely shredded, dried coconut
4 carrots, shredded
3 large organic apples, sliced
3/4 cup raw coconut butter warmed to liquid
1/2 cup maple syrup or raw coconut nectar
1 1/2 tsp sea salt
1 Tbsp pure vanilla extract
1 Tbsp cinnamon
2 tsp ground ginger
1/4 tsp nutmeg
In a large bowl, combine oats, buckwheat, quinoa, coconut, chia seeds, apples, carrots and set aside. In another bowl, whisk together coconut butter, coconut nectar, sugar, sea salt vanilla extract, and spices until well combined, then pour over oat mixture and toss to coat until completely blended. Pour out onto 2 lined dehydrator trays, and dehydrate at 115F for 24 hours or until crispy.
*Note, if you want to make this in the oven you may, but keep in mind that it will not necessarily stay raw that way (if you are concerned about that). Just keep your oven at the lowest temperature possible, preferably 15oF or so.  It will cook a lot faster than the dehydrator so check it way sooner, like after 4 hours (times will vary significantly depending on your oven and the temperature).
(Visited 119 times, 1 visits today)