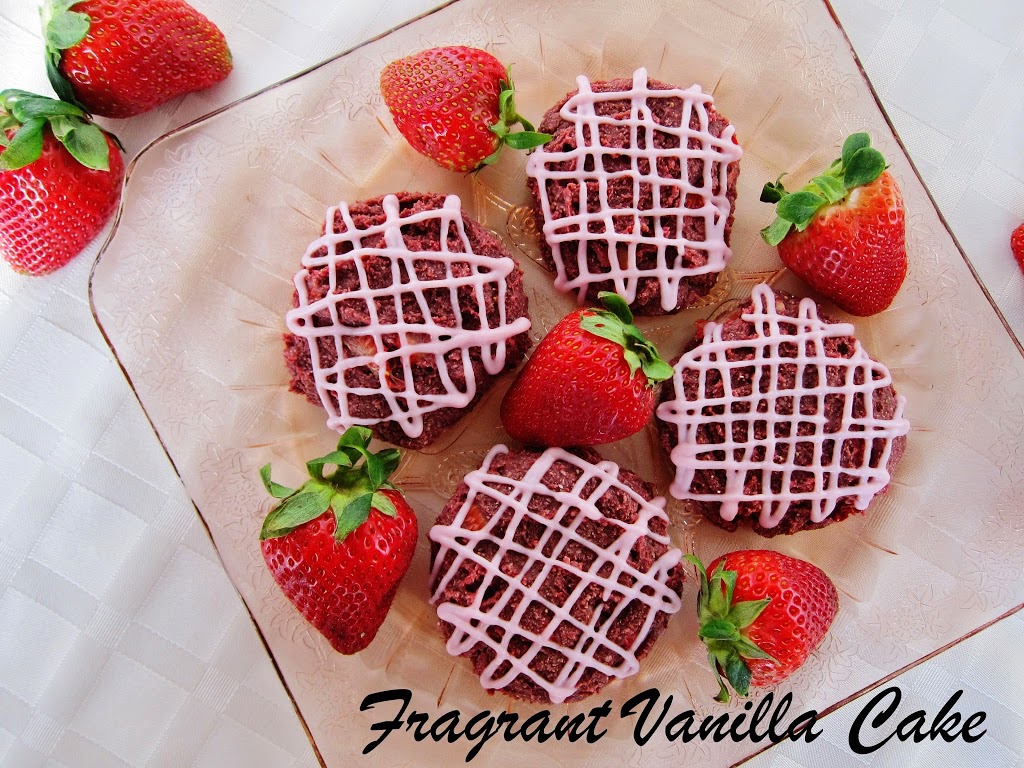 Raw Soft Strawberry Cookies
Most people are usually either crunchy cookie people, or soft cookie people.  I lean more towards the soft camp.  I prefer thick oatmeal type cookies to thin crunchy cookies any day.  That said, I am actually a cookie dough person above all...which is ok since I make vegan cookies and there is no risk of salmonella.  These soft strawberry cookies I made this week are right up my alley. I was in the mood for berries, and soft cookies, so I created a new recipe!  I haven't seen many strawberry cookies except the ones with jam, so I thought it was something that needed to be made.
The dough was soft, the aroma of strawberry through and through.  I partially dried some to intensify the flavor and included them in the vanilla laced dough, as well as mixing in fresh ones before dehydrating.  They smelled amazing, like strawberry shortcake. In fact, if strawberry shortcake tasted like a cookie, this would be it.  I thought they needed a little glaze to make them pretty, and it just added to the deliciousness.   I am so happy strawberries are coming into season again!
Raw Soft Strawberry Cookies
Makes 12
Dough:
2 1/2 cups fresh organic strawberries, sliced
3 cups finely shredded dried coconut
2 cup ground flaxseed
3/4 cup soft medjool dates, pitted (if not soft, soak them for 30 minutes in filtered water and drain well)
1/2 cup lucuma powder
2 Tbsp raw coconut nectar or maple syrup
1 Tbsp lemon juice
1/4 cup chopped raw red beet
1/4 tsp sea salt
(Visited 37 times, 1 visits today)